Are you trying to give your living room a warm and inviting feel but don't know how? Brown leather furniture is an excellent way of adding the perfect touch and creating a comfortable yet sophisticated space. Whether you opt for traditional warmed-toned pieces or add accents with modern designs, brown leather pieces can create a stunning living room style that is both timelessly elegant and full of life.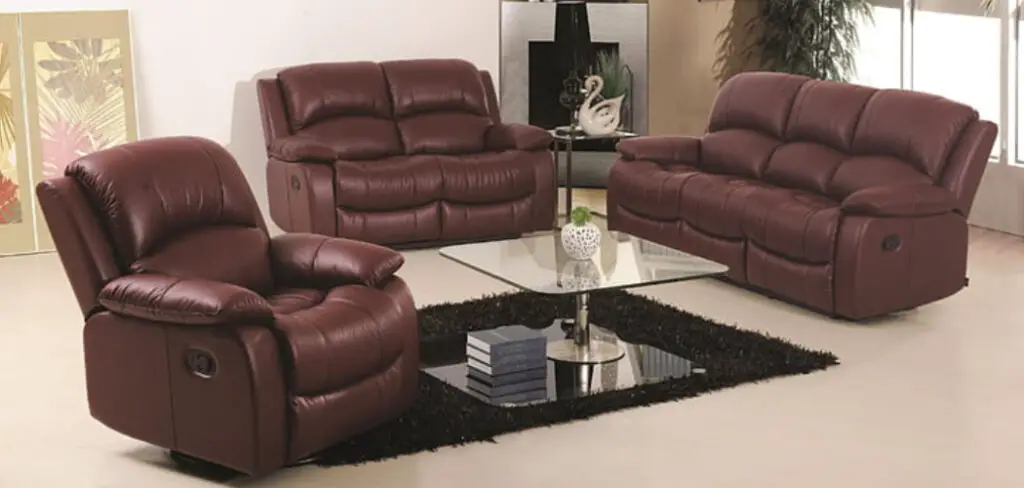 With so many different options available, it can be hard to choose – fortunately, we've got some brown leather furniture living room ideas here on how to incorporate brown leather furniture into your home in style!
What Colors Go Best with Brown Leather Sofas?
When it comes to decorating with a brown leather sofa, the possibilities are endless. Brown is a versatile color that can be used in modern and traditional living rooms alike. From neutral hues to vibrant shades, there are many colors that go well with brown leather furniture.
One of the most classic looks for a brown leather sofa is to pair it with crisp whites, grays, and blacks. Neutral colors like these allow the richness of the leather to really shine through. Try adding some white curtains or light gray walls to make your room look airy and inviting. You can also blend different tones of gray together for an updated look.
If you're looking to add warmth to your living room, earth tones such as beige, tan, and olive green look great with brown leather furniture. You can also mix in shades of blue for a calming atmosphere. Try adding some patterned pillows or an area rug with blue accents to make your room more inviting.
If you're looking to make a bold statement, consider pairing your leather sofa with bright colors like yellow, red, and orange. Add some coordinating accents like colorful throw pillows or wall art to really make your living room stand out.
Overall, there are many great color combinations that work well with brown leather furniture. Whether you prefer subtle neutrals or vibrant hues, there's sure to be a color scheme that will take your living room from drab to fab.
15 Brown Leather Furniture Living Room Ideas
1. Retro Vibe: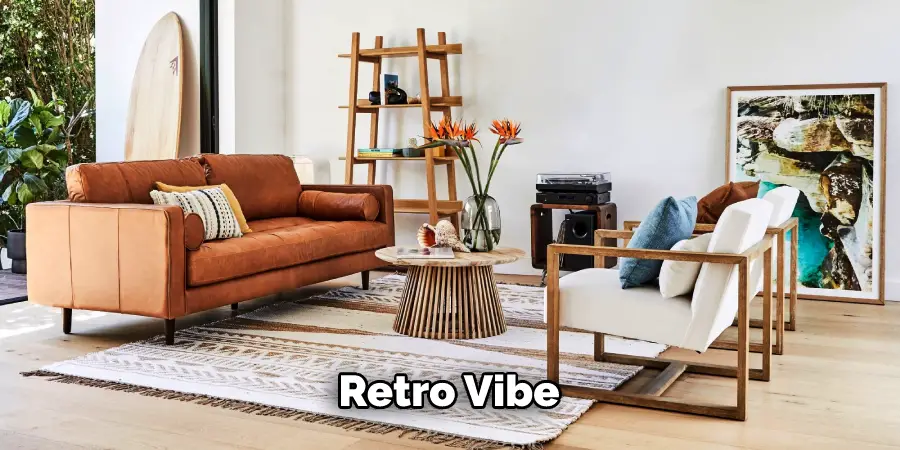 To bring a retro feel to your living room, opt for brown leather furniture with tufted accents and a mid-century modern design. For a complementary look, choose an area rug with bold geometric patterns and bright colors, such as blues or oranges.
Hang a few art pieces with vibrant colors to complete the look. If you're feeling adventurous, consider adding a pop of color with a bright accent wall. To finish the retro vibe, add some plants in brass planters to give your space a more lived-in feel.
While it may be a bit more daring, this look will surely make your living room stand out. However, if you don't want to go too bold with the colors and décor, you can opt for more muted shades of brown and tan and incorporate gold or brass accents for a classic look.
2. Scandinavian Style: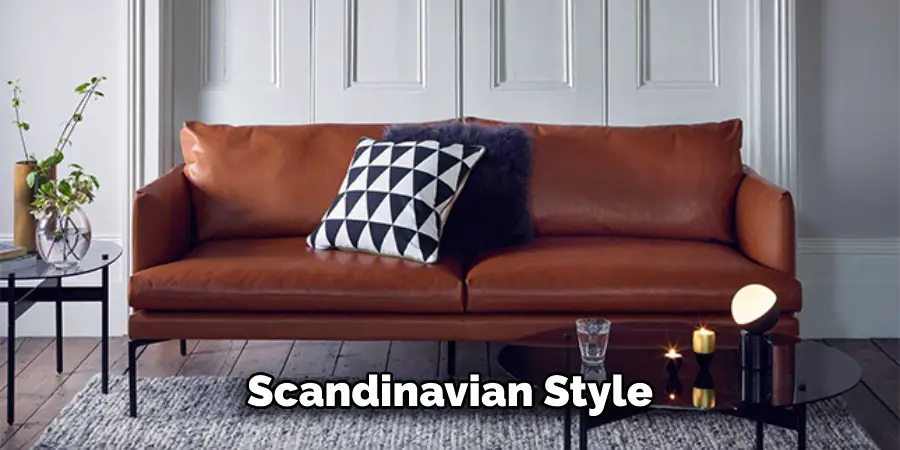 Mixing brown leather furniture with white walls and light wood accents can create a stylish and modern Scandinavian look. Adding greenery in the form of plants and natural décor items, such as woven baskets and wood accents, can help to bring a cozy atmosphere to the living room.
Consider adding a statement rug to add color and texture, as well as layers of throws and pillows to make your brown leather furniture even more inviting and comfortable. To complete the look, add a few accent pieces like wall art and pendant lighting to bring everything together.
3. Comfy Nook: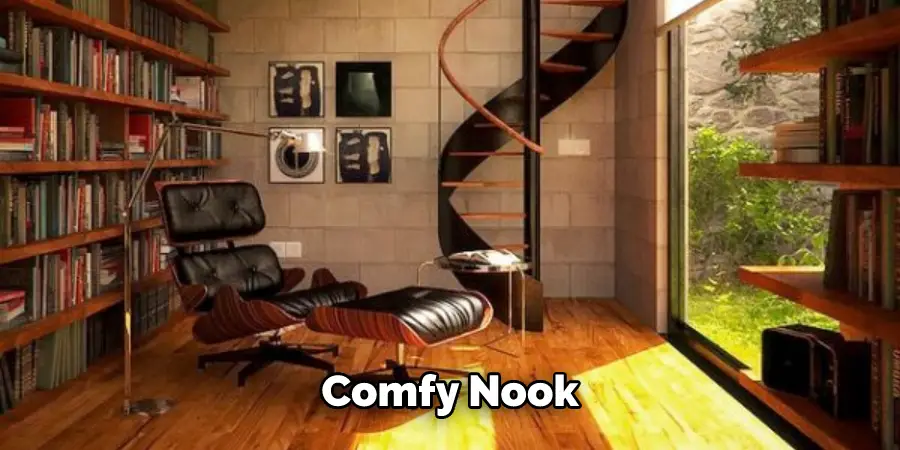 Add an oversized, comfortable armchair to your living room for extra seating that is also aesthetically pleasing. Place the armchair in the corner of your living room and add touches like an ottoman, floor lamp, side table, or throw blanket to create an inviting reading nook.
The rich hue of the brown leather in this space will provide warmth and cozy vibes to your living room. If you're short on space, a loveseat is also a great way to create this inviting nook. Finish it off with some accent pillows and artwork for a finished look.
4. Luxurious Finish: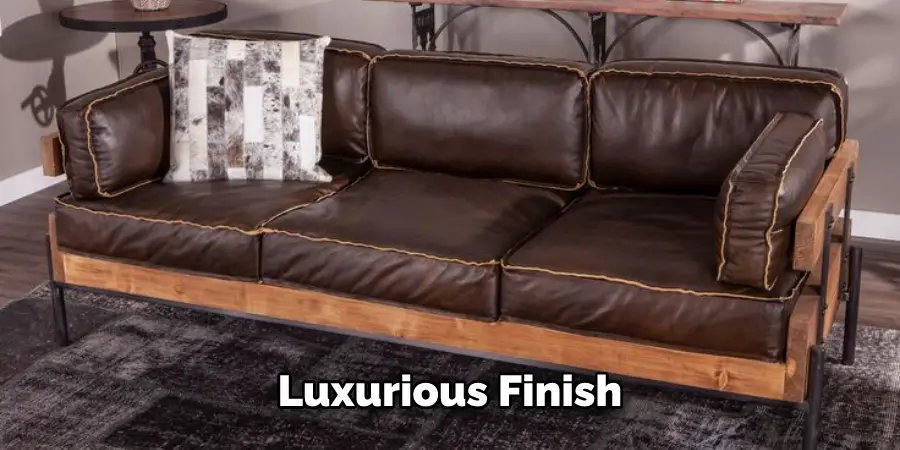 Go for high-end materials like velvet or suede to add texture and luxury to your living room featuring brown leather furniture. A velvet ottoman, suede throw pillows, or a plush area rug in shades of brown will create an inviting atmosphere and make your space look even more luxurious.
For added glam, accessorize with metallic elements such as gold-plated lamps and light fixtures or bronze art pieces to make the room look truly special. While soft materials will create an inviting atmosphere, they can also easily be maintained with a vacuum and spot cleaning as needed.
5. Warm Tones: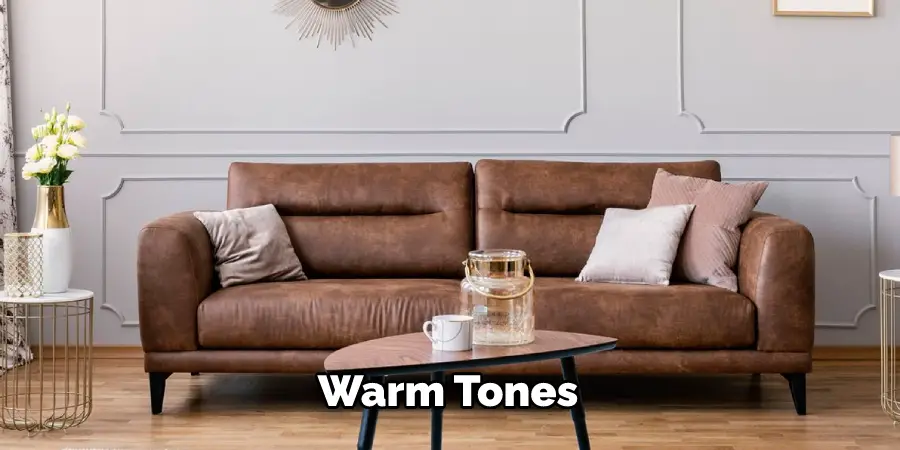 Choose accessories in warm shades such as beige, terracotta, or mustard yellow to bring warmth into the room while maintaining the contemporary look of brown leather furniture. This combination is particularly great for traditional-style living rooms that might be in need of some extra warmth.
You can add an area rug in a warm shade to ground the space and add an extra layer of texture. Alternatively, try adding some colorful throw pillows in bold shades of yellow or orange to inject the space with a pop of color. 
When choosing accessories, go for pieces that will stand out against the dark tones of brown leather furniture, such as light-colored picture frames or vases. With a few simple additions, you can easily create an inviting and cozy atmosphere in your living room.
6. Cheerful Pops: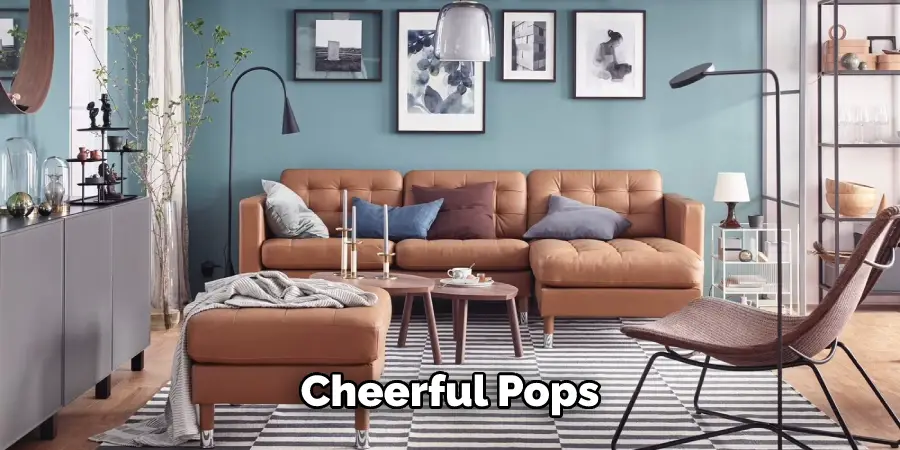 To inject some color into your living room, opt for cushions and throws in bright hues such as fuchsia or teal. You could even go bold with a statement piece of furniture, such as an ottoman or faux fur rug, in these cheerful shades.
If you're feeling daring, add a statement wallpaper with an interesting pattern. Against the backdrop of your warm brown leather furniture, these bright pops will create an inviting and cheerful atmosphere. 
To finish, add a few gold accents, such as lamps and vases, to bring the whole look together. With these easy tips, you can create an unforgettable room that showcases your unique style. However you choose to decorate your living room, brown leather furniture is a timeless and versatile option that can be adapted to fit any look.
7. Industrial Chic: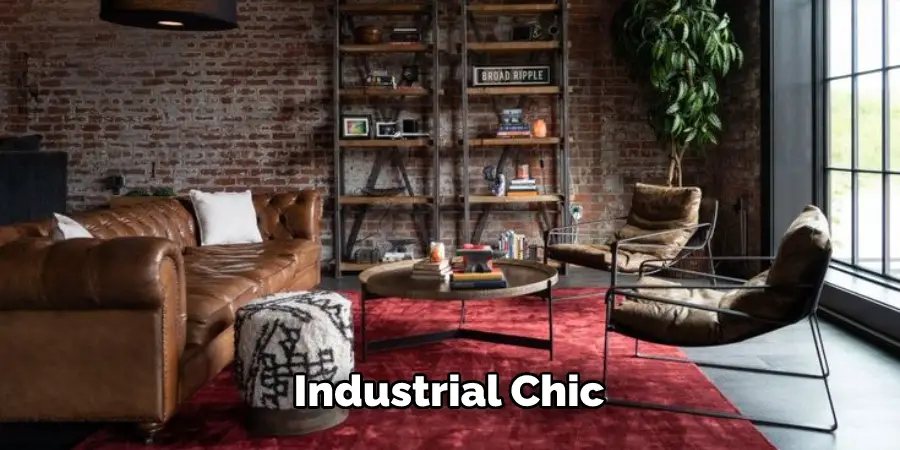 Create an urban look with a modern take on the industrial style by pairing brown leather furniture with concrete walls and exposed pipes. Add a touch of vibrancy with pops of color, such as an orange rug or blue curtains.
Complete the look with metallic accents like copper side tables and chrome lighting fixtures. This style is the perfect mix of comfort and edginess. If you're feeling bold, try mixing materials such as leather and wood for an even more unique look.
To keep the room from looking too sterile, add texture with soft throws and pillows. The result is a space that's contemporary and inviting. However, if the industrial look is a bit too extreme for your taste, you can still incorporate elements into your design, like a distressed leather sofa or an industrial-style coffee table.
8. Rustic Flair: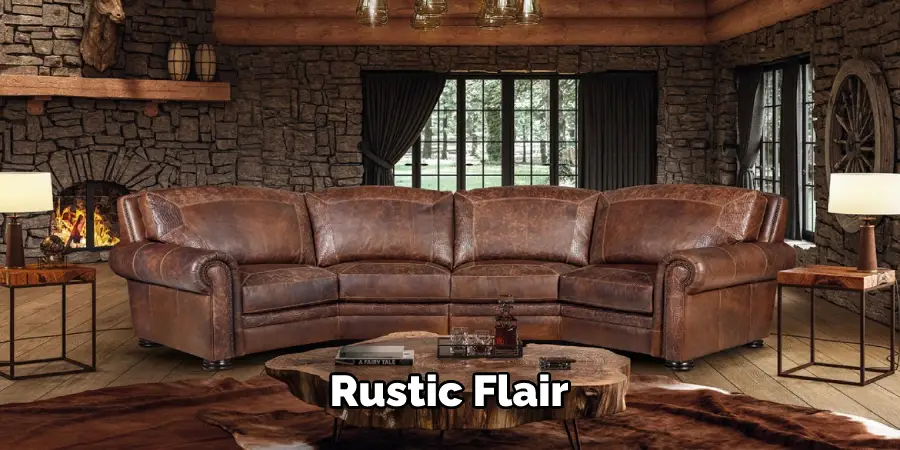 Integrate rustic elements like patterned rugs, wooden side tables, and vintage lamps to create a cozy ambiance featuring brown leather furniture. An open fireplace with a stone mantel or mantle surrounded by earthy tones will create an inviting atmosphere for your guests.For a more modern look, add metallic accents like copper, brass, and silver for an industrial twist. 
Embrace the relaxed feel of brown leather furniture with rustic décor and textures. To further amplify the rustic charm, hang up a wagon wheel chandelier with vintage candle holders and mason jars filled with dry branches. This look is perfect for a country-style living room. While keeping the furniture traditional, the décor will be an eclectic mix of old and new.
9. Earthy Feel: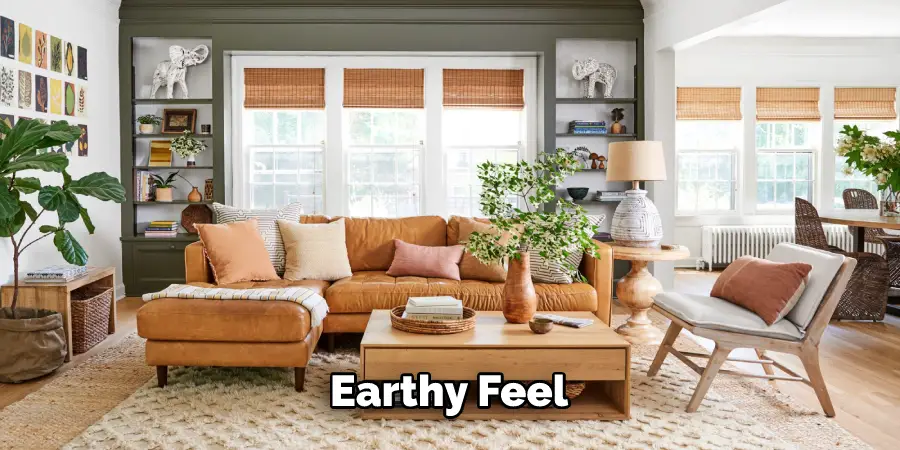 Incorporate indoor plants into your living room to bring an organic touch while keeping the space contemporary at the same time. Add some earthy tones in the form of brown leather furniture, a neutral area rug, and wooden accents to set a warm atmosphere.
Try adding some green touches to your styling, like a green velvet sofa or an olive green armchair. It will create a cozy and inviting living room perfect for gathering with family and friends. With the right furniture, color palette, and decor pieces, you can achieve an earthy feel with a timeless appeal.
10. Cool Blues: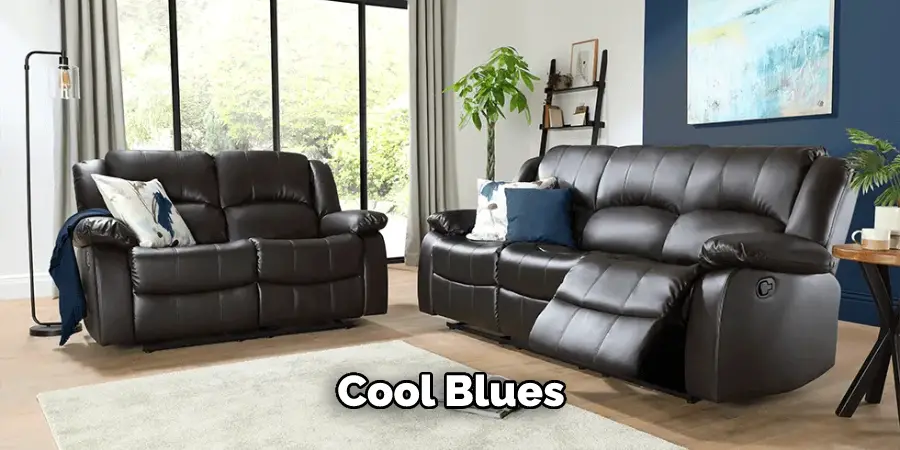 Choose blue accents such as artwork, curtains, or pillows to contrast warm-toned brown leather furniture while maintaining a cool atmosphere. If bold colors aren't your style, use softer shades of blue to give the space an airy feel.
To make the room feel larger, use light blue tones on the walls and flooring. For a more vibrant look, consider adding pops of bright blues on a few accent pieces. To complete the look, add in some white or tan hues to keep the focus on the leather furniture. With these ideas, you can create a living room that seamlessly blends comfort and style. 
If you're still feeling stumped, consider hiring an interior designer to help bring your vision of the perfect living room to life.  With their knowledge and expertise, your dream room can become a reality in no time.
11. Vintage Charm:
Incorporate vintage items such as an old trunk, wicker baskets, or hanging lanterns to bring an eclectic touch to your living room with brown leather furniture. Place a colorful area rug or antique wall clock to complete the vintage look.
With these pieces, you can create an inviting and stylish living space that is all your own. 
While vintage items can be expensive, you can always find great bargains at thrift stores and flea markets. Be sure to check out these places when you're looking for perfect vintage pieces to finish off your living room. To add a touch of modern flair, add a few contemporary pieces, such as artwork or an area rug. This will balance out the vintage charm and give your room a unique and stylish look.
12. Monochromatic Palette: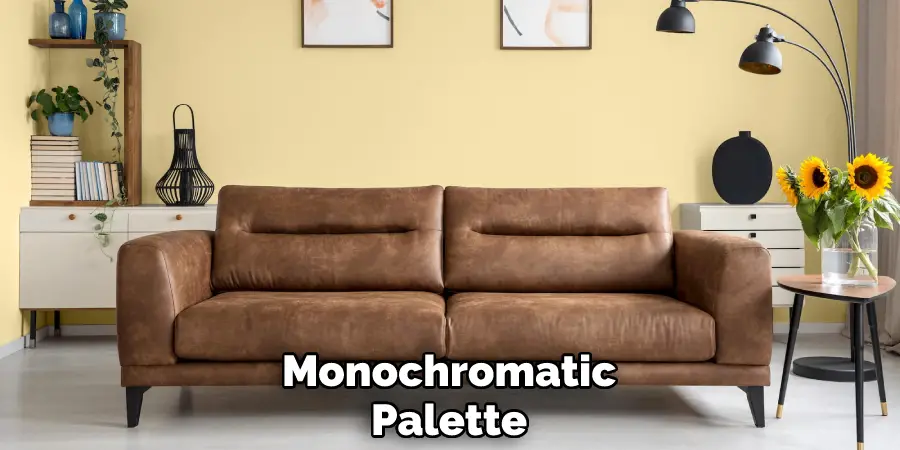 Create a sleek and sophisticated look by using shades of the same color, like various shades of brown for the walls and flooring, along with brown leather furniture. This timeless look creates a feeling of calm and warmth, perfect for living rooms. Add some black accessories to add contrast and interest to the room.
Hang artwork with black frames or place a black vase on the mantel for extra visual appeal. While this look is all about the color palette, adding some texture can help to keep the room interesting. Try a fluffy rug in cream or white and perhaps a few decorative pillows for the sofa. The overall effect will be timeless and classic.
13. Shabby Chic Vibes: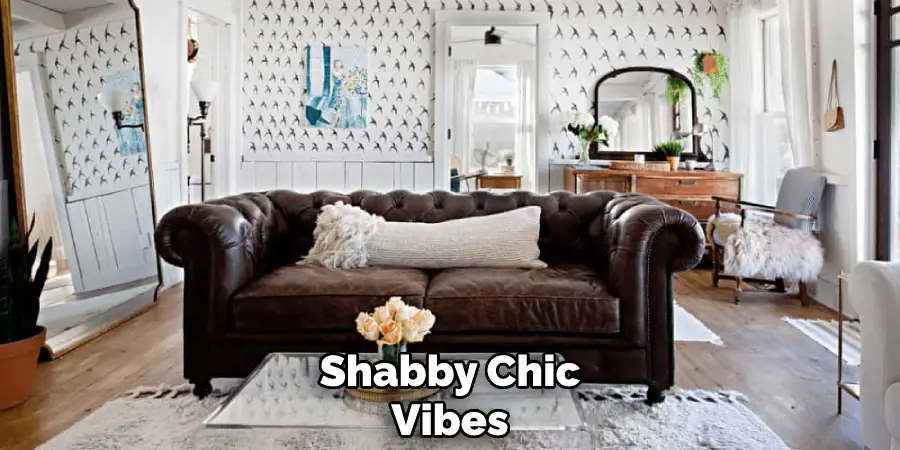 Mix distressed elements such as distressed wooden shelves or whitewashed side tables with your brown leather furniture to achieve a shabby chic feel in your living room. Choose a neutral color palette with pops of color to complete the look. Add patterned pillows and rugs in colors like lavender, light blue, and pink to create a cozy and inviting atmosphere.
You can also layer the furniture with throw blankets or quilts for a comfortable touch. Finally, don't forget the lighting: use floor lamps and wall sconces to give the room a warm glow. With these shabby chic touches, you'll have a living room that looks like it was designed by an interior decorator.
14. Country Style: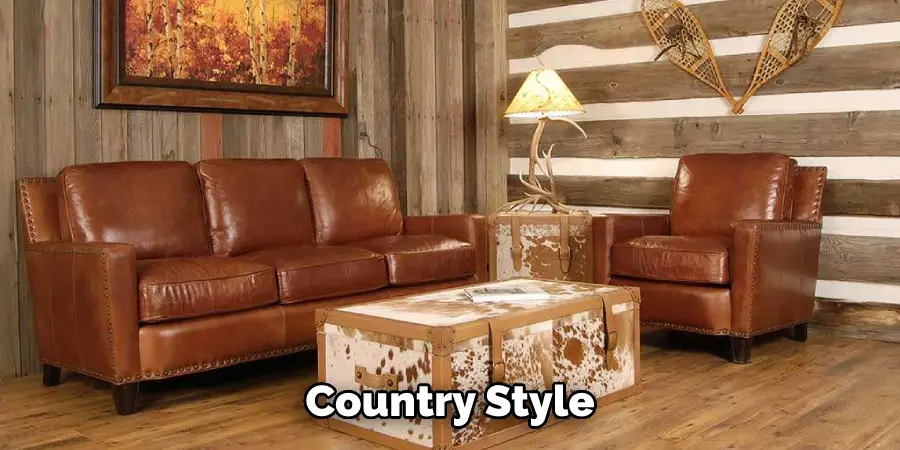 Transform your living space into a warm and inviting country-style home with patterned wallpaper and textural elements such as wicker baskets. Choose a comfortable brown leather couch and add cozy throw pillows with floral prints to emphasize the country theme. Keep your furniture simple, stick to neutral colors, and choose natural materials such as wood and iron to complete the look.
A large area rug in warm tones will provide a cozy touch and anchor the space. Finish off the look with a rustic chandelier to give your living room an elegant country feel. Though the country style may be more traditional, it still looks modern and inviting.
15. A Touch of Sparkle: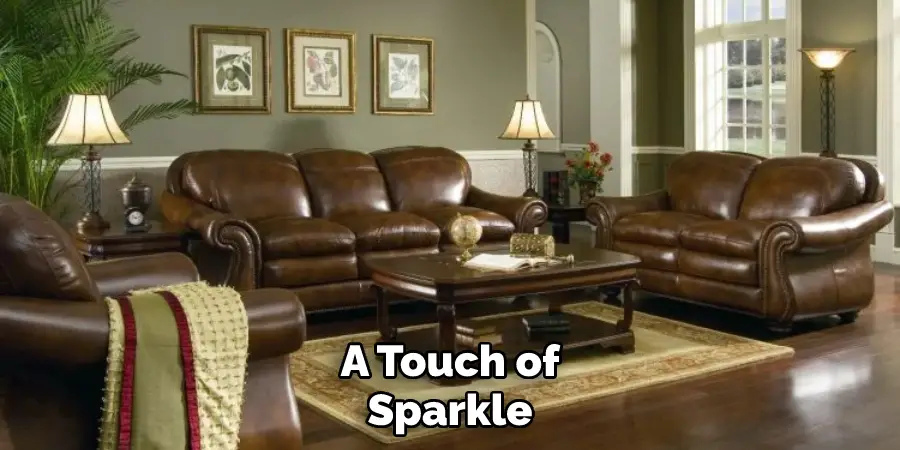 Add a hint of glamour to your brown leather furniture living room by incorporating metallic accents like silver lamps and mirrors. This will catch the light and create a luxurious, modern atmosphere.
Finish off the look with some statement art pieces that coordinate with your furniture to complete the design. However, make sure to not overdo it, as this could end up looking too busy and overwhelming. With the right balance of pieces, your living room will be an inviting and stylish space.
Things to Consider When Decorating Brown Leather Furniture Living Room
When decorating a living room with brown leather furniture, there are many factors to consider. Here are some of the top things to keep in mind when designing a living room with brown leather furniture: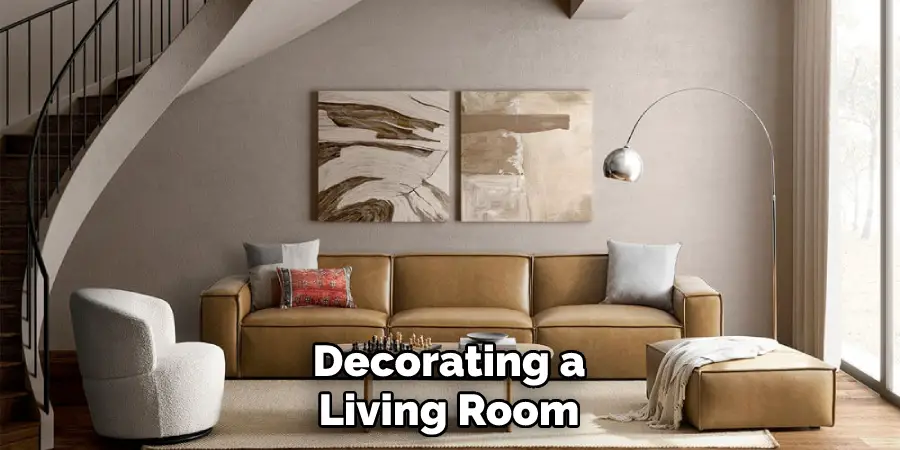 1. Color scheme:
Brown leather tends to be very neutral and can easily blend into many different color schemes. Choosing colors that work well with the furniture is essential for creating a cohesive look. Consider adding warm tones like creams, golds, oranges, and yellows to add some color and contrast.
2. Accessories:
Accessories are key when decorating any room, but even more so when it comes to a living room with brown leather furniture. Choose accessories that will complement the overall look of the room such as rugs, pillows, throws and art pieces that pick up on the colors of the furniture or surrounding walls.
3. Lighting:
Proper lighting is important in any room, but especially when it comes to a living room with brown leather furniture. Consider adding accent lighting such as table lamps, floor lamps and wall sconces to brighten up the area. Natural light is also an important factor and should be taken into consideration when choosing window treatments.
4. Layout:
The layout of the living room will have a great impact on how the space looks and feels. Choose furniture pieces that are placed in an open floor plan that allows for easy circulation throughout the room. Think about creating conversation areas so that people can interact without feeling cramped or overcrowded.
By taking these factors into consideration, you can create a beautiful and inviting living space with brown leather furniture that everyone can enjoy. With some careful planning and the right accessories, your living room can be a cozy and welcoming place to relax and entertain guests.
Some Common Mistakes When Decorating Brown Leather Furniture Living Room
1. Forgetting to Soften the Look:
Brown leather furniture can be quite bold and visually strong, so it's important to add other accessories that soften the look of the room. Try playing around with colors and textures by adding throw pillows, throws, rugs, or curtains in complementary shades. This will help lighten up the overall look and make the furniture feel more inviting.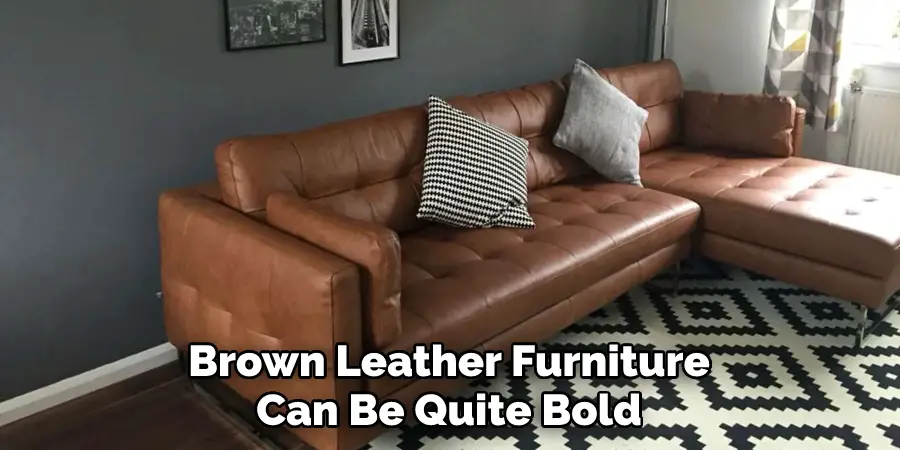 2. Mixing Too Many Textures:
When decorating a room with brown leather furniture, it's important not to mix too many textures. While adding texture can be an effective way of tying together different elements in the living room, if you mix too many different materials, the end result can be chaotic and overwhelming. Try sticking to two or three textures at most so that your living room looks balanced and stylish.
3. Not Using Statement Pieces:
A common mistake when decorating a brown leather furniture living room is neglecting to add statement pieces or artwork. Brown leather furniture provides a strong aesthetic impact on its own but can also provide the perfect backdrop for other pieces that draw attention and make a statement, like a wall art, sculptures, or mirrors. Don't be afraid to experiment with different looks until you find the perfect balance of accessories.
4. Neglecting Accessories:
When decorating a brown leather furniture living room, it's important not to forget about the smaller details. Adding little accessories like coffee table books, fresh flowers in interesting vases, and small sculptures can help give your space an inviting feel as well as tie together all the elements in the room. These items don't have to be expensive either; just choose ones that fit your style and budget.
Conclusion
Brown leather furniture can be a beautiful, timeless addition to any living room. With its luxe aesthetic, it can serve as an unexpected accent piece or tie the entire room together. By taking into account factors such as color, texture, and size of the furniture, you'll be able to match it perfectly with other elements in your home.
This allows you to create a unique living room design based on your own personal style and tastes. Now that you've read this post on brown leather furniture living room ideas, we hope you feel inspired and empowered to curate the perfect atmosphere in your space. All it takes is a little patience and creativity – trust us, it's worth it!