Are you looking for an effortlessly stylish outfit that's both chic and comfortable? Burgundy leather pants offer just the perfect combination of high fashion and comfortable wear. These dynamic trousers will make a fashion statement while allowing you to move with ease throughout your day.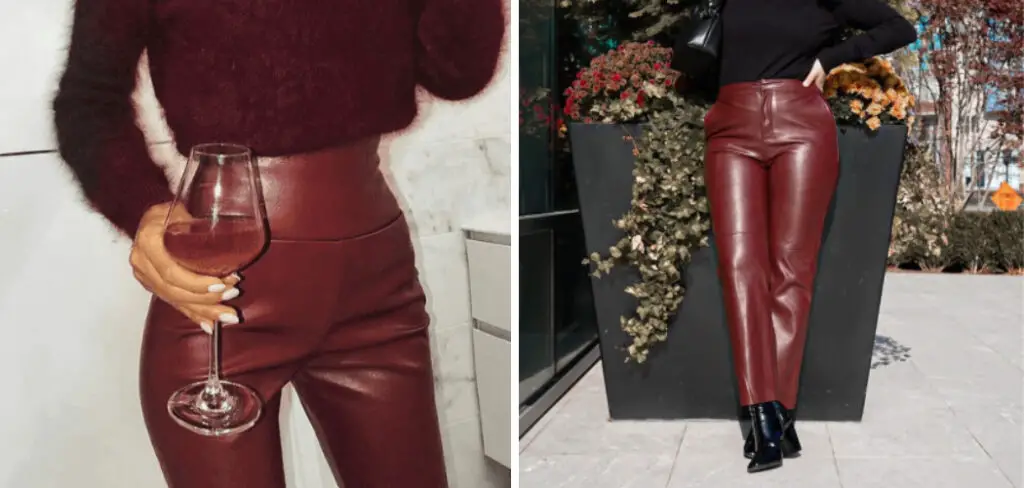 Whether you're heading to work or out on the town, show off your sense of style with these burgundy leather pants, which can be paired with anything from blouses and t-shirts to cardigans and kinetic jackets – we'll discuss more burgundy leather pants outfit ideas!
Can Leather Pants Be Classy?
Absolutely! You can make leather pants look elegant and sophisticated with the right outfit. Burgundy leather pants are especially great for creating a classy yet edgy look. To elevate your style, start by pairing burgundy leather pants with a crisp white blouse. This classic combination is timeless and will always turn heads.
For a dressier occasion, try adding a tailored black blazer or jacket on top to complete the look. To add some flair, accessorize with statement pieces like bold jewelry, standout shoes, and an eye-catching bag.
If you want to take things in a more casual direction, try layering your burgundy leather pants with an oversized chunky knit sweater or cardigan. This cozy but stylish ensemble is perfect for an autumn day out or even a night out at the bar. To complete the look, add cute ankle boots and a crossbody bag.
Burgundy leather pants are also perfect for creating an edgy rocker-chic outfit. For example, pair your burgundy leather pants with a vintage concert tee and black motorcycle boots. This cool-girl look will be sure to earn you lots of compliments! To add some extra interest, finish off your look by adding accessories like silver hoops and a bold red lip.
No matter how you style them, burgundy leather pants are always timelessly stylish and can easily take any outfit from ordinary to extraordinary!  So next time you're looking to make a statement, reach for a pair of burgundy leather pants and get ready to turn heads!
15 Burgundy Leather Pants Outfit Ideas
1. A Fitted Tee or Tank.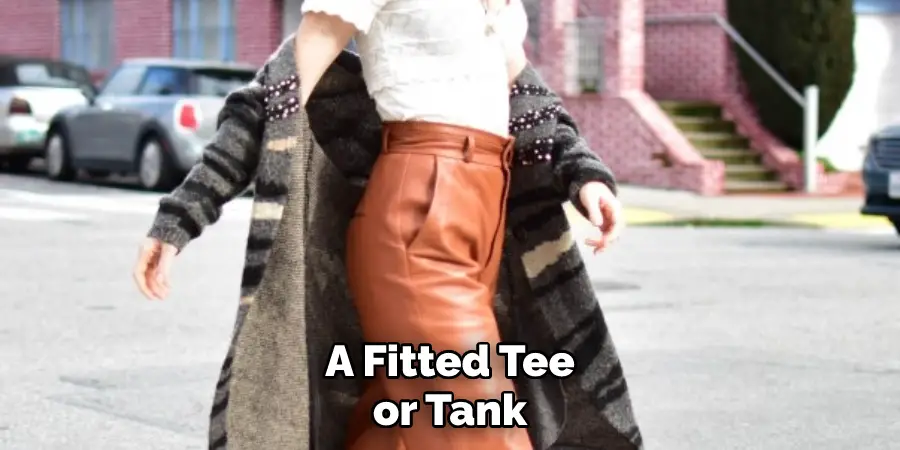 A fitted tee or tank will hug your curves in all the right places and show off your figure. Pair it with some high heels and you're good to go! if you want to add a bit of edge, go for a graphic t-shirt with an interesting design.
Although it's a casual outfit, the leather pants will give it some polish. To complete the ensemble, add a statement necklace to bring it all together. Make sure to choose something that won't be too overpowering.
2. A Loose Blouse.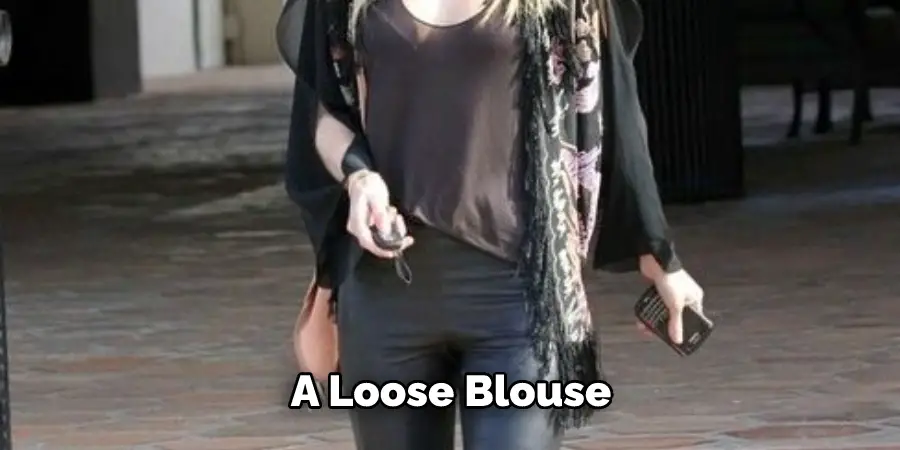 A loose blouse is a great way to balance out the tightness of leather pants. It'll also keep you from looking too sexy. A flowy white blouse like the one pictured below will create a beautiful contrast against your burgundy leather pants. To complete the look, add a pair of low-heeled boots and a statement necklace.
You'll be sure to look chic and sophisticated in no time! If you want to add a bit of color, try pairing your outfit with a bright pair of pumps. The result will be absolutely stunning. However, if you want something more understated and timeless, a classic black blouse will never let you down.
3. A Button-down Shirt.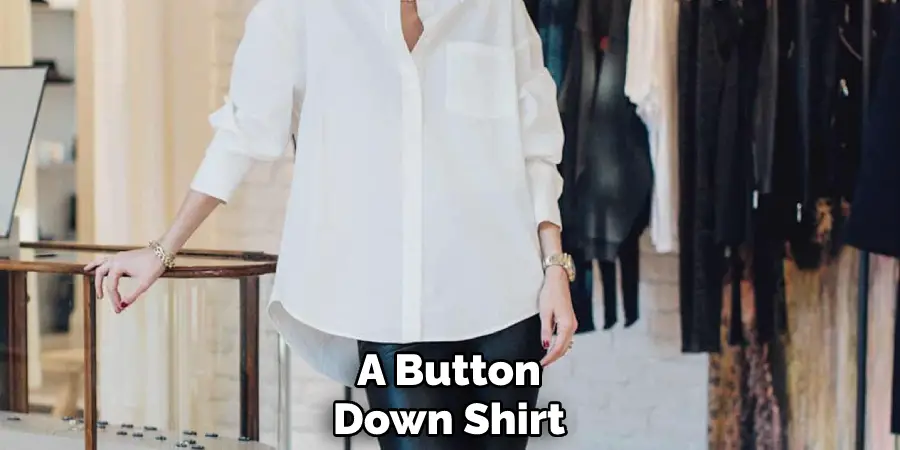 A button-down shirt is a classic choice that always looks chic. If you want to add a little bit of edge, leave a few buttons undone at the top. To balance out the edginess of the leather pants, opt for a light-colored or pastel button-down shirt. You can tuck it in the waistband of your pants or leave it untucked and loose.
Finish off the look with some statement jewelry and boots. To keep your look sophisticated, choose a shirt with a slim fit. The combination of leather pants and button-down shirts will create a timeless, fashionable look.
4. A Sweater or Cardigan.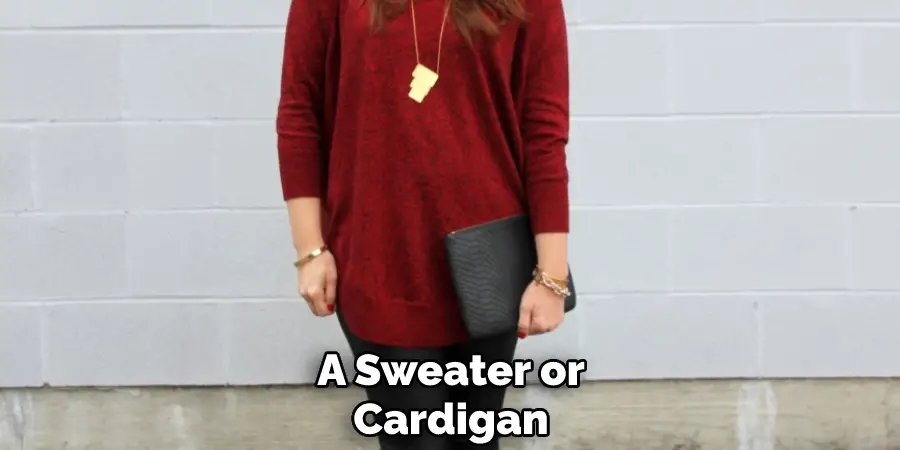 Pairing leather pants with a sweater or cardigan is a great way to stay warm in the colder months. Just make sure that the sweater isn't too bulky, or it will overwhelm your frame. Try pairing a simple V-neck sweater in a neutral color with burgundy leather pants for an effortless yet stylish look.
Complete the outfit with ankle boots or flats for a fashionable finish. If you want to add a bit of color, try wearing a patterned cardigan in navy or maroon. Although it may seem like a crazy combination, the colors can work together in unexpected ways.
5. A Jacket or Coat.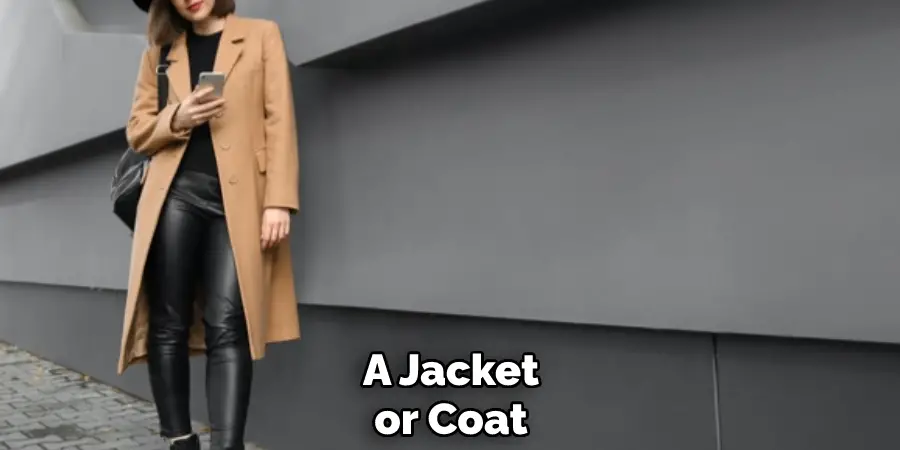 Throw on a jacket or coat for an extra layer of warmth in the wintertime. A denim jacket would look especially cool with leather pants. The contrast of different textures and colors can give an outfit a unique look. If you're feeling bold, try wearing a bright-colored jacket over your burgundy leather pants.
It's sure to be a showstopper! Additionally, a warm overcoat in black or navy would also look great with your burgundy leather pants. Finish off the look with some boots, and you're ready to go. Make sure to choose a jacket or coat that's the perfect length for you.
Many people make the mistake of wearing something too long, and it ends up looking frumpy. Investing in a good quality jacket or coat can really make a difference to your overall look.
6. A Dressy Top.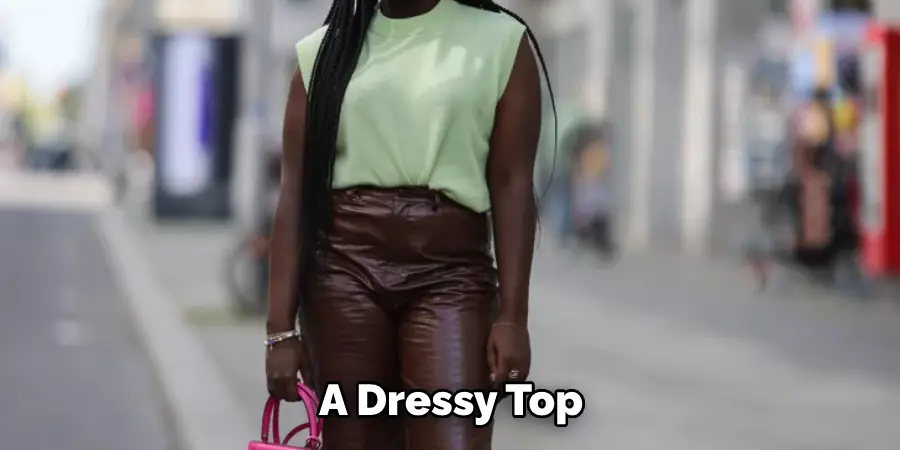 If you're going out for a night on the town, pair your leather pants with a dressy top. A sequined tank would be a great option! Add a pair of heels and some statement jewelry to complete the look. You'll be sure to turn heads wherever you go!
If you're going for something more casual, a simple collared blouse or chambray shirt works well too. No matter what top you choose, you'll look stylish and chic in your burgundy leather pants. Although leather pants are often considered to be a casual piece, they can easily be dressed up for more formal occasions.
With the right pieces and accessories, you can create a look that is sure to turn heads. So go ahead and try out different combinations of tops, jackets, and shoes with your burgundy leather pants. You're sure to find a look that works for you!
7. A Casual Top.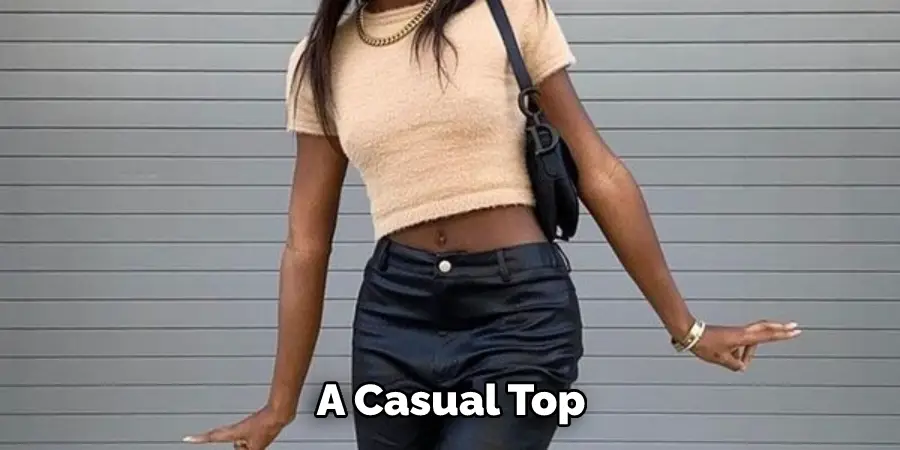 For a more casual look, pair your leather pants with a tee or sweatshirt. You can even wear them with a flannel shirt for a grunge-inspired outfit. Finish off the look with a pair of sneakers or combat-style boots. You can also accessorize with a statement necklace and shoulder bag for an extra bit of style. If you're looking for something a bit more relaxed, try pairing them with a loose-fitting blouse or tank top.
Add a denim jacket to complete the look. To dress it up a bit, opt for heeled sandals or strappy heels. Although leather pants can be quite daring, you can still make them look stylish and appropriate for a variety of occasions. With the right top, shoes, and accessories, you can create the perfect look.
8. An Oversize Top.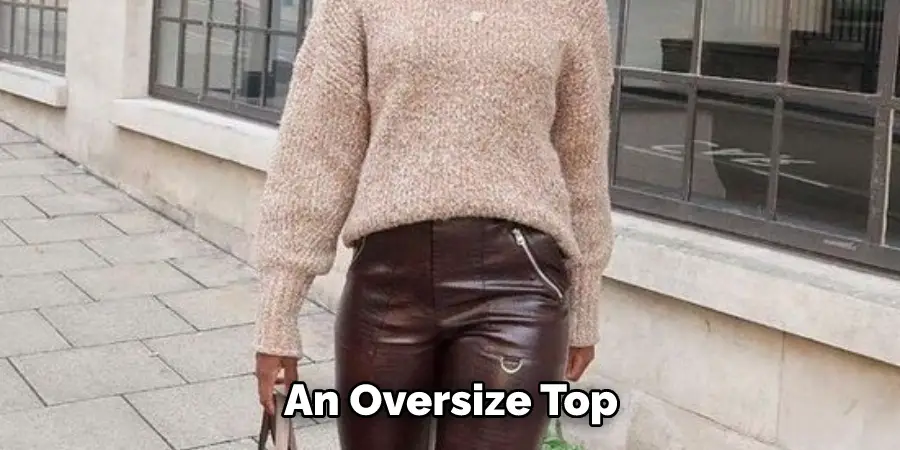 An oversize top will give you some much-needed coverage if you're self-conscious about your midsection. It'll also create an interesting silhouette that's sure to turn heads! Match your burgundy leather pants with a lightweight, oversize shirt in an eye-catching color like hot pink or turquoise. Throw on some nude heels and you have a winning look!
To make it even more interesting, try adding some statement jewelry or a funky bag. Additionally, you can style your hair in a messy braid or half-up do to complete the look.
9. A Crop Top.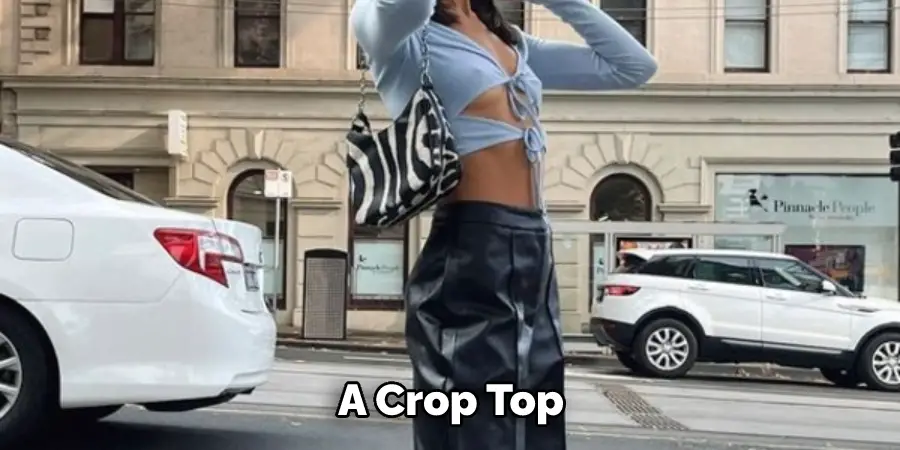 A crop top is a great way to show off your midriff while still keeping it classy. Just make sure the top is long enough to cover the pants and a bit of your waist. Paired with these burgundy leather pants, a white or black crop top will really stand out.
Add on a statement necklace, earrings, and some sandals, and you're ready to go! If you're feeling adventurous, try adding a bright-colored blazer to really make the outfit pop. Although you can go casual with this look, it is still perfect for a night out.
10. A Maxi Skirt.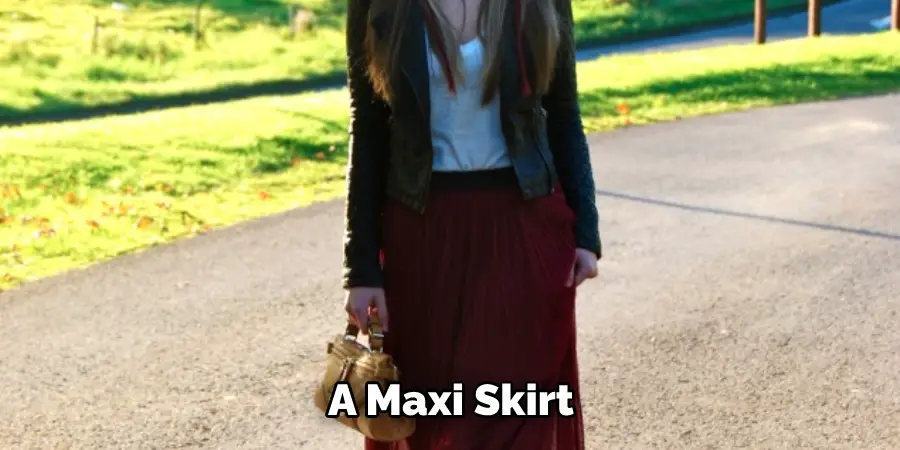 Maxi skirts are a super stylish and comfortable option for pairing with leather pants. Wear it with some wedges and a tucked-in white tank top for an effortlessly chic look. For the finishing touches, add a burgundy clutch and some dainty jewelry.
This is a great look for any occasion. While the leather pants provide an edgy contrast, the maxi skirt keeps it light and airy. To take this look up a notch, swap out the wedges for some strappy heels. Make sure to get the right fit of your leather pants, as they can be quite tricky to style. The extra effort will be worth it – you'll look and feel fabulous!
11. A Miniskirt.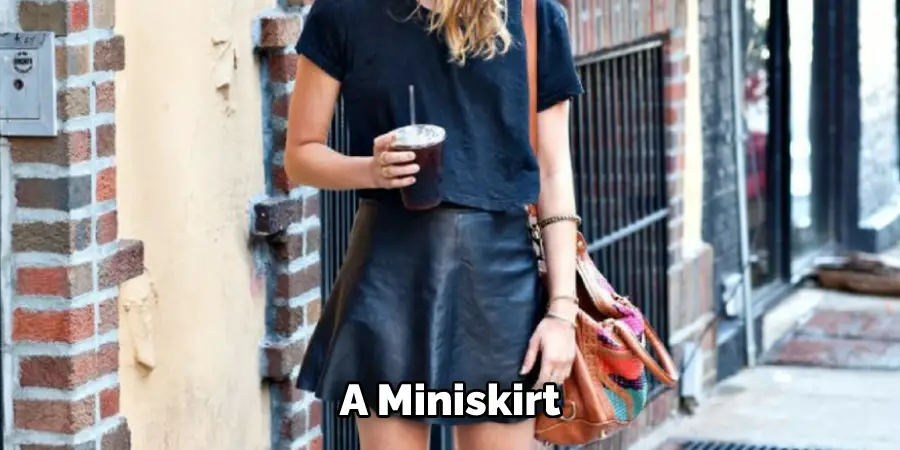 For a slightly more daring look, pair your leather pants with a miniskirt. It's an unexpected combination that can be both edgy and chic. Finish off the look with a pair of ankle boots or strappy heels for a night out on the town.
With this outfit, you'll be sure to turn heads. Although leather pants can be a bit daring, the miniskirt adds an extra layer of boldness. Be sure to keep accessories and make-up minimal for a really striking ensemble. To keep the look modern, choose a skirt with an interesting texture or pattern.
12. A Skirt or Dress.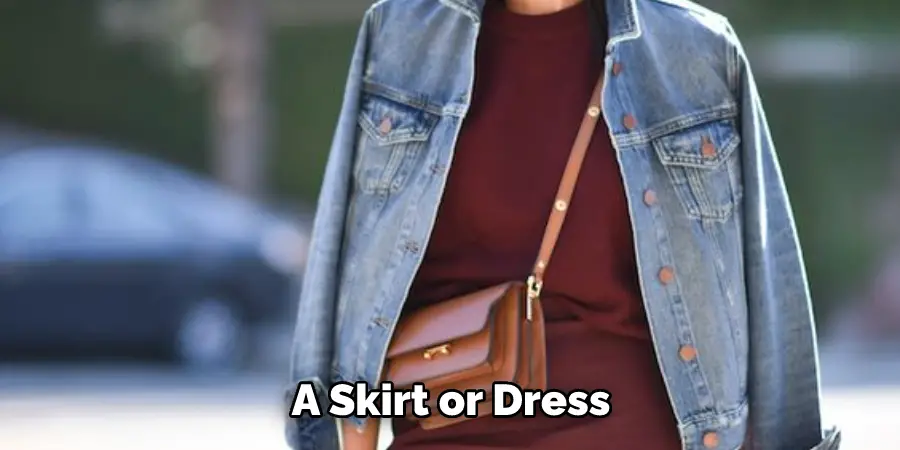 Skirts and dresses are a great way to add some femininity to an otherwise edgy ensemble. You can also play with the lengths and silhouettes to find something that suits your style. Try pairing a burgundy leather skirt with a white blouse and black ankle boots for an evening out, or dress it down with a chunky knit sweater and some ballet flats.
The possibilities are almost endless! Although skirts and dresses can be a great way to wear leather, if you want something more daring, you could opt for the matching set of burgundy leather pants and a leather jacket. For an even more daring look, accessorize with some trendy jewelry pieces in gold or silver. This outfit will definitely make you stand out from the crowd.
13. A Jumpsuit.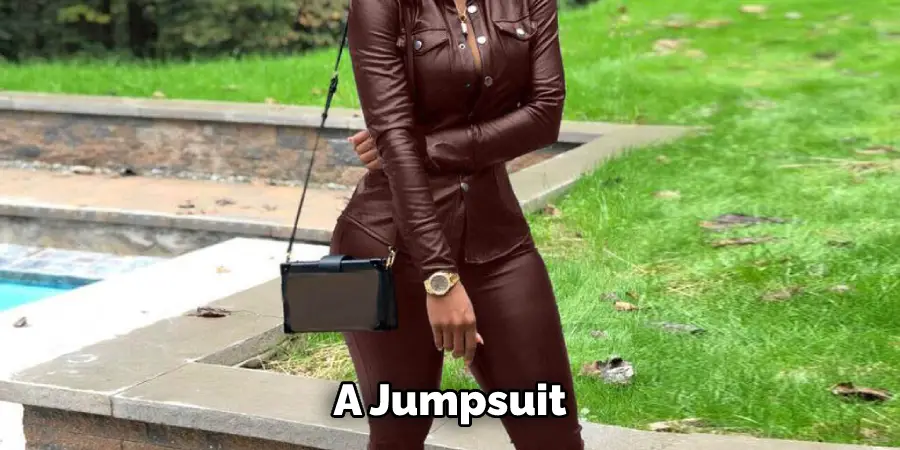 Jumpsuits are a great way to look fashionable without having to worry about too many pieces. Go for an all-burgundy look, or pair your burgundy leather pants with a black jumpsuit. You can also go for a more natural look and wear a beige or tan top. If you want to make a statement, add some bold jewelry to your outfit and you're ready to go!
Although jumpsuits can be very formal, you can also make them more casual by wearing a t-shirt underneath and some funky shoes. FIll in the gaps with a stylish black or brown bag and you're ready to take on the day! However you decide to style it, your burgundy leather pants will be the star of the show.
14. A Romper.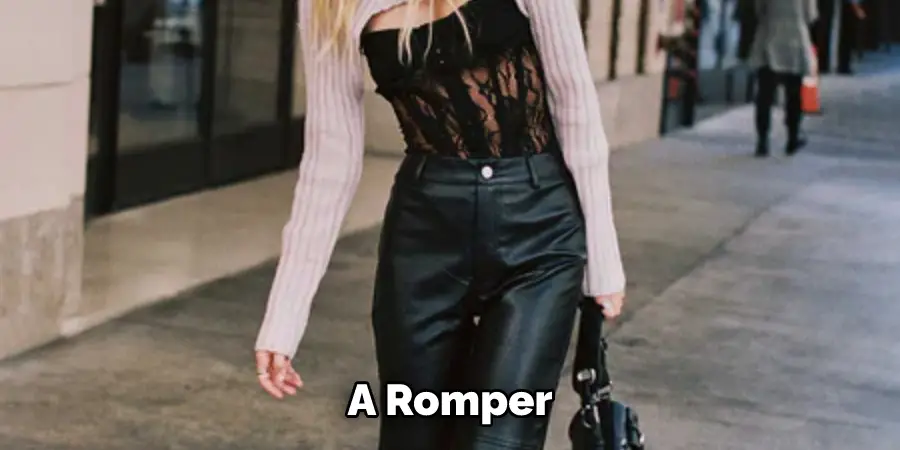 Romper are a fun and flirty way to wear your leather pants. Play up the contrast between the hard and soft elements by using a bright, airy romper and pairing it with a pair of burgundy leather pants. The combination can be dressed up or down for any occasion. Complete the look with a pair of strappy heels and a bold necklace.
This is sure to be an eye-catching ensemble! Although there are many types of rompers to choose from, a floral or vintage-inspired romper will make the best pairing with your burgundy leather pants. To create a more dramatic effect, go for a bolder pattern or color. Pairing it with your leather pants will instantly elevate the look and add texture and dimension to the overall ensemble.
15. A Pair of Shorts.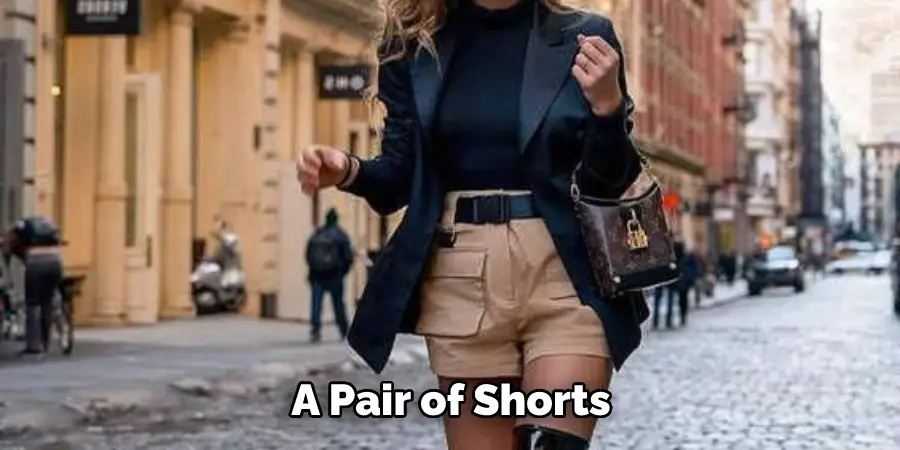 For a more relaxed look, try pairing your leather pants with a pair of shorts. Just make sure they're not too tight or too short. A good pair of shorts should hit just above the knee, and you can find a variety of styles to match your leather pants. Add a lightweight top and some fun accessories for an effortless look that you can wear anywhere. If you're going out, opt for a pair of sleek black leather shorts to really make your outfit stand out.
Things to Consider When Planning for Leather Burgundy Pants
1. Style
Leather pants come in a variety of styles, so it's important to consider what look you're going for. Think about what type of fit you're looking for, or if you want to keep it sleek and simple.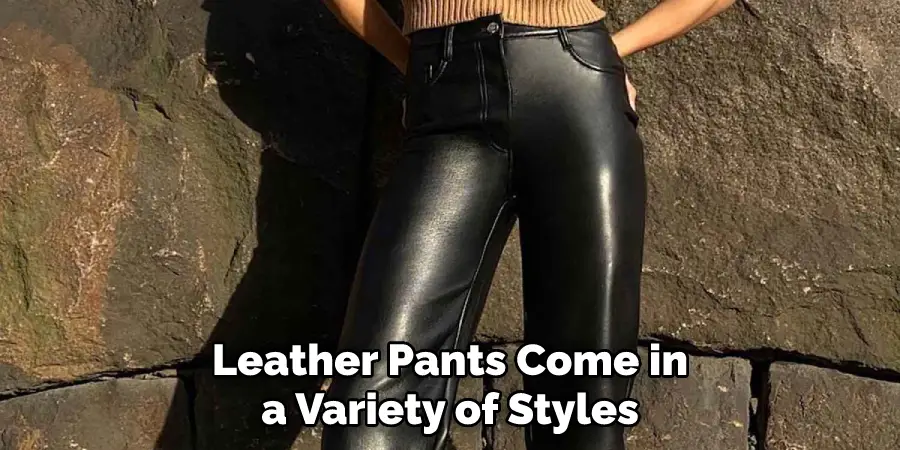 2. Comfort
Leather can be a bit heavier than other fabrics, so comfort is an important factor to keep in mind when selecting your pair of burgundy leather pants. Look for stretch material that will give you flexibility while still maintaining the look of leather.
3. Accessories
Leather pants are very versatile so it's important to think about how you want to accessorize them. A pair of statement heels or ankle boots would make a great accompaniment for a night out look, while loafers and flats could create a more casual vibe. Additionally, consider accessories like scarves and jewelry that help bring the look together.
4. Color
Burgundy leather pants can come in a range of shades, from deep reds to more subtle hues. Consider what other colors may be worn with the burgundy and how you want the overall outfit to look. A bolder color like neon yellow or pink could help create a statement look, while softer colors like pastels or neutrals may provide a more toned down ensemble.
At the end of the day, creating an outfit around your burgundy leather pants is all about understanding your style and having fun with fashion. With these considerations in mind, you'll be able to create looks that make you feel your best!
Some Common Mistakes When Planning for Leather Burgundy Pants
1. Not Accounting for Fabric Weight:
Leather pants typically come in a heavier weight than regular denim or other cloth materials, so make sure to take this into consideration when planning. Choose lighter tops, jackets and shoes to balance out the heavier weight of the pants.
2. Not Considering Personal Style:
When wearing leather pants, it is important to make sure that you are comfortable and confident in the look. Ensure that the outfit reflects your personal style as well as the occasion. Avoid trends or styles which you don't feel comfortable with.
3. Not Picking Appropriate Accessories:
Leather Burgundy Pants can be dressed up or down depending on accessories. Selecting appropriate jewelry, belts and other accessories will help complete the look. Try to pick items which complement rather than compete with each other for attention.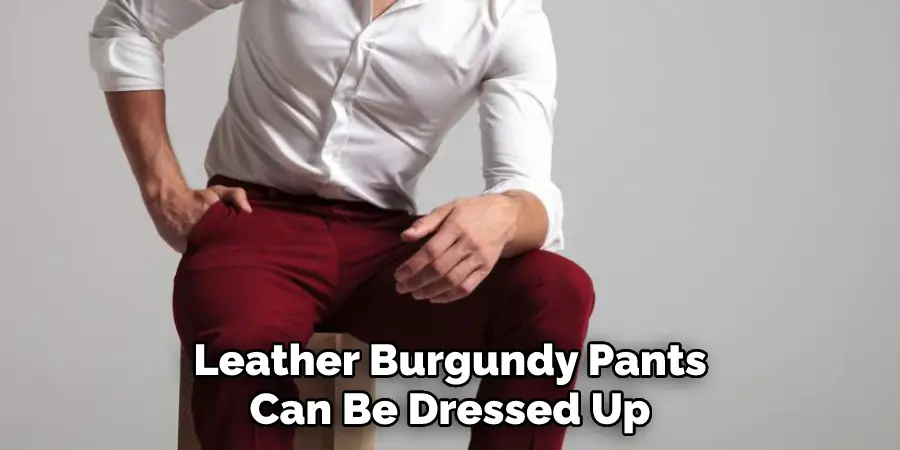 4. Not Paying Attention to Proportions:
When picking an outfit with Leather Burgundy Pants, pay attention to proportionality. Make sure tops and jackets are cut in the right size to fit your body type, and that they complement the pants. Avoid oversized or baggy items which can make your overall look appear unbalanced.
5. Not Considering Comfort:
Leather Burgundy Pants can be comfortable to wear but pick a pair with just the right amount of give. If a pair is too tight it will be uncomfortable and unflattering. Make sure you have enough leg space and mobility so you can move around freely while still looking stylish.
Following these tips when planning an outfit featuring Leather Burgundy Pants will help ensure a fashionable yet comfortable look for any occasion!
Is Burgundy a Good Color to Wear?
Burgundy is an excellent color to wear, both formal and informal. Its deep purple-red hue can give you a sophisticated look, whether it's in the form of leather pants or a velvet blouse. Burgundy has been used for centuries to give clothing an upscale feel, so don't be afraid to try out this bold hue!
Whether you choose it in boots or dress shoes, a burgundy outfit can easily become one of your favorite looks. Leather pants are especially great for this, since they often come in shades like oxblood and merlot that perfectly match the color palette of burgundy. Paired with a neutral top and accessories, this look can become both edgy and elegant at the same time.
Conclusion
So, consider swapping out denim for some burgundy leather pants for an eye-catching look that won't go unnoticed! After all, there's no better confidence boost than strutting around in an outfit that reflects your unique style. Check out our list of Burgundy Leather Pants Outfit Ideas today to help get you started on styling and maximizing your fashion goals this season!