Authenticating a Gucci wallet can seem like a daunting task, especially if you know nothing about designer items. But with the right knowledge and research skills, anyone can become an expert in authenticating luxury goods.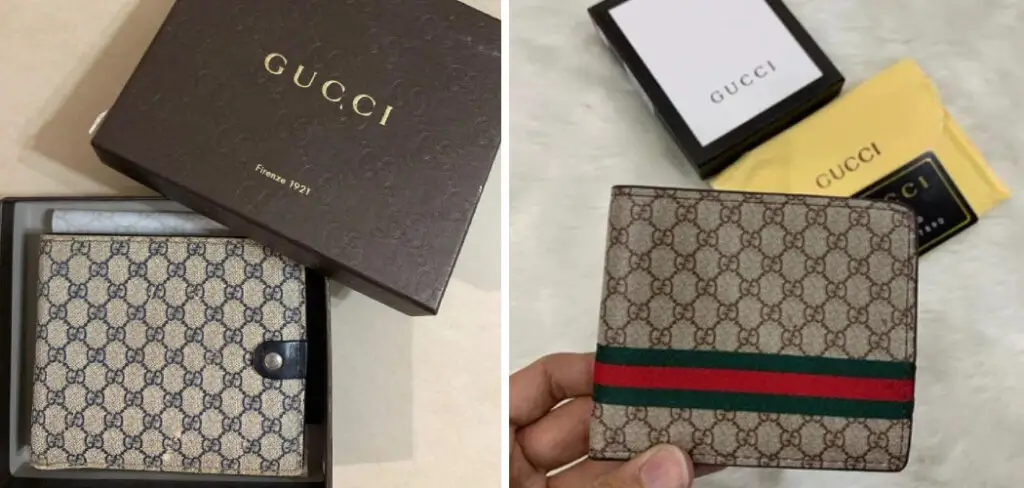 In this post, we'll explore some of the ways how to authenticate a Gucci wallet and determine whether or not it meets your own quality standards. You'll come away with greater confidence when buying designer goods online—knowing that you have all the necessary tools to ensure authenticity so you don't buy something fake!
9 Best Ways on How to Authenticate a Gucci Wallet
1. Look for the Gucci Logo:
An authentic Gucci wallet will feature the iconic "G" logo, either branded onto the leather or as a metal embellishment. Compare this to fakes, which may have an illegible or blurry "G" logo on them. You can find an example of the official Gucci logo online to compare and contrast. For the "G" logo search on the left of the wallet and the interior of it.
2. Check the Craftsmanship:
Authentic Gucci wallets are made with precision, excellent craftsmanship, and high-quality materials. Look for even stitching, perfectly aligned patterns, and tight seams on all edges. Also, check for great attention to detail such as cleanly cut lining and straps that sit flat.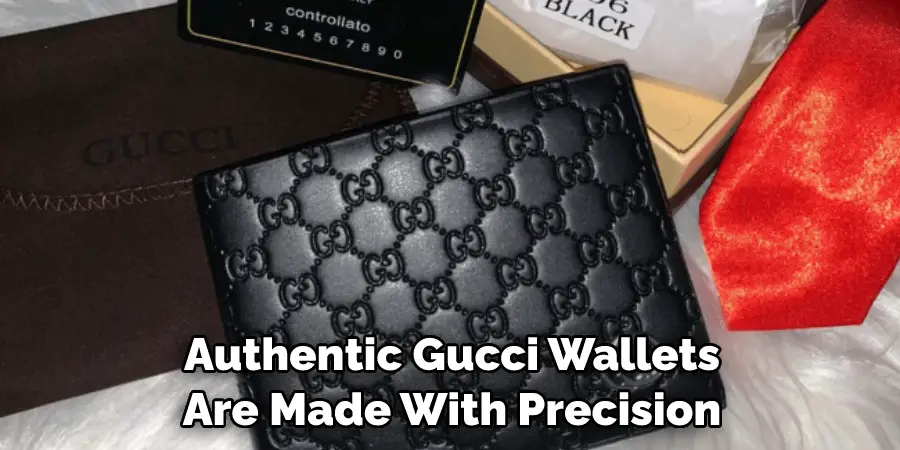 3. Check the Materials Used:
An authentic Gucci wallet should be made of genuine leather which feels soft and luxurious to the touch. It will also feature high-end fabrics such as canvas or wool, depending on the style of the wallet. Fakes usually have stiffer fabric that doesn't move and often appears shiny or plastic-looking.
4. Inspect the Workmanship of the Seams and Edges:
Authentic Gucci wallets have perfect seams that are evenly spaced and perfectly straight. Be sure to check for loose threads, fraying edges, or any other signs of shoddy craftsmanship as these are key indicators a wallet is a fake. Inspecting the seams and edges of a wallet can also help you identify any signs of wear or age.
5. Compare Prices:
The price tag on an authentic Gucci wallet should be in line with all other wallets from the same brand. If it's significantly cheaper than others, then it's likely a fake. Also, be wary of any wallet that's much more expensive than usual as it may be a counterfeit. If you're looking to buy a wallet online, thoroughly research the price before making a purchase.
6. Look at the Serial Number:
Gucci wallets come with an engraved serial number or " GG" code which is usually found on the leather inside flap of the wallet and sometimes on the interior lining as well. The number should be stamped perfectly, with no smudging or fading. The number should also match the one printed on the box and the certificate of authenticity that comes with it.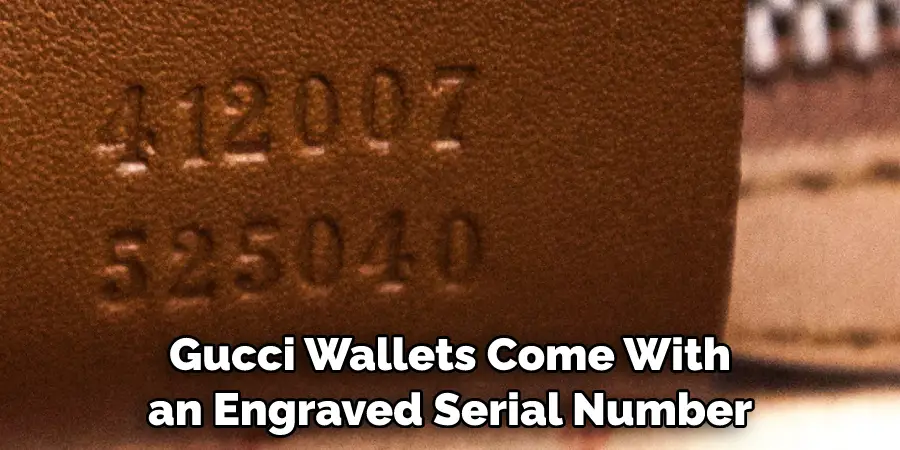 7. Inspect the Hardware Used:
Authentic Gucci wallets should have metal hardware details such as buttons, zippers, charms, and clasps that are made from high-quality materials. Metal hardware should be thick and heavy, with no signs of rusting or tarnishing. Take the wallet out of its box and feel its weight of it—a fake will usually be noticeably lighter.
8. Look at the Packaging:
When you purchase an authentic Gucci wallet, it should come with a dust bag and certificate of authenticity in a branded box. The logo on the packaging should be crisp and clear, while the box should be sturdy. Fakes usually come with a cheap paper bag and no certificate of authenticity.
9. Buy from a Reputable Retailer:
The best way to ensure an authentic Gucci wallet is by purchasing it from a reputable retailer or directly from the Gucci website. This will give you peace of mind knowing that your wallet is genuine. You should also check to see if the retailer has a return policy in case you're not happy with the product.
Following these nine tips will help you authenticate your Gucci wallet and ensure that you are getting the real deal! Make sure to do your research before making an investment in any luxury item, so that you can be sure you're getting the best quality for your money. Happy shopping!
Additional Tips and Tricks to Authenticate a Gucci Wallet
1. Look for the iconic interlocking G logo on the wallet. This is one of Gucci's most recognizable symbols and is an easy way to verify authenticity.
2. Inspect the overall quality of the wallet. Genuine Gucci wallets are crafted with high-quality leather, precise stitching, and attention to detail that counterfeit wallets often lack.
3. Check the seams and stitches of the wallet for any imperfections or inconsistencies. Gucci's signature double-stitch detail should be even and consistent along each seam.
4. Examine the lining inside the wallet carefully. The lining should match up perfectly with the stitching in size, color, and texture.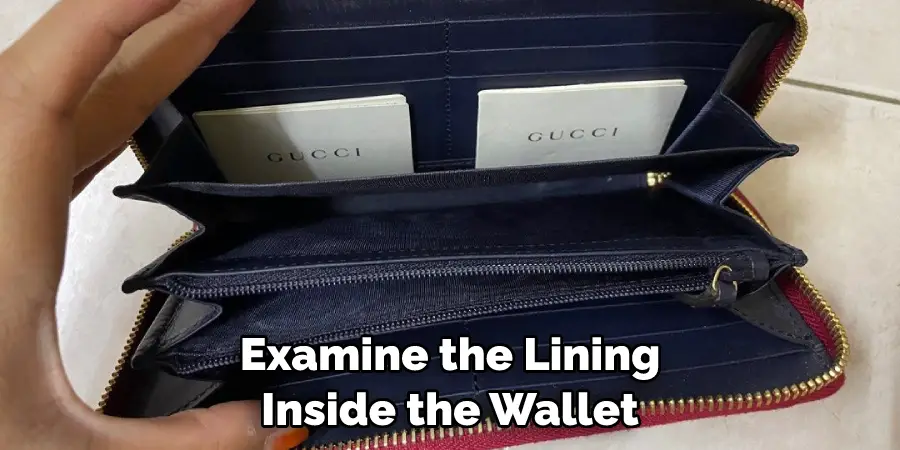 5. Take a look at the embossing on the wallet. Authentic Gucci wallets have raised lettering that is evenly spaced and of consistent size, font, and color.
6. Make sure the logo on the wallet is centered and in proportion with anything else stamped onto it. Logos should be level and cleanly pressed into the leather.
7. Feel the texture of your wallet. Gucci wallets are made with high-quality materials that have a distinct feel to them. If it doesn't feel right, it probably isn't authentic.
8. Check for a serial number or code stamped onto the wallet. Gucci wallets usually have a control number stamped inside them to indicate authenticity.
9. Research prices on the secondary market and compare them with your wallet's asking price before you purchase them. If something seems too good to be true, it probably is!
By following these tips and tricks, you can be sure that the Gucci wallet you're buying is the real deal. With a bit of practice, authenticating a Gucci wallet will become second nature!
Things You Should Remember While Buying a Gucci Wallet
1. Gucci wallets are usually made from Italian leather, so the material should be soft and supple to the touch.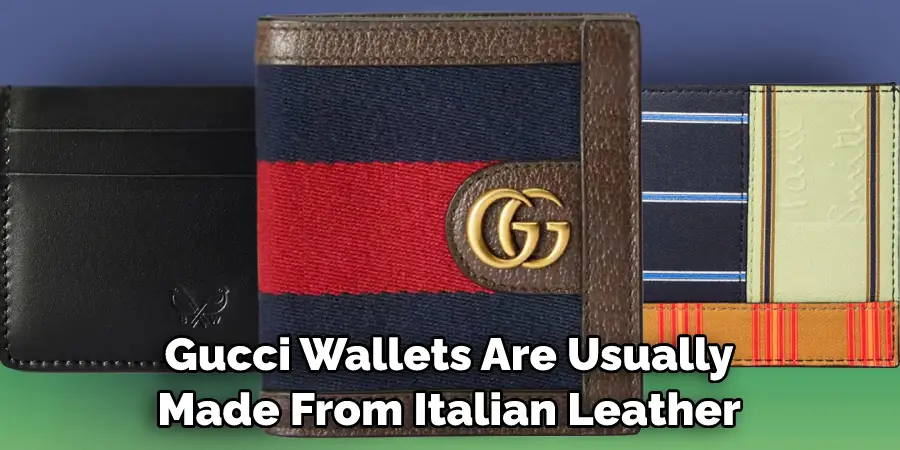 2. Make sure to inspect the construction of your wallet for any defects such as loose stitches, uneven trim, or weak seams. Poor construction is a sign of an inauthentic product.
3. If you're purchasing an embossed product, check that the embossment is consistent and even all around the wallet, with no fading or misplacement of lettering or design elements.
4. Examine the Gucci logo for any inconsistencies in alignment, spacing, or color. Authentic wallets will have perfectly aligned and some holograms may even change color depending on the angle you view them from.
5. Check for any spelling mistakes, which are common signs of counterfeit goods. A genuine Gucci product will be printed with accurate spelling and typography.
6. Be sure to check the serial number of your wallet as authentic products will have their own unique code.
7. Make sure to buy from a reputable source and whenever possible, purchase proof of authenticity with your wallet, such as an accompanying certificate. This will help you in the future should there be any doubt about the product's legitimacy.
By following these steps when buying a Gucci wallet, you can ensure that you are getting an authentic product. With careful inspection and research, you can be confident of your purchase and enjoy having a luxury Gucci wallet in hand.
Frequently Asked Questions
What Should I Look for When Trying to Authenticate a Gucci Wallet? 
Look at the craftsmanship, and quality of materials and check for certain details such as the font used on the signature logo or serial number. Additionally, pay attention to the general shape, stitching, lining, and hardware components. Authentic Gucci wallets will have impeccable craftsmanship and quality materials.
Are There Any Other Ways to Verify Authenticity? 
Yes, there are multiple ways to verify the authenticity of a Gucci wallet. For example, you can check the serial numbers associated with each product. Gucci offers a complimentary authentication service that verifies an item's serial number and confirms its authenticity. You may also find a Gucci authentication label inside the wallet, which contains information about where it was manufactured.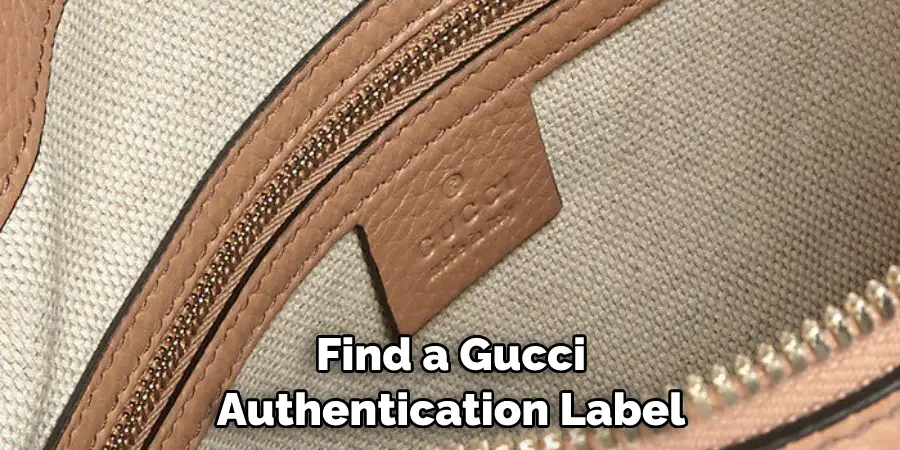 Are All Gucci Wallets Authentic? 
No, unfortunately not all Gucci wallets are authentic. To ensure that you're buying an original product, purchase directly from the manufacturer or an authorized retailer. Be aware of any irregularities and discrepancies in the wallet such as misspelled words, inaccurate stitching, or a lack of serial numbers.
Do Fake Gucci Wallets Look Identical to Authentic Ones? 
No, fake Gucci wallets may look almost identical to an authentic ones, but there are usually small differences in quality, craftsmanship, and materials. Pay close attention to details such as the font used for the signature logo or serial number. Additionally, the lining in a fake wallet may be of lower quality than an original one. 
What Should I Do If I Suspect a Gucci Wallet is Fake? 
If you suspect that a Gucci wallet is fake, it's best to err on the side of caution and avoid buying it. Verify the serial number with the manufacturer before making your purchase. Additionally, look for any discrepancies in craftsmanship or quality materials. If in doubt, contact the manufacturer or an authorized retailer for further assistance.
Do Authentic Gucci Wallets Come with a Warranty? 
Yes, most authentic Gucci wallets come with a warranty that lasts up to two years. This covers any manufacturing defects and ensures that your wallet is covered if it breaks down within the covered period. Be sure to check the manufacturer's website for more details on their warranty policy.
Conclusion
Overall, authenticating a Gucci wallet can be done through many steps. To start off, check the design features that distinguish a true Gucci wallet from a fake one. Do research on the brand by exploring authorized stores and websites to compare product images and descriptions. Look at the logo and its material which should all pass a test of quality in order to be authentic.
Additionally, make sure to purchase only from reputable sources instead of impulse-buying off sites that have not been approved or a seller who you aren't certain is credible. In the end, being informed about how to authenticate a Gucci wallet will make your buying experience much smoother and give you peace of mind about your purchase. By following these guidelines, you'll be able to make an educated decision when purchasing a pristine Gucci wallet!