Leather jackets are a popular item of clothing, and it's important to get the right size when you're purchasing one. In this post, we'll show you how to measure for a leather jacket and help you find the perfect fit. So whether you're new to leather jackets or need a refresher on sizing, read on for tips on ensuring you get the perfect jacket for your body.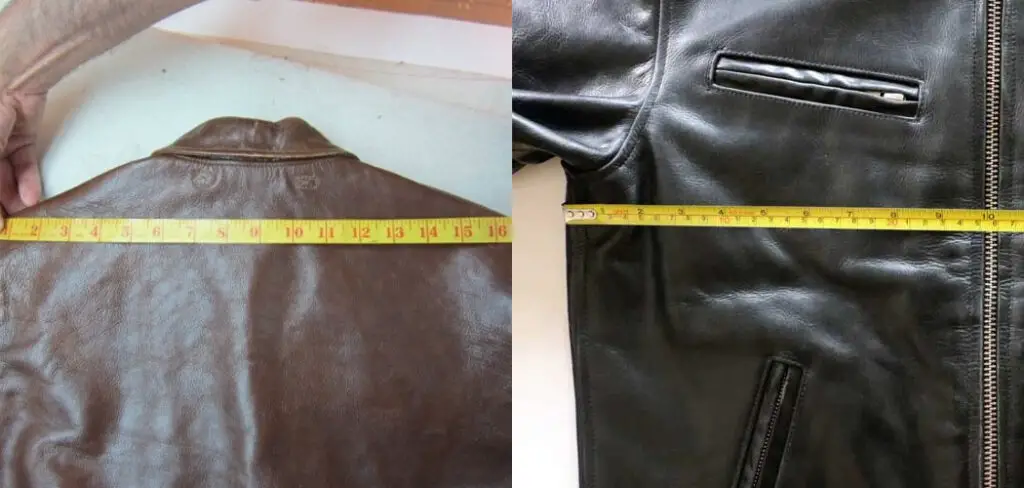 What Is a Leather Jacket?
A leather jacket is a piece of clothing made from an animal's skin, usually a cow. The leather is treated to make it more durable and resistant to water and other elements. Leather jackets are often worn by people who ride motorcycles, offering protection from the wind and elements.
They are also popular fashion items; many wear them for their stylish look. Leather jackets can be expensive, but they are built to last and will only get better with age. So whether looking for function or fashion, a leather jacket is a great investment.
Benefits of Going Custom Leather Jacket
Durability: Custom leather jackets are made of high-quality materials and designed to last several years, if not decades. They're far more durable than off-the-rack options, giving you a better investment for your money over time.
Comfort: Custom leather jackets offer unparalleled comfort when compared to ready-made options. Because they are tailored to fit the exact contours of your body, they provide an unbeatable level of comfort that is impossible to replicate in an off-the-rack jacket.
Style: The best part about customizing a leather jacket is the ability to create your own style. You get to choose from different colors and stitches, allowing you to craft your look as unique as you are.
Quality Craftsmanship: When you go custom with a leather jacket, you can rest assured knowing that it was made by skilled craftsmen who take their job seriously and make sure every jacket is crafted with the utmost precision and attention to detail. This ensures that the piece will stand out among its peers for many years to come.
Investment: Going custom with a leather jacket is considered an investment in yourself and your wardrobe because, unlike fast fashion pieces or lower quality items, it will last much longer and retain its value over time as long as it's taken care of properly.
Why Should You Measure for A Leather Jacket?
For anyone who's ever shopped for a leather jacket, you know that one of the most difficult parts is finding the perfect fit. But with a little effort, finding a jacket that looks and feels great is possible. Here's why it's worth taking the time to measure for a leather jacket:
A well-fitting jacket will flatter your figure. Leather jackets have a tendency to be form-fitting, so it's important to make sure that yours fits well to avoid looking boxy or shapeless.
A too large or small jacket can be uncomfortable to wear. If your jacket is too big, it may feel bulky and heavy, while if it's too small, it may be constricting and uncomfortable. Either way, finding a size that feels good when you put it on is important.
The right size will also help ensure that your jacket lasts for years. If your jacket is too loose, it may stretch out of shape over time, while if it's too tight, it may strain the seams and fabric. Either way, proper sizing is essential for longevity.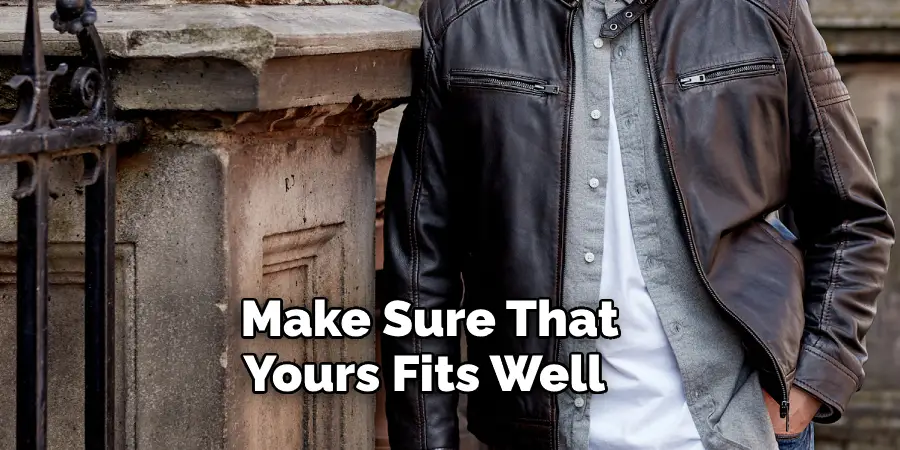 So next time you're shopping for a leather jacket, be sure to take the time to measure yourself before you buy. It may take a little extra effort, but it's worth it in the end!
How to Measure for A Leather Jacket Step-by-Step Guide
Leather jackets are a popular clothing item, with many different styles and sizes to choose from. It is important to measure yourself accurately before purchasing a leather jacket to ensure a good fit. The following steps will help you to measure yourself for a leather jacket:
Step 1: Measure Your Chest Circumference
Wrap a measuring tape around your chest, just under your armpits. Make sure the tape is level all the way around, and take note of the measurement. This is your chest circumference.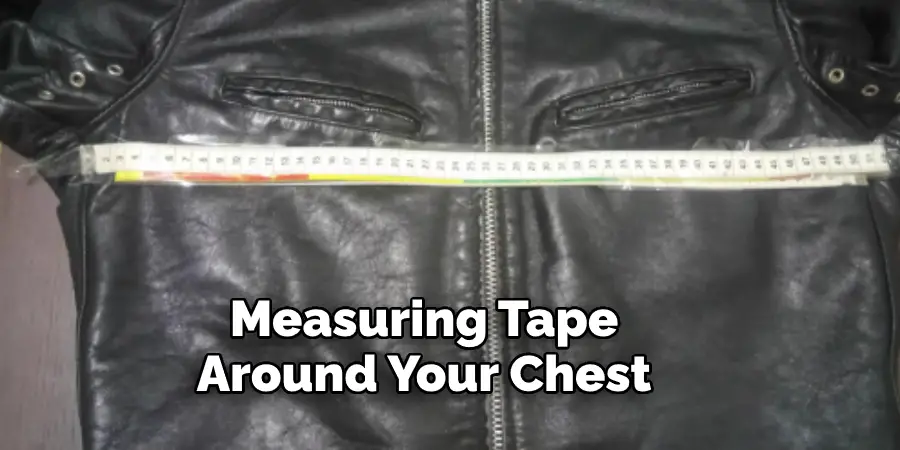 Step 2: Measure Your Waist Circumference
Wrap the measuring tape around your waist, just above your hip bones. Make sure the tape is level all the way around and doesn't dip down in the back. Note the measurement and add 1-2 inches for comfort. This is your waist size.
Step 3: Measure Your Hip Circumference
To measure your hip circumference, wrap the measuring tape around the widest part of your hips. Again, make sure the tape is level and take note of the measurement.
Step 4: Determine Your Jacket Size
Once you have your chest, waist, and hip measurements, you can use a size chart to determine which jacket will best fit you.
Size Chart:
Chest Circumference (in inches):
34-36 = Small
38-40 = Medium
42-44 = Large
46-48 = X-Large
Waist Circumference (in inches):
30-32 = Small
34-36 = Medium
38-40 = Large
42-44 = X-Large
Hip Circumference (in inches):
34-36 = Small
38-40 = Medium
42-44 = Large
46-48 = X-Large
If you are between sizes or unsure which size to choose, it is always best to err on the side of caution and go with the larger size. This will ensure that your leather jacket fits comfortably and does not feel too tight. Purchasing a leather jacket that is too large is always easier than trying to make a smaller jacket work.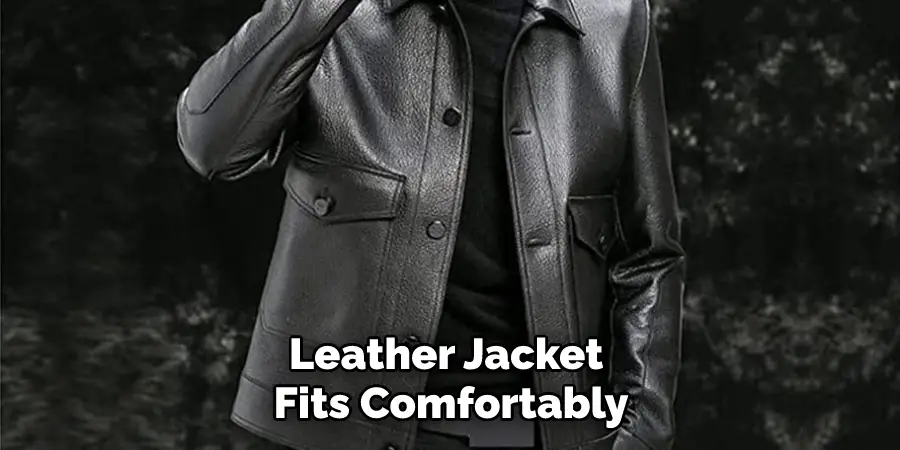 Step 5: Consider the Style of the Jacket
When you are choosing a leather jacket, it is also important to consider the style. Many different leather jackets are available, from bomber jackets to moto jackets. Consider what jacket style you want, and make sure to try on several different styles before making your final decision.
Choosing the right leather jacket is an important process. By taking the time to measure yourself accurately and consider the style of the jacket, you can be sure to find a jacket that will look great and fit well. With a little effort, you will be able to find the perfect leather jacket for your style.
That's it! You've now learned how to measure for a leather jacket. Be sure to follow these steps the next time you're shopping for a leather jacket, and you'll be sure to find the perfect fit.
How to Tell If You're Measuring Accurately for a Leather Jacket
If you're looking for the perfect leather jacket, it's important to make sure that you take accurate measurements. This will ensure that the jacket fits well and looks great. Here are a few tips on how to take accurate measurements:
Use a measuring tape. This is the most accurate way to take your measurements.
Stand up straight and relax your arms at your sides.
Measure around the fullest part of your bust and waist.
Make sure the measuring tape is leveled around your body.
Take note of your measurements and compare them to the size chart of the jacket you're interested in.
By following these simple tips, you can be confident that you're ordering the right size leather jacket.
What to Do If the Jacket Doesn't Fit After You've Measured
It's happened to the best of us: we find the perfect jacket, fall in love, and then discover that it doesn't fit after we've measured it. But don't despair – there are still plenty of options available. First, you could try to alter the jacket yourself. If you're handy with a needle and thread, you may be able to take in the sides or shorten the sleeves.
Or, if you're not confident in your sewing abilities, you could take it to a tailor. They'll be able to make the necessary adjustments so that it fits perfectly. Finally, if neither of those options is possible or desirable, you can always sell it online or return it to the store.
With a little effort, you're sure to find a solution that works for you. Keep reading for more information about how to measure for a leather jacket.
Tips for Choosing the Right Style of Leather Jacket
Leather jackets are a timeless fashion staple that can add edge to any outfit. But with so many different styles, it can be difficult to know which one is right for you. Here are a few tips to help you find the perfect leather jacket: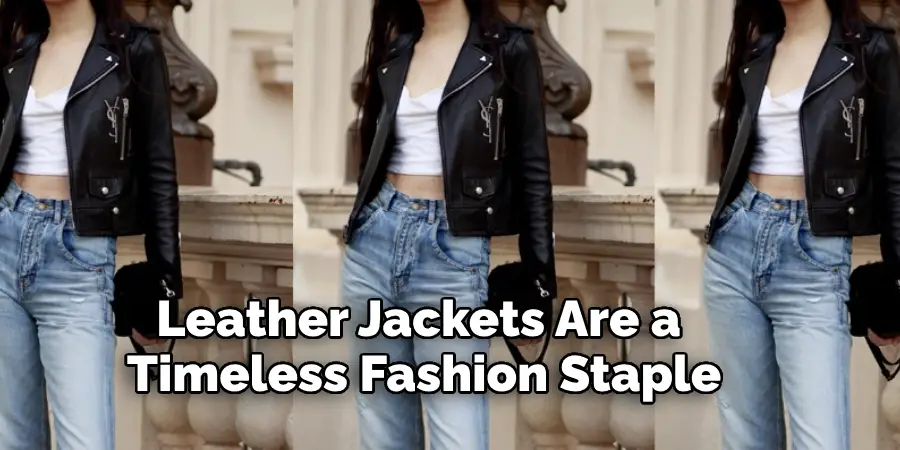 First, consider what type of look you're going for. Are you going for a classic, rugged look or something more modern?
Next, think about what kind of cuts and fits you like. Do you prefer a fitted jacket or something looser?
Finally, think about what kind of details you want. Do you want a simple jacket or one with embellishments?
By keeping these things in mind, you'll be sure to find the perfect leather jacket for your style.
What to Consider when Measuring A Leather Jacket
When considering a leather jacket, Measurements are everything. The jacket should fit snugly but not be uncomfortable. There should be no excess room in the shoulders or sleeves, and the waist should be cinched to accentuate the figure.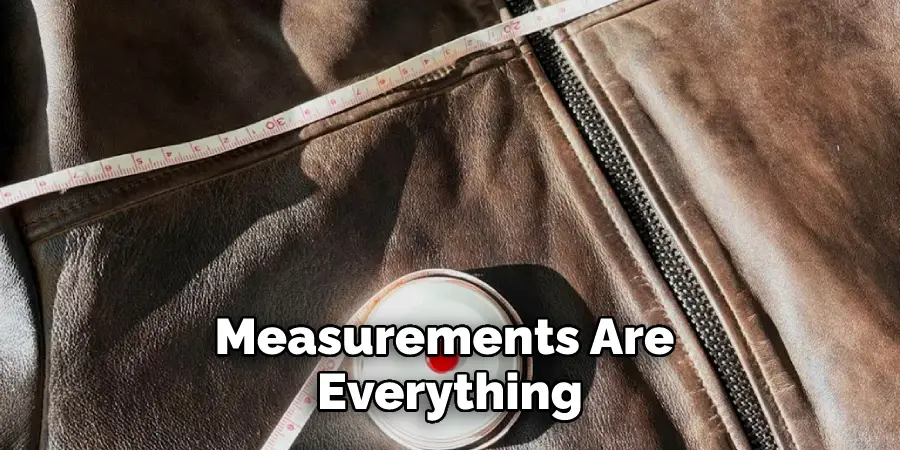 The most important measurement, however, is the chest. The Jacket should be large enough to allow for layering but not so large that it looks bulky. With these things in mind, it is easy to find a leather jacket that will fit perfectly.
Can You Order a Custom Leather Jacket Online?
While many think of leather jackets as strictly casual pieces of clothing, the truth is that they can be quite versatile. A well-made leather jacket can easily be dressed up or down, making it a great addition to any wardrobe. And while you can find plenty of leather jackets in stores, there's nothing quite like owning a custom-made jacket that's been tailor-made to your specifications.
The good news is that it's now easier to order a custom leather jacket online. With just a few clicks of the mouse, you can design the perfect jacket, choosing from various colors, styles, and materials. Best of all, you'll be able to get exactly what you want without having to settle for second best.
So if you're in the market for a new leather jacket, why not take advantage of the convenience and flexibility of ordering one online? You'll be glad you did.
Frequently Asked Questions
Do Leather Jackets Get Looser?
Leather jackets do indeed tend to get looser with time. This is because leather is a natural material that expands and contracts with humidity levels, temperature changes, and other environmental factors. In general, leather will stretch about one-fifth of its original size when subjected to everyday use and normal climate conditions.
Is Jacket Size the Same as Chest Size?
While Jacket Size and Chest Size can be comparable, they are not always the same. This is because Jackets come in different lengths, so if you're looking for a jacket that falls just below your breasts, it may not fit based on the size chart provided. In addition to Jacket Length, other factors that influence Chest Fit include Body Type (Rectangular vs Hourglass), Bust Diameter (in inches), Waist Girth (in inches), Hips Width at Rear End (in cm), and Torso Circumference(Measure around shoulder blades).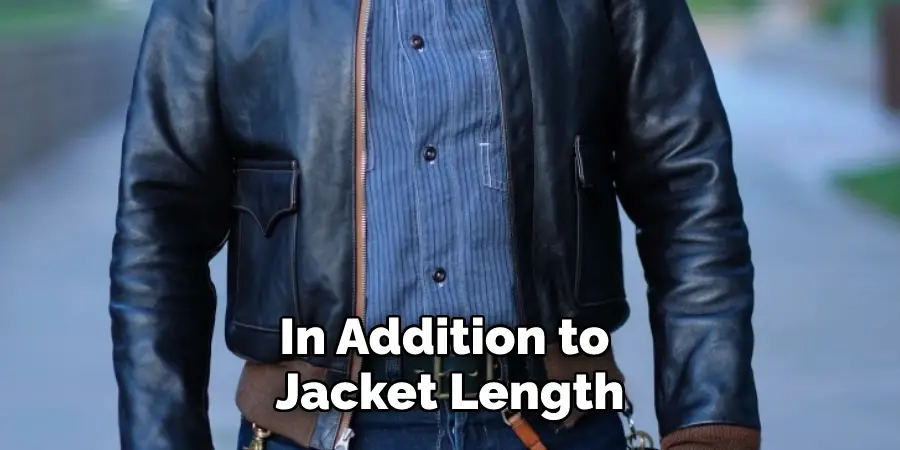 How Fitted Should a Leather Jacket Be?
A good rule of thumb is to wear your leather jacket a size larger than what you would typically wear. This will allow for some room to move and breathe, and it also ensures that the jacket fits snugly against your body. When shopping for a leather jacket, be sure to try it on in person so that you can get an accurate sense of how it's going to fit.
Are You Supposed to Be Able to Zip Up a Leather Jacket?
It depends on your body type and the jacket you are trying to zip up. However, if you're relatively thin and have a medium-sized frame, then most jackets should zip up easily. If you're more muscular or have a large frame, then some jackets might be too tight or too big in the chest area. In that case, it might be best to avoid these types of jackets in favor of something that is closer to your size.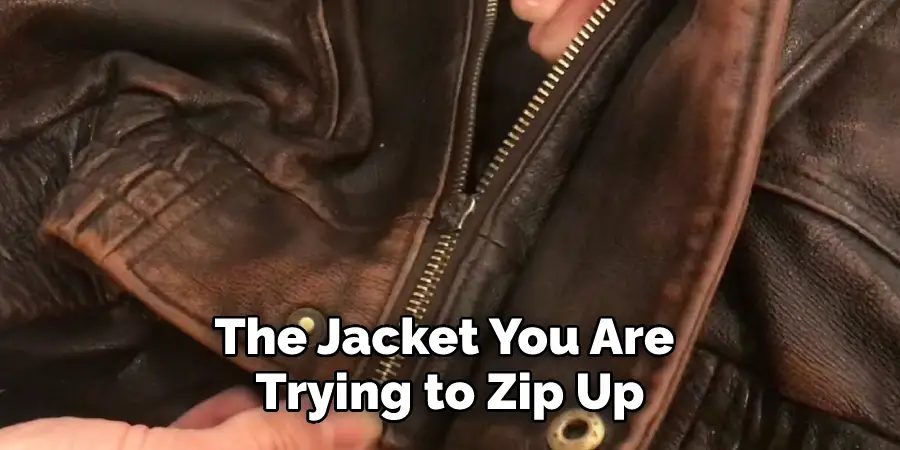 Conclusion
When it comes to finding the perfect leather jacket, measurements are everything. Be sure to take your time and get the fit just right. And if you want something truly unique, consider ordering a custom jacket online. Then, with just a few clicks, you can create a jacket that's been tailored specifically for you. Thanks for reading our post about how to measure for a leather jacket.