A black leather dress is a classic wardrobe staple that can be dressed up or down depending on the occasion. It's versatile, edgy, and timeless – making it an excellent choice for any look. Whether you want to go glam with statement accessories or keep it simple with minimal jewelry, there are plenty of ways to style a black leather dress.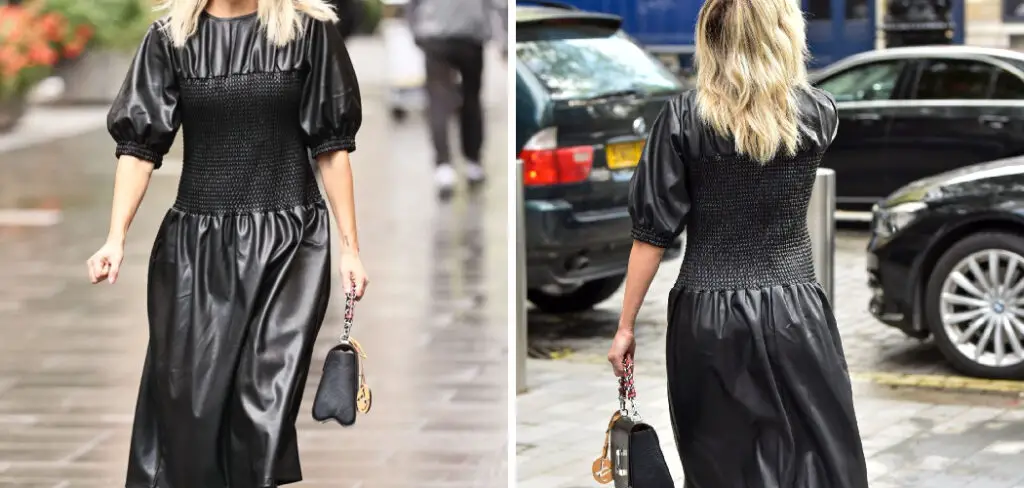 One of the biggest advantages of styling a black leather dress is its versatility. Black can be dressed up or down and works with nearly any color, making mixing and matching pieces for different occasions easy.
The sleek look of leather also provides an instantly chic look that transitions seamlessly from day to night. With the right accessories, you can easily create a look that is perfect for any event. You can find step-by-step instructions on how to style a black leather dress in this blog article.
How Do You Choose the Right Fit for a Black Leather Dress? 
Choosing the right fit for a black leather dress is very important. You want to ensure the garment fits your body properly and looks flattering. To choose the best fit, consider these tips:
Consider Your Body Type: Black leather dresses can look great on all body types, but you must be mindful of the fit. If you're petite, look for a style that won't overwhelm your frame. On the other hand, if you're tall and curvy, find something that will draw attention to your curves in an attractive way.
Decide How Form-Fitting You Want It: Leather dresses come in various shapes and sizes, but you should also think about how tight or loose you want the garment to be. If you prefer something that's more form-fitting, try a bodycon dress. For looser dresses, consider shift dress styles or A-line silhouettes.
Consider How Long You Want It: Another important factor is how long you want the dress to be. If you plan to wear the dress for a formal event, opt for an appropriate midi or maxi length. For more casual occasions, a shorter mini-dress may be best.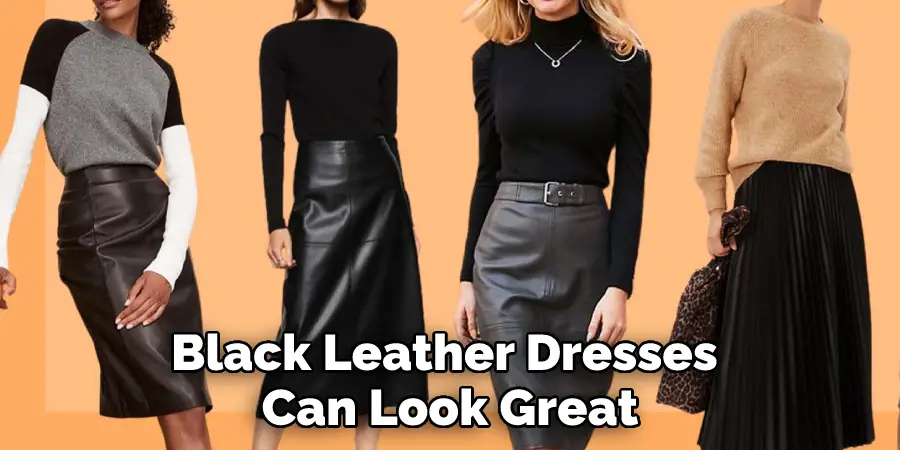 Fashioning a black leather dress can be a fun and exciting experience if you choose the right fit. With these tips in mind, you'll be able to find something that looks great and feels comfortable.
What Type of Accessories Should You Use to Style Your Black Leather Dress? 
When styling a black leather dress, you'll want to choose accessories that complement its look and feel. Select pieces in colors or textures that blend with the dress to make sure your outfit looks polished and pulled together. Some of the best accessories for styling a black leather dress include:
Statement jewelry: From bold necklaces to sparkly earrings, statement jewelry is a great way to dress up a black leather dress. Look for pieces that have interesting colors and shapes to make the outfit stand out.
Hats: A wide-brimmed hat or cap can add an extra element to your look when styling a black leather dress. You can find hats in many different colors and fabrics, so there's sure to be one that fits your style.
Belts: A metal or leather buckle belt can add structure and definition to your dress. Choose a belt in a contrasting color or texture to create an interesting contrast between the two pieces.
Bags: A bag is necessary if you want to carry your items. Look for a color or texture matching your dress to pull the look together.
Shoes: Finally, you'll need to choose the right type of shoes to complete your outfit. A pair of pointed pumps or ankle boots can add an elegant touch, while sneakers or sandals will give off a more casual vibe.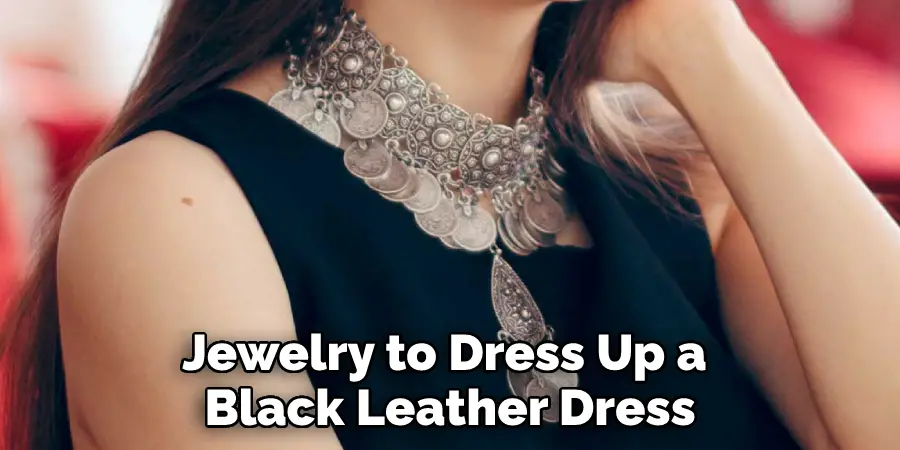 By choosing the right accessories, you can take your black leather dress from day to night and add some personality to your look.
Step-by-step Instructions for How to Style a Black Leather Dress
Step 1: Check the Dress
Ensure the black leather dress you plan to style is in good condition. Check for any rips, tears, or stains on the fabric, and ensure all buttons are securely attached and not missing.
Step 2: Choose Accessories
To complete a look with your black leather dress, choose accessories that will enhance it. Pick out jewelry that complements the dress and match it with a classic pair of black pumps or boots. Additionally, pick out a handbag that will contrast the all-black look, such as one in an eye-catching color or pattern.
Step 3: Accessorize Further
Take your style to the next level by accessorizing further. Opt for a belt or scarf that adds color and texture to your look. You can also add a hat to make the outfit more interesting. Layering clothing is an easy way to give any simple dress style its own unique edge. Add a structured blazer, denim jacket, or wool coat for a versatile look that befits any occasion.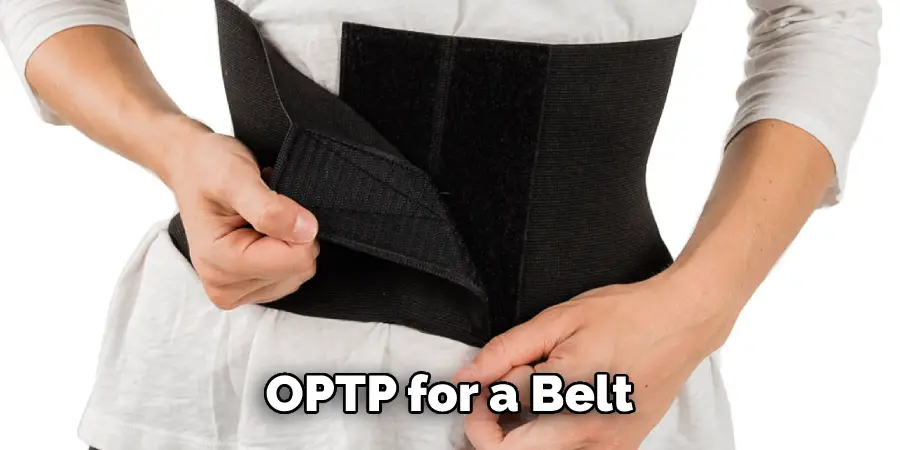 Step 4: Consider Your Makeup Look
Choose makeup that complements your black leather dress. Go for a dewy, natural look or something bold like a bright lip or smoky eyes. It all depends on the occasion and the vibe you are trying to achieve with your overall look. Style your hair in a way that goes with the overall look you are going for. Consider an updo or a sleek, straight style if you wear your black leather dress to a more formal event. For a more casual look, try loose waves or curls.
Step 5: Consider Nail Art
Get creative with your nails and opt for a nail art design that is suitable to the occasion and matches your black leather dress. A simple French mani or an animal print can do wonders and add personality to your look. Before styling your black leather dress, find inspiration online. Look up images of celebrities and fashion bloggers wearing similar dresses and use them as a guide for creating your own look.
Step 6: Try Different Styles
Don't be afraid to experiment with different styles when styling your black leather dress. Play around with different accessories, hairstyles, and makeup looks until you find one that works best for you.
Following these steps, you can easily create your unique look when styling a black leather dress. Have fun, and don't be afraid to express yourself with fashion. You can turn any classic piece into a stylish statement with the right accessories.
Safety Tips for How to Style a Black Leather Dress
Make sure to wear clothing underneath the dress that does not cause too much friction or heat when in contact with the leather. Certain fabrics, such as wool and polyester, are more prone to causing uncomfortable temperatures.
Pay attention to temperature fluctuations throughout the day to avoid overheating in your black leather dress. Consider carrying a light shawl or cardigan to help keep you warm during colder days, and avoid adding extra layers that may cause discomfort in hot climates.
Choose the right accessories to go with the dress. Opt for subtle metallic jewelry, such as necklaces or earrings, or contrasting fabrics and textures, like cotton, silk, and lace.
Keep the color palette minimalistic when styling your black leather dress. Avoid clashing colors, as this will make the overall look too busy. Instead, opt for neutrals such as whites, greys, and blacks that create a more sophisticated aesthetic.
Be mindful of potential damage to the leather dress. Avoid wearing your leather dress while doing activities that may get caught or torn, such as biking or hiking. 
Make sure the fit of your black leather dress is right for you. Too tight, and the material won't have enough air to circulate and breathe, while too loose can create an unflattering look.
Add a personal touch to your black leather dress by adding embellishments or customizing it with accessories. For example, you can add colorful beaded patches, studs, fringe, or even an embroidered pattern to make the dress more distinct and unique.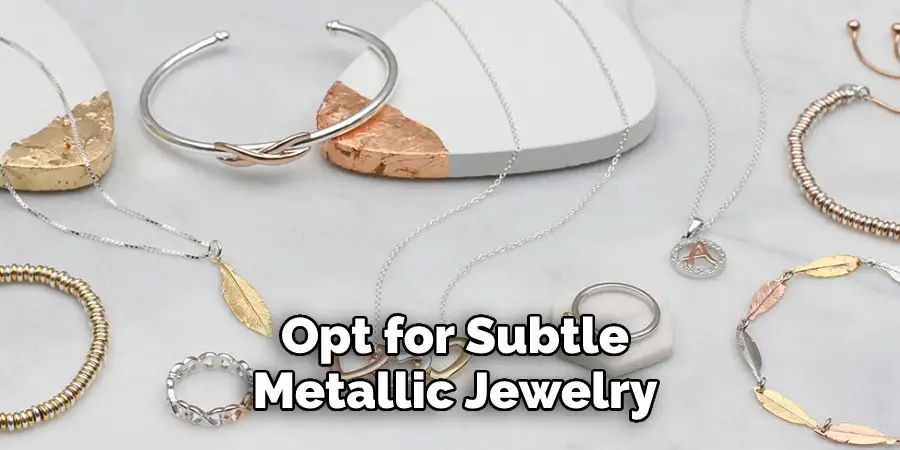 By following these safety tips and using the right pieces of clothing and accessories, you can easily create a stylish and comfortable look with your black leather dress.
What Types of Shoes and Boots Look Best With a Black Leather Dress? 
When styling a black leather dress, the shoes and boots you choose are just as important as your accessories. It's important to note that the shoes should match or complement the overall look when wearing any type of leather dress. For example, a pair of ankle boots or sandals would look great if you're wearing a more casual black leather dress.
On the other hand, if you're wearing a more formal black leather dress, heeled pumps or ankle-strap sandals are always chic and stylish. When it comes to boots, knee-high boots look stunning with black leather dresses, and they add an extra touch of sophistication to any outfit.
If you're going for a more edgy look, you can also consider pairing your black leather dress with combat boots or even ankle boots. This type of styling gives the dress an unexpected touch and makes it stand out from more classic looks.
When it comes to accessories, you can go for bold statement pieces like a colorful belt, chunky jewelry, or brightly colored scarves that will add a pop of color to your leather dress. You can create unique and stylish looks with the right accessories with your black leather dress.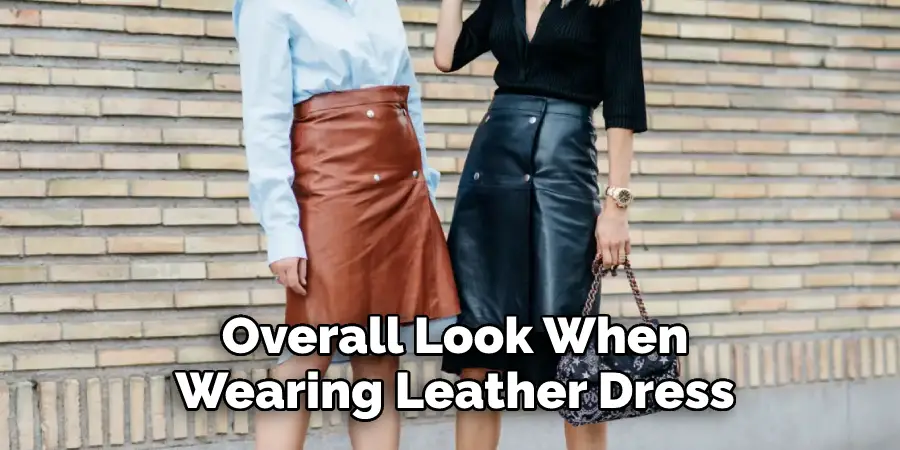 Conclusion
In conclusion,  styling a black leather dress is not as difficult as it may seem. You can easily add personality to your outfit with the right accessories, such as statement jewelry, vibrant shoes, and fun bags. Additionally, playing with textures like sheer materials and high-shine fabric will help create a unique look that stands out in any crowd.
You can make the most of this timeless wardrobe staple by understanding to style a black leather dress.  Ultimately, styling a black leather dress can be as creative or subtle as you like, with limitless possibilities to choose from. I hope reading this post has helped you learn how to style a black leather dress. Make sure the safety precautions are carried out in the order listed.