It's no secret that leather gloves are a winter staple. They keep your hands warm and protected from cold weather. But what happens when they get wet? Your gloves will be heavy and freezing, and you'll have to spend extra time warming them up before you can use them again.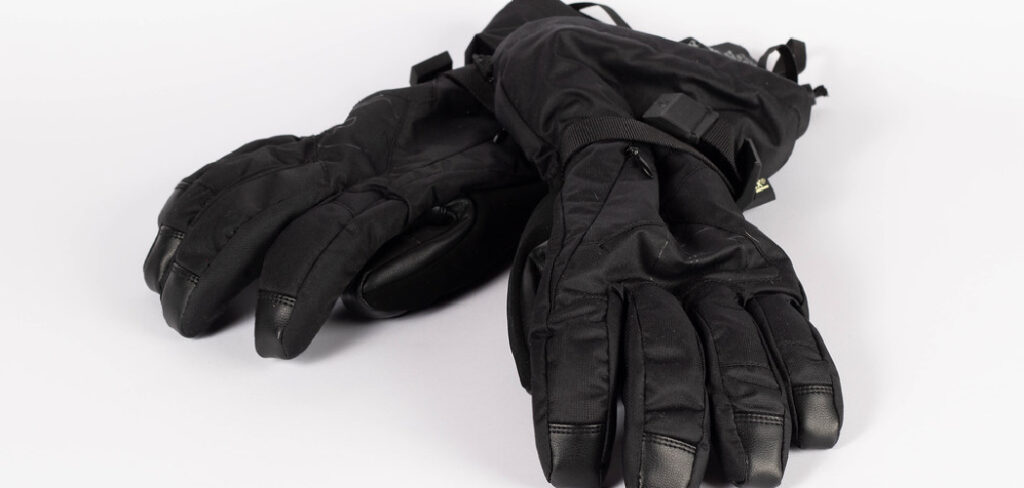 Luckily, there is a way to waterproof leather gloves so that they stay dry and comfortable even when it's snowing outside. In this guide, we're going to discuss how to waterproof leather gloves using a variety of methods. We'll also provide tips on how to care for your gloves to last longer. If you're interested to learn more, keep reading.
6 Advantages You Get Waterproofing Leather Gloves
1. Keep Your Hands Warm and Dry: 
This is the most obvious advantage of waterproofing your leather gloves. If you live in a cold climate, you know how important it is to keep your hands warm and dry. Wet gloves can make your hands feel cold and clammy and lead to frostbite in extreme weather conditions. By waterproofing your gloves, you can keep your hands warm and dry no matter what the weather is like outside.
2. Prevent Damage to Your Gloves: 
Another advantage of waterproofing leather gloves is that they prevent damage to the gloves. Water can cause the Leather to crack and warp, which will ruin the look of your gloves and make them uncomfortable to wear. Waterproofing your gloves can help them last longer and keep their shape. If your leather gloves do get wet, be sure to dry them completely before storing them away.
3. Waterproofing Leather Gloves is Easy: 
Waterproofing leather gloves is easy to do and only takes a few minutes. You can buy a waterproofing spray or cream at your local outdoor or sporting goods store. Spray or rub the waterproofing solution onto the gloves, especially to seams and other areas where water can seep in. Let the gloves dry completely before using them. If your gloves get wet, simply let them dry and then reapply the waterproofing solution.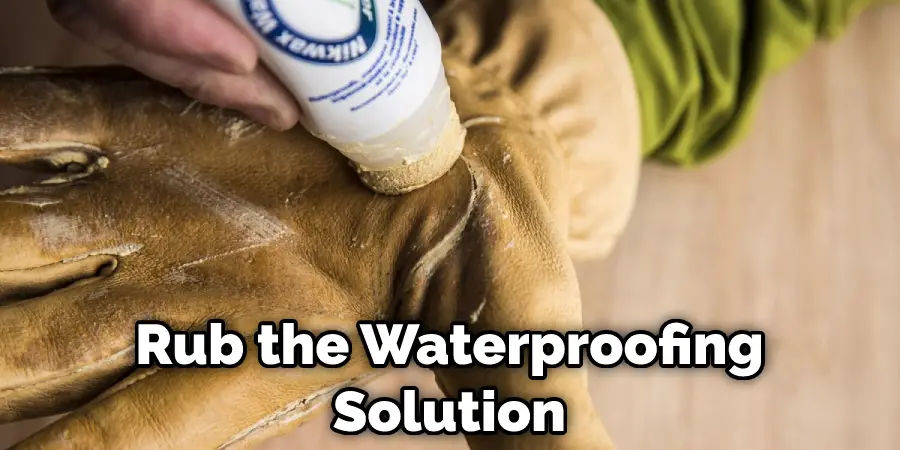 4. Increase the Longevity of Your Gloves: 
Leather gloves are expensive, so you want to ensure they last as long as possible. Waterproofing your gloves will help them last longer by preventing damage from water and wear. Also, if your leather gloves show signs of wear, you can waterproof them to help prolong their life. It also helps to store your gloves in a cool, dry place when you're not using them.
5. No More Musty Smell : 
When your gloves get wet, they can start to smell musty. This is especially true if you live in a humid climate. Waterproofing your gloves will help to prevent this by keeping moisture out. Your gloves will smell fresher and last longer if you waterproof them. If your gloves do start to smell musty, you can try cleaning them with mild soap and letting them air dry.
6. Improved Grip: 
Waterproofing your gloves will also help to improve your grip. When Leather gets wet, it can become slippery and difficult to hold onto things. Waterproofing your gloves allows you to maintain a better grip on tools, ropes, and other objects. This is especially important if you work in an environment where you need a good grip on things. If the gloves you use become slippery, it can lead to accidents.
Step by Step Procedure: How to Waterproof Leather Gloves
Step 1: Clean Your Leather Gloves
Before starting to waterproof your leather gloves, you must clean them first. This will remove any dirt or debris that could prevent the waterproofing treatment from working properly. To clean your gloves, simply wipe them down with a damp cloth. You can also use mild soap if needed. Once you have cleaned your gloves, let them dry completely before moving on to the next step.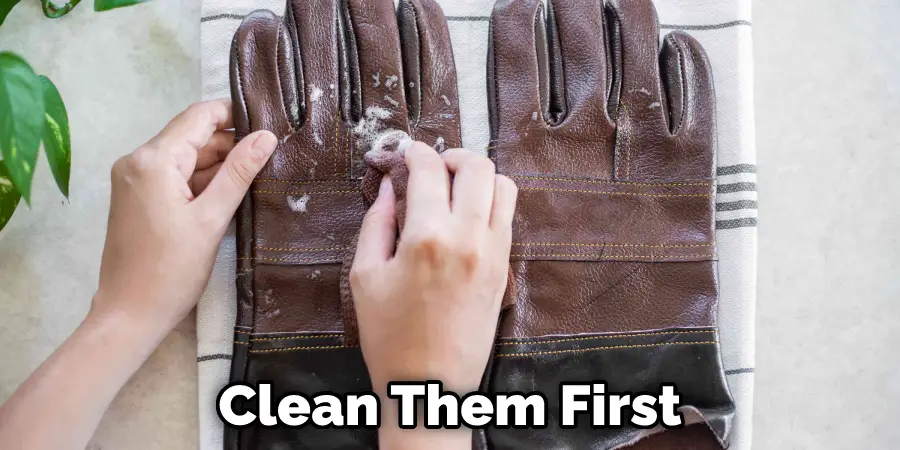 Step 2: Choose a Waterproofing Treatment
There are many different waterproofing treatments available on the market. When choosing a medicine, be sure to select one that is designed explicitly for Leather. Once you have selected a treatment, follow the instructions on the packaging to apply it to your gloves. In most cases, you will need waterproofing wax or cream to treat your gloves.
Step 3: Heat Your Gloves
It would help if you heated your gloves for a few seconds using a hairdryer or other similar device. This will help open the Leather's pores so that the waterproofing treatment can penetrate more deeply. However, be careful not to overheat your gloves, which could damage the Leather. You also need to ensure that the heat source is not too close to the gloves, which could also cause damage.
Step 4: Gently Apply the Wax or Cream
Once you have chosen a waterproofing treatment, it is time to apply it to your gloves. Be sure to follow the instructions on the packaging. In most cases, you will need to apply the wax or cream to your gloves with a soft cloth. Gently rub the treatment into the Leather until it is evenly distributed. Be sure to pay special attention to the seams of your gloves, as this is where water is most likely to enter.
Step 5: Allow the Treatment to Dry
After you have applied the waterproofing treatment, it is important to allow it to dry completely. In most cases, you must let your gloves dry for at least 24 hours. Once the treatment is dry, your gloves will better withstand water and other elements.
You Can Check It Out to Do I Waterproof Leather Boots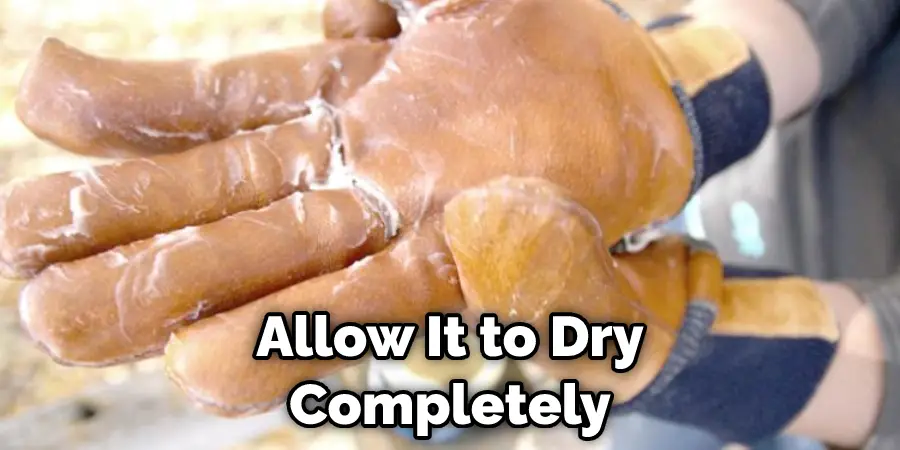 Step 6: Reapply Them After Every Cleaning
After every cleaning, it is important to reapply the waterproofing treatment to your gloves. This will ensure that they remain properly protected against water and other elements. Remember that the more often you wear your gloves, the more frequently you will need to reapply for the treatment.
Waterproofing your leather gloves is a simple process that can help to extend your life. By watering your gloves, you can be sure that they will be better protected from the elements. If you want to keep your gloves in pristine condition, follow these simple steps.
Some Helpful Tips to Protect Your Leather Gloves From Water:
1 Choose the Right Leather
While all Leather is not created equal, some types are more resistant to water than others. Opt for gloves made of pigskin, deerskin, or buffalo hide if you're looking for gloves that will withstand light rain or snow. For gloves that will stand up to more extreme weather conditions, choose those made of elk or moose hide.
2 Consider a Waterproofing Spray
Before heading out into the rain or snow, treat your gloves with a waterproofing spray designed for Leather. This will help create a barrier between the water and the Leather, helping to keep your gloves dry.
3 Go for Lined Gloves.
If you are wearing your gloves in cold weather, choose a pair that is lined with wool or another insulating material. This will help keep your hands warm even when the Leather gets wet.
4 Avoid Getting Them Too Wet
Even the best-waterproofed leather gloves won't withstand being submerged in water for too long. So, if you're going to be out in the rain or snow for an extended period, bring along a second pair of gloves to change into if your first pair gets wet.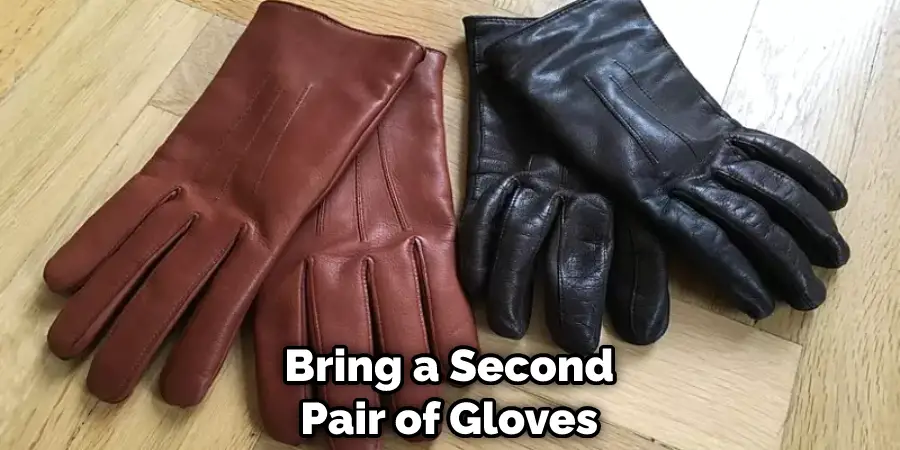 5 Wax Them After Cleaning.
Once you've cleaned your leather gloves, help protect them from water by applying a layer of wax. This will create an additional barrier against the elements.
6. Let them dry naturally.
If your gloves do get wet, don't put them near a heater or other source of heat to dry them off. This can cause the Leather to crack. Instead, let them air dry naturally at room temperature. Remember that the area you'll be drying your gloves in should also be well-ventilated.
7 Store Them Properly
When you're not wearing your leather gloves, store them in a cool, dry place. Avoid storing them in direct sunlight or near a heat source, as this can also cause the Leather to crack.
By following these tips, you can help keep your leather gloves in good condition for many years to come.
Final Words
Leather gloves are a necessary accessory for many in the wintertime. Whether you're shoveling snow or just trying to keep your hands warm, leather gloves can do the trick. However, if they're not appropriately waterproofed, they can quickly become ruined by rain or snow.
We have taught you how to waterproof leather gloves using a few simple steps in this blog post. We recommend using a product specifically designed for Leather as it will provide the best protection against moisture.
Apply the waterproofing agent to a thin coat and allow it to dry completely before wearing your gloves. Remember that Leather is also susceptible to cracking when exposed to extreme temperatures, so if you live in an area where winters are frigid, we suggest applying a second layer of waterproofing after the snow has melted and temperatures have stabilized. Waterproofing your gloves twice yearly should be enough to protect them from most weather conditions.