Are you a fan of the faux-leather look that pleather leggings bring to an outfit? If so, you will be glad to know that there are many different ways to wear them.
Whether you're looking for a stylish and edgy way to complete an outfit or just want to make a bold statement with your clothing, pleather leggings are the answer. Not only do they offer the same comfort as regular leggings, but the leather-like look adds texture and edge to any ensemble.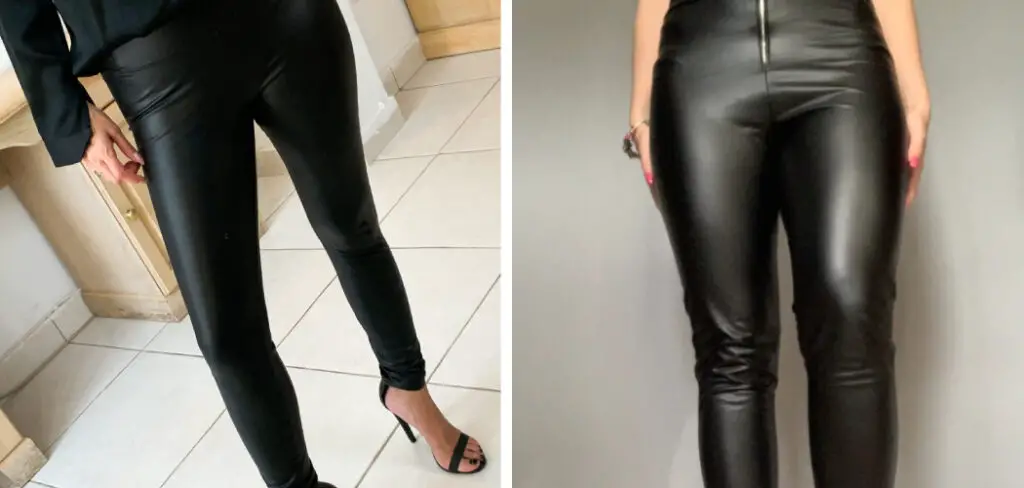 With so many ways to wear them, we'll show you how to wear pleather leggings to rock this must-have staple in stylish outfits for day or night. From pairing them with boots for wintery days out on the town to layering graphic tees over yours for added variety – there's something here that everyone can work into their wardrobe rotation!
What are the Benefits of Wearing Pleather Leggings?
Pleather leggings are an easy way to add texture and edge to any outfit. Not only do they look stylish, but they also keep you warm in the winter months. Plus, pleather is more durable than regular leggings, making them a great choice for those who want an item that can withstand everyday wear and tear.
And since pleather doesn't wrinkle as easily as cotton or other fabrics – you don't have to worry about how it looks after sitting for a long time!
There's no denying how versatile pleather leggings can be. From casual days out with friends to glamorous nights on the town – this staple will take your wardrobe to the next level. So, if you're ready to embrace the leather-look trend with a stylish and comfortable pair of pleather leggings – we've got all the tips and tricks you need to rock them!
10 Wonderful Ways How to Wear Pleather Leggings
Step 1. With an Oversized Blazer:
Pleather leggings look great with an oversized blazer for a sophisticated and polished office-ready ensemble. Add a pair of pointy-toe heels to complete the look. Be careful to avoid too much black – mix in other neutral shades like Beige, ivory or white to keep the look fresh!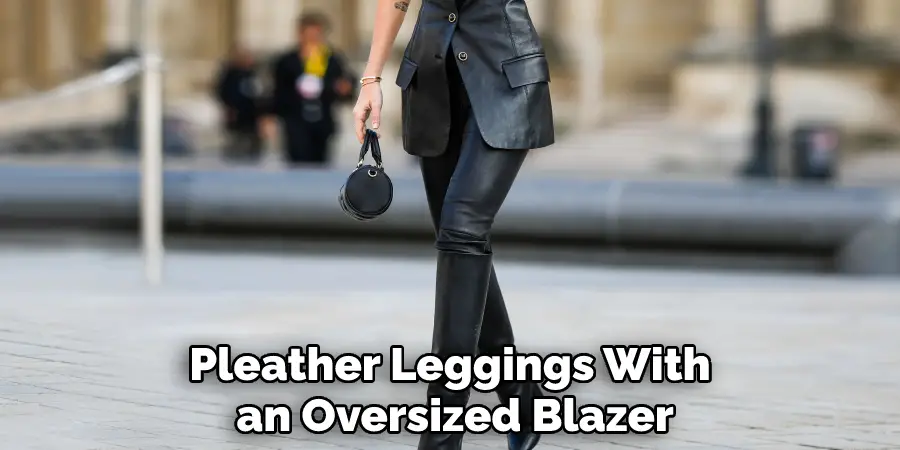 Step 2. With Chunky Boots:
For colder months, opt for chunky boots with your pleather leggings. This edgy combo looks great with any top or jacket you choose! If you want to add a bit of glam, choose knee-high boots with a heeled soles.
Step 3. Layer Graphic Tees:
If you're looking for something more casual, layer a graphic tee over your pleather leggings. This fun look is perfect for days out with friends or running errands. Add a pair of strappy heels and some blingy jewelry to up the glam.
Step 4. With Faux Fur:
Bring a hint of glamour to your outfit by pairing your pleather leggings with a faux fur coat. This look is perfect for winter nights out on the town! Another option is to pair your pleather leggings with an animal print coat for a bold, daring look that will turn heads.
Step 5. With Leather Jackets:
Pairing pleather leggings with leather jackets will give you an effortlessly cool look that'll be great for any occasion. Finish off this ensemble with some statement boots, and you're good to go! It will also be a great look when you want to stay cool but still stylish in the summer months.
Step 6. With Cardigans:
If you want something more subtle, try layering a cardigan over your pleather leggings. This combination is perfect for running errands or enjoying drinks at a cafe – without looking too dressed up. You can also add a pair of loafers or sneakers to complete the look.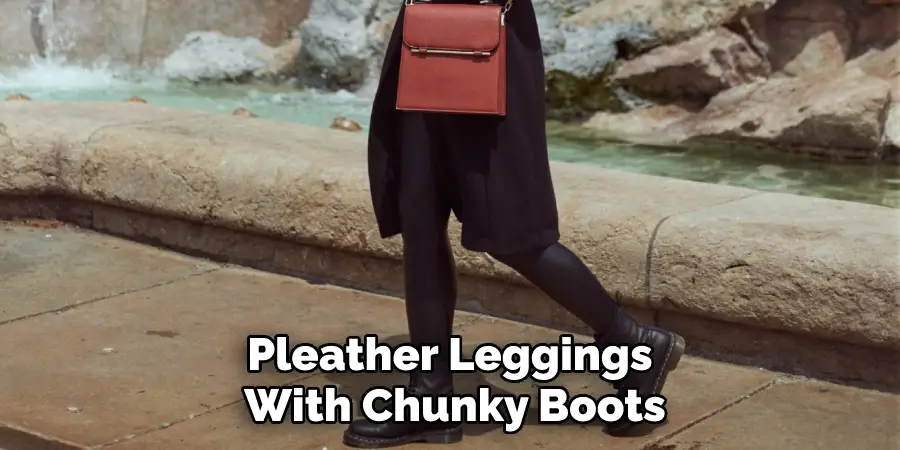 Step 7. With Crop Tops:
Style your pleather leggings with a crop top for a fun and flirty look. Accessorize this outfit with some statement earrings to add an extra touch of sophistication! This look is perfect for summer days or nights out on the town.
Step 8. With Heels:
Add some height and femininity to your ensemble by pairing your pleather leggings with a pair of heels. This will be great for any night out – plus, it's an easy way to dress up any basic top. Moreover, the elongated look will make you look taller and slimmer.
Step 9. With Turtlenecks:
Rock your pleather leggings with a turtleneck sweater for a cozy yet stylish look. This combination is perfect for days when you want to be comfortable but still look put-together. Add a pair of sneakers or booties for an effortless look that will take you from day to night.
Step 10. With Coats:
For a classic winter ensemble, layer a coat over your pleather leggings. Finish off this look with some ankle boots for an effortlessly chic vibe! It will also be great for springtime when you want to stay warm but still look stylish.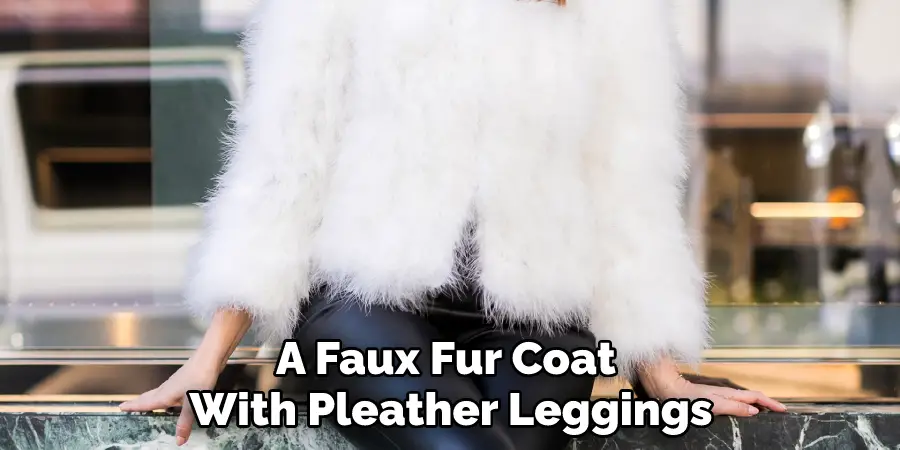 There you have it – 10 wonderful ways to wear pleather leggings! From layering graphic tees to rocking them with heels – there's something here for everyone. So, if you're ready to rock the leather trend in style, now you know how to make it happen! Good luck and happy styling!
5 Additional Tips and Tricks
Take the opportunity to play with texture and pattern! Pleather leggings can look great when combined with a patterned top. Try mixing stripes, polka dots, or floral prints for a unique style statement.
Choose lower-heeled shoes to balance out the edgy look of pleather leggings. Ankle boots, ballet flats, and sneakers all pair nicely with this look.
Accessorize with minimal jewelry pieces that won't detract from your ensemble. A sleek watch or delicate necklace will add subtle sophistication to your outfit while still letting your pleather leggings take center stage.
Opt for a cardigan to further dress up an outfit featuring pleather leggings. This will add instant chic to any look.
To keep your pleather leggings looking their best, it's important to clean them properly. Avoid products with harsh chemicals, as this can damage the fabric and cause fading and discoloration.
With these tips in mind, you'll be able to rock pleather leggings in style confidently!
5 Accessories to Wear with Pleather Leggings
Here are five pieces that you should add to your look for an edgy and modern style:
A Bold Statement Belt: Adding a statement belt to your outfit can instantly elevate your look. Choose one in a bright color or pattern for maximum impact.
Structured Blazer: Balance the edginess of pleather leggings by adding a structured jacket or blazer. This will give the outfit shape while still remaining comfortable and cool.
Sleek Necklaces: Adding a simple yet elegant necklace is an easy way to add sophistication to your look. Try a choker or long chain for a modern take on accessorizing.
Brightly-colored Bag: A brightly-colored cross-body bag or clutch can be both functional and stylish when paired with pleather leggings. Choose one in a standout color like red, yellow, or green for added impact.
Dainty Jewelry: Keep the focus on your edgy style by adding dainty and delicate jewelry pieces such as a small necklace, bracelet, or earrings. This will add a hint of sophistication to the look without detracting from its overall feel.
By following these tips, you'll be able to put together a look that is both cool and comfortable. Don't be afraid to experiment with different styles, colors, and textures – how you wear pleather leggings is entirely up to you!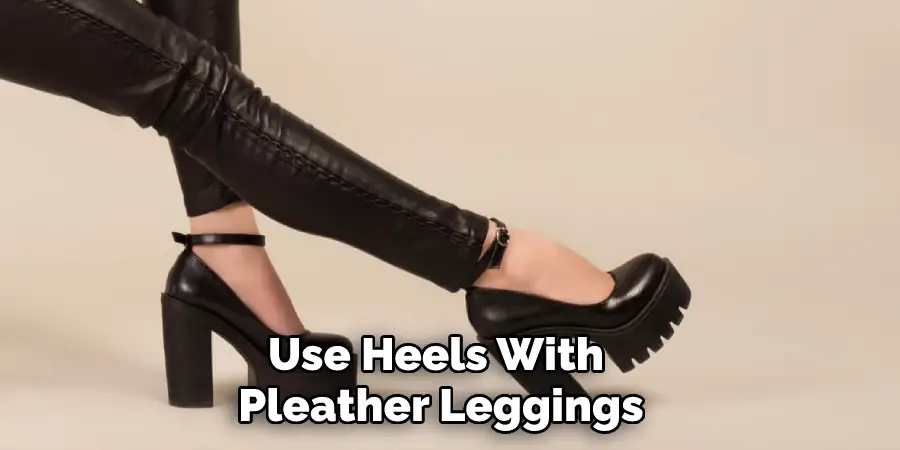 Are Pleather Leggings Still in Style?
Yes, pleather leggings are still in style. This trend has been around for years and continues to be popular among fashionistas of all ages. Pleather leggings have a timeless appeal that is both versatile and fashionable, making them ideal for any occasion. Depending on how you choose to accessorize and layer your look, they can be dressed up or down.
Whether you opt for a casual graphic tee and sneakers combo or dress up with heels and an oversized blazer – the possibilities are endless! So don't be afraid to rock this timeless look with confidence – pleather leggings are here to stay!
Are Pleather Leggings Comfortable?
Yes, pleather leggings are comfortable and fashionable. Pleather leggings are made from faux leather fabric, which is lightweight and breathable, making them ideal for all-day wear. They also have a stretchy fit that moves with you as you go about your day, ensuring maximum comfort with every step.
With the right accessories, pleather leggings can be dressed up or down depending on how you choose to style them!
Conclusion
Wearing pleather leggings can present an eye-catching and fashionable look that will turn heads no matter where you go. If you are looking for a daring outfit that truly stands out, why not give pleather leggings a try? From pairing the look with an oversized shirt or tucking it in pairing it with heels or boots, the possibilities are endless when styling pleather leggings. 
You can even layer accessories on top to add to the appearance. Who knows, you may even start designing your own looks after getting a feel for how you like wearing pleather leggings!
It is a great way to play around with fashion trends and make yourself stand out from the crowd. So be daring, have fun, and let your creativity guide you into creating something unique!
Hopefully, this article has provided you with a comprehensive guide on how to wear pleather leggings and how they can be styled in various ways. Thanks for reading!