From grunge-inspired looks to classic chic ensembles, leather blazers are a versatile staple in any styled wardrobe. With their incredible combination of comfort and functionality, they can serve as the key piece that ties an entire outfit together – giving off just the right vibe while keeping you warm enough for chilly days. Don't know how to masterfully rock a leather blazer?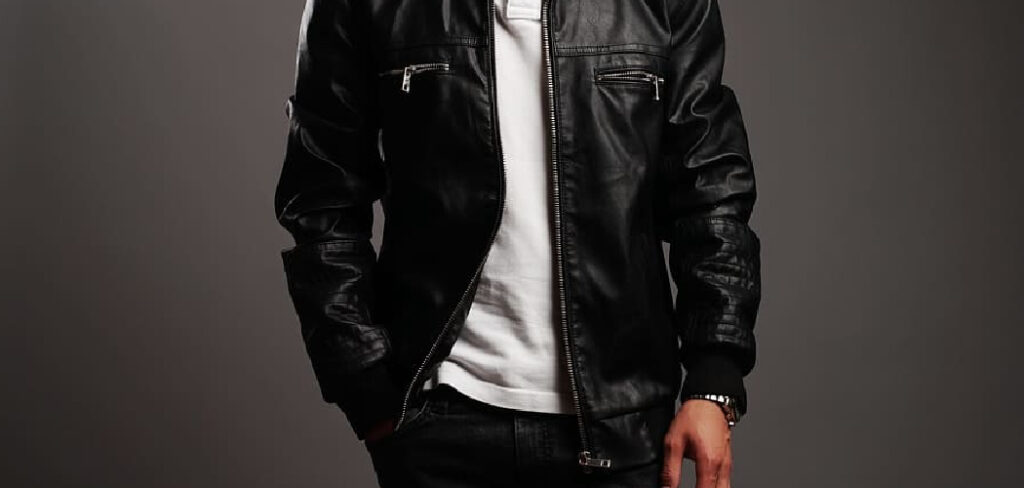 In this blog post, we'll be exploring some fashion-forward leather blazer outfit ideas to incorporate into your styling repertoire! So get ready for inspiring inspiration on how to work this timeless silhouette into all kinds of stylish outfits.
Are Leather Blazers Still in Fashion?
Absolutely! The leather blazer is a timeless piece that should never be excluded from any wardrobe. Whether you're looking for something classic or something more modern, there's a leather blazer to fit your style. Leather blazers are the perfect addition to any look – they add instant sophistication and class to an outfit and can easily be dressed up or down.
When choosing a leather blazer, there are some things to keep in mind. First, you should consider the fit – whether you prefer a more relaxed look or something more tailored. Also, think about the color – dark brown and black are classic choices that go with just about any outfit, but some people also like to go for lighter shades like tans and greys for a more modern look.
Finally, when it comes to styling your leather blazer outfit, it's important to remember that less is often more! A simple pair of trousers and a crisp shirt will create an effortless yet stylish ensemble, while accessories such as scarves or jewelry can add interest and texture to the look.
With a leather blazer, the possibilities are endless – from casual day looks to more dressy eveningwear, there's no wrong way to wear a leather blazer. So go ahead and experiment with different styles – you'll be sure to find the perfect leather blazer outfit that reflects your personal style!
17 Leather Blazer Outfit Ideas
1. Pair with a White Tee :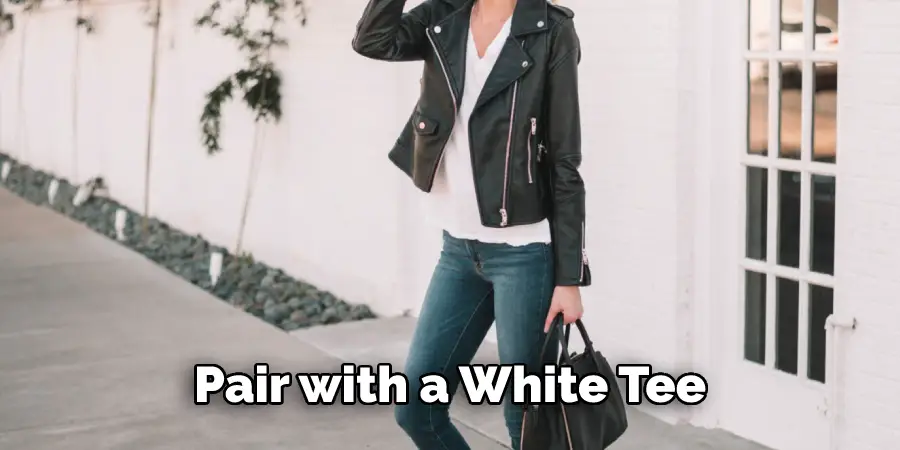 For a simple and stylish look, pair your leather blazer with a white tee. Add some dark-wash jeans to complete the outfit. Accessorize with a statement necklace or bracelet for a touch of glamour. If the weather is cooler, opt for a long-sleeved white button-down shirt and add a wool scarf. While the white shirt adds a touch of sophistication, the leather blazer gives it an edgy flair.
When you're out and about, finish the look with ankle boots or flats. Although this is a basic look, it's a timeless classic that never goes out of style. Though you can wear this outfit almost anywhere, it's especially appropriate for a casual lunch date or night out.
2. Pair with a Silk Slip Dress :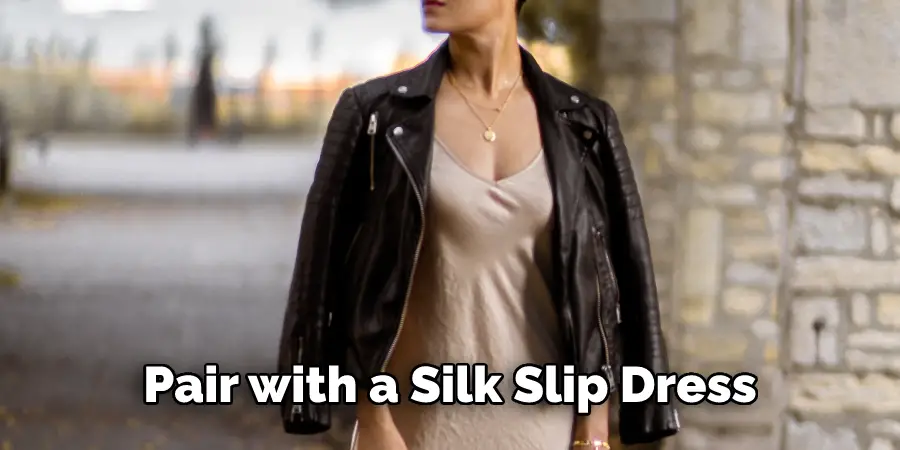 A leather blazer can be dressed up with a silk slip dress for the perfect night-out ensemble. The combination of the leather blazer and silky slip provides an edgy yet classy look. To finish off the look, add statement accessories such as a bold necklace or earrings.
You'll definitely make heads turn with this combination! Additionally, you can also opt for a dressier version of the classic leather blazer, such as one made in velvet or with embellishments like studs, patches, or embroidery. This will take your look to the next level for an edgier evening outfit.
3. Pair with High-Waisted Trousers :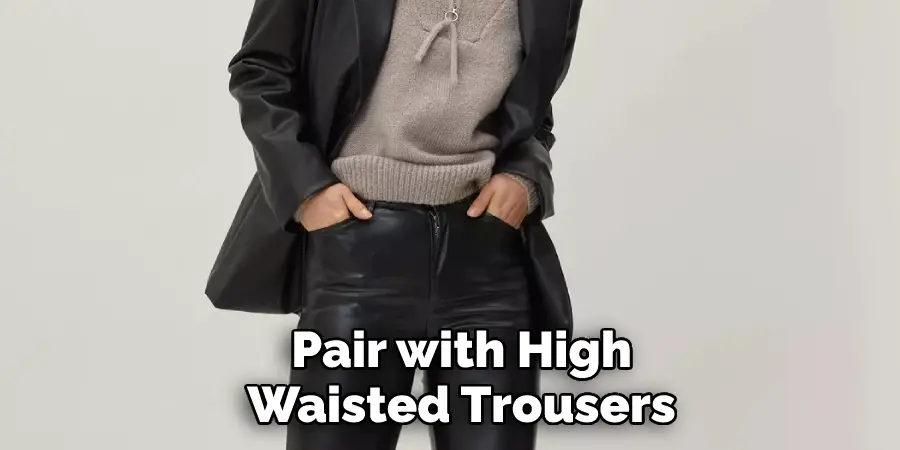 High-waisted trousers are a timeless classic that can be worn with any outfit. When pairing them with a leather blazer, try to stick to darker colors such as black or navy. These trousers will create a flattering silhouette and complete the look with a touch of sophistication. If you're feeling daring, opt for trousers in bolder hues, such as red or mustard yellow, to really make your outfit stand out.
Add a belt around the waistline to further define the silhouette and finish off the look with a pair of leather flats or heels. This is a great way to show off your style while still looking sharp and professional. To complete the outfit, add a few coordinating accessories such as a clutch or statement earrings.
4. Pair with a Mini Skirt :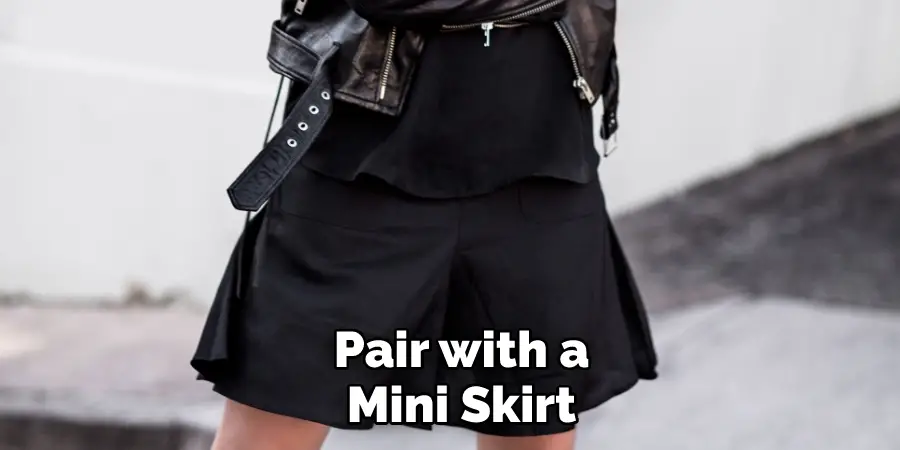 A leather blazer looks fabulous with a mini skirt, especially if the skirt is made of a contrasting material like chiffon or velvet. To keep the look timeless, opt for a classic silhouette in black or brown and pair it with closed-toe heels or ankle booties. Make sure the skirt falls to an appropriate length that flatters your body shape, and don't forget to add a statement belt or jewelry piece to complete the outfit.
This look is perfect for a night out with friends or date night! While this look is a bit more daring than the others, it's sure to make a statement. However, if a mini skirt isn't your style, you can also opt for a knee-length pencil skirt or an A-line midi skirt for a more modest look.
5. Pair With a Hoodie and Leggings :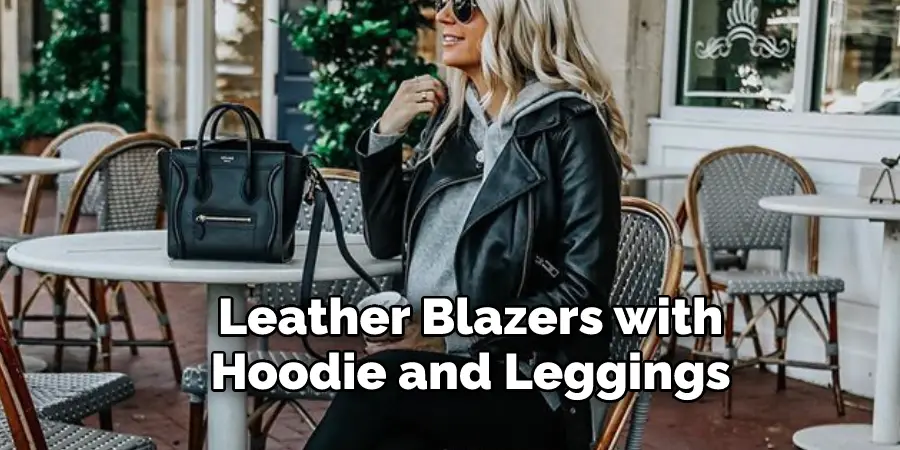 Create a cool street-style look with an edgy leather blazer, a comfy hoodie and leggings. Complete the outfit with some heeled boots to add extra height and a statement hat for a stylish touch. This fun look is perfect for everyday wear or any casual outing. Mix different colors and textures to create a unique take on the classic leather blazer outfit.
While this look is easy to put together, it still offers a timeless and classy feel that will make you stand out from the crowd. However, remember to stay away from too many bulky layers and accessories to keep the focus on the blazer. If you're feeling bold, try a leather blazer with a bright hoodie to make your outfit really pop!
6. Pair With a White Blouse and Skinny Jeans :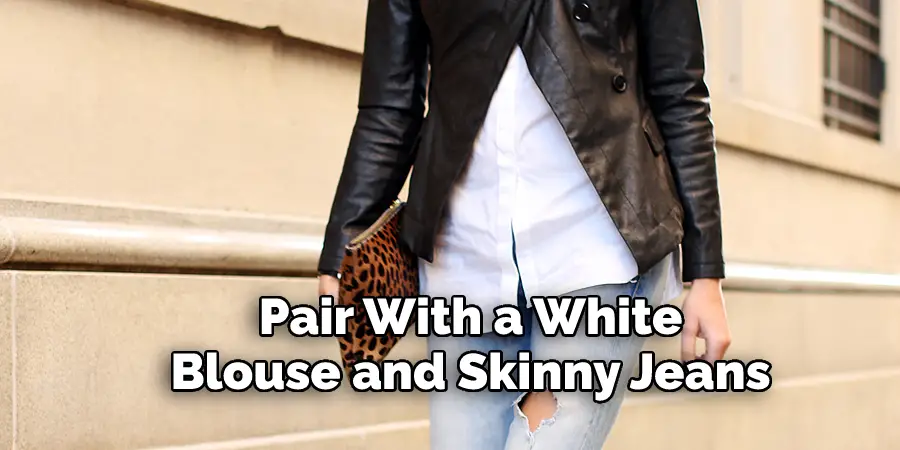 A white blouse and skinny jeans provide a more relaxed look when paired with a leather blazer. Leave the top two buttons of the blouse undone and roll up the sleeves for a casual yet on-trend look. Choose a pair of skinny jeans in either black or blue to bring out the color of your leather blazer. Accentuate this classic combo with a pair of statement earrings and bold lip color.
If you want to take a look up a notch, add a pair of heeled loafers or ankle boots for an extra kick. When accessorizing, keep it simple with a few minimal accents. A belt bag and sunglasses will finish the look off in style. To complete the look, opt for a natural hairstyle like beachy waves or messy bun. However you style it, you're sure to turn heads!
7. Pair With a Turtleneck Sweater :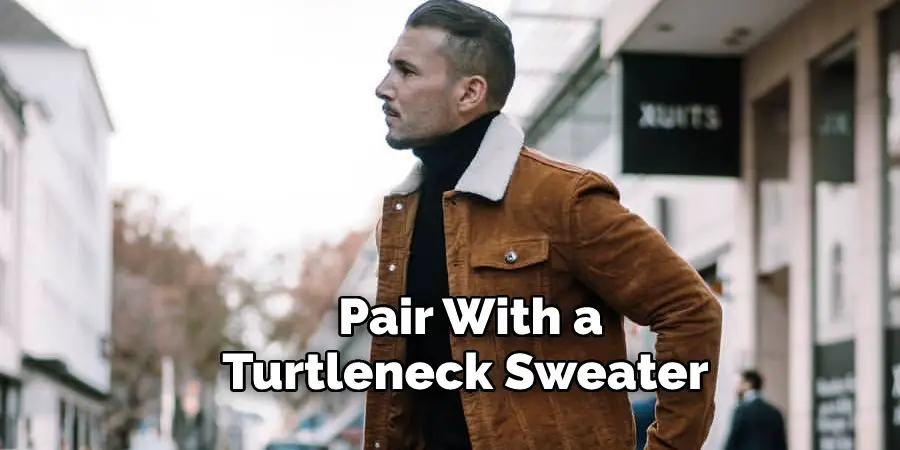 A timeless, cozy look is to pair a leather blazer with a fitted turtleneck sweater. Choose a black or grey color for the turtleneck and wear it tucked into your favorite jeans or trousers. For shoes, keep it classic with leather loafers or oxfords. The subtle contrast between the two textures will create an effortless yet polished ensemble.
Finish it off with a printed silk scarf or statement jewelry for an extra touch of luxury. If you prefer a more casual look, try swapping out the turtleneck for a simple white crewneck tee. However you choose to style it, a leather blazer and turtleneck combo will never go out of style.
8. Pair With a Graphic Tee and Shorts :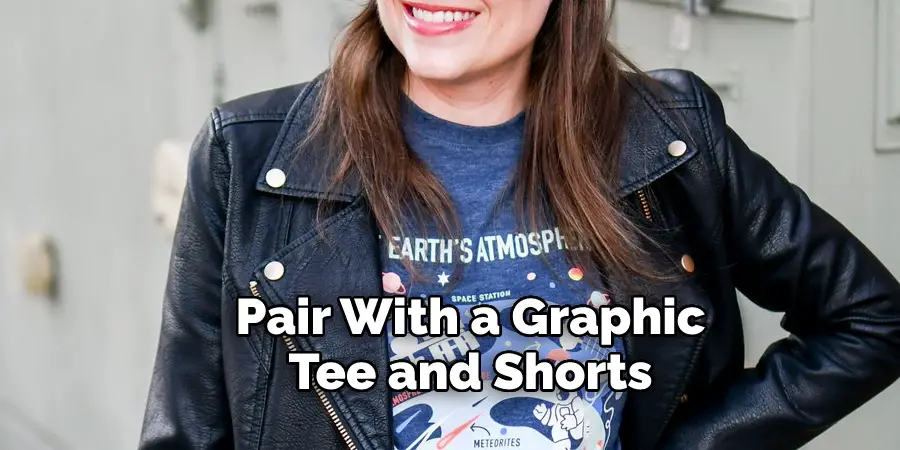 Another perfect summer look, a leather blazer, and shorts make for an easy but stylish outfit. Add a fun graphic t-shirt or tank top to create a cool and effortless look. You can easily accessorize this look with a statement necklace or earrings and finish it off with some of your favorite sandals. This look is great for casual summer days or nights out!
To make it even more interesting, try mixing different textures like adding a denim shorts or pairing the blazer with a printed top. If you're feeling extra daring, try mixing different colors and prints. Though this look might be more on the casual side, it's still very stylish and perfect for a summer day out.
9. Pair With a Midi Dress and Ankle Boots :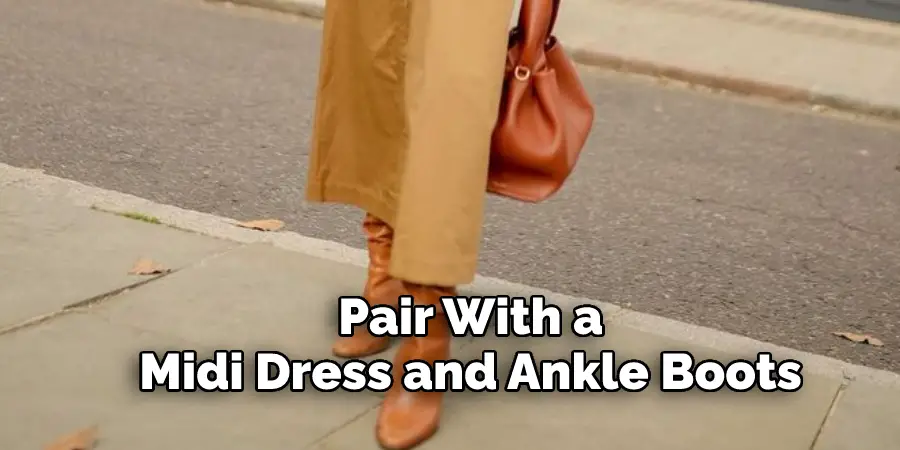 A leather blazer is a timeless piece that looks great with any dress. Try pairing it with a midi dress in a neutral color, such as navy or black, and some ankle boots. This look is perfect for a night out or even a semi-formal event.
For an extra touch of glam, add some chunky jewelry or a statement belt. You'll be sure to make an impression! To complete the look, add a pair of sunglasses, and you'll be ready to go. However you decide to style it, a leather blazer is sure to elevate any outfit. Make sure to have fun with it and make it your own! When it comes to leather blazers, the possibilities are endless. Experiment and find what works for you!
10. Pair With a Jumpsuit and Heels Layer :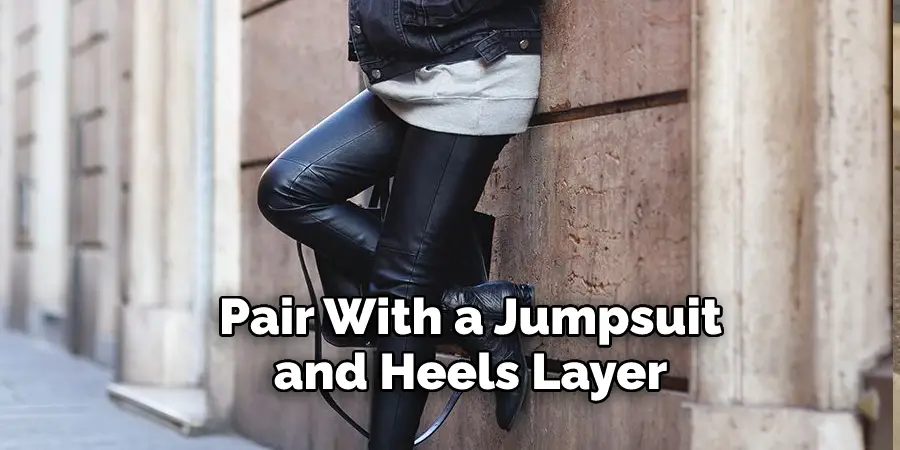 The leather blazer adds an edgy and stylish look to your basic jumpsuit. To complete the outfit, add some strappy heels for a night out. This look is perfect for a semi-formal event or a night out with friends.
When it's chilly outside, you can also layer a turtleneck underneath for extra warmth. To finish the look, add some minimal accessories like gold earrings and a small clutch. This outfit is sure to turn heads wherever you go! While a leather blazer adds a touch of drama to any ensemble, it doesn't mean that you have to go all out with your outfit.
A jumpsuit and heels can be just as stylish and make for a great party-ready look. At the same time, you can also dress it down with a pair of sneakers for an everyday casual look. No matter how you style it, this outfit is sure to impress.
11. Pair With a Leather Blazer over a Blouse :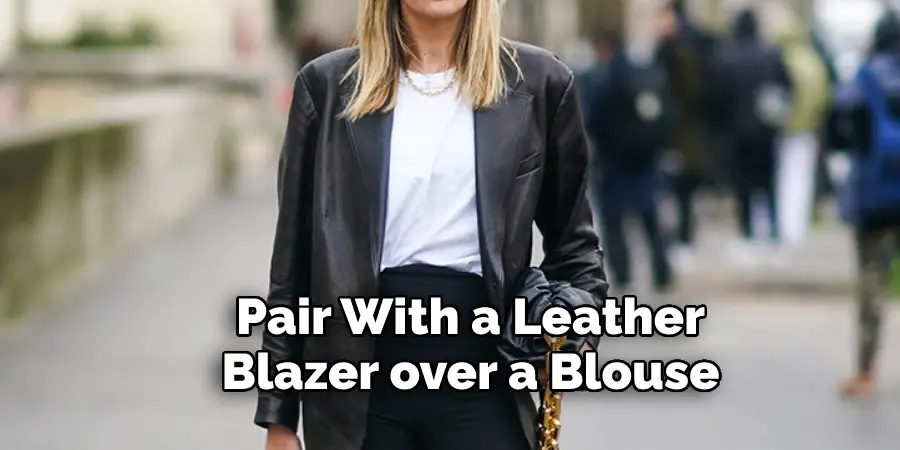 A classic look that works well for a business environment is pairing a leather blazer with a white or light-colored blouse. This timeless combination will instantly give you a classic and sophisticated look.
To dress it up, finish the ensemble with tailored trousers or a skirt, some chic heels, and statement jewelry. To dress it down, add some distressed jeans and sneakers for an edgy and modern vibe. No matter how you choose to style it, this combination will always be in style. To ensure the look stays polished, opt for a fitted leather blazer.
This will give you a tailored and modern silhouette. Though a black leather blazer is always a classic choice, you can also opt for other colors such as navy or beige to add some variety. This look is perfect for a fancy dinner or drinks with friends.
12. Pair With a Polished Work Outfit :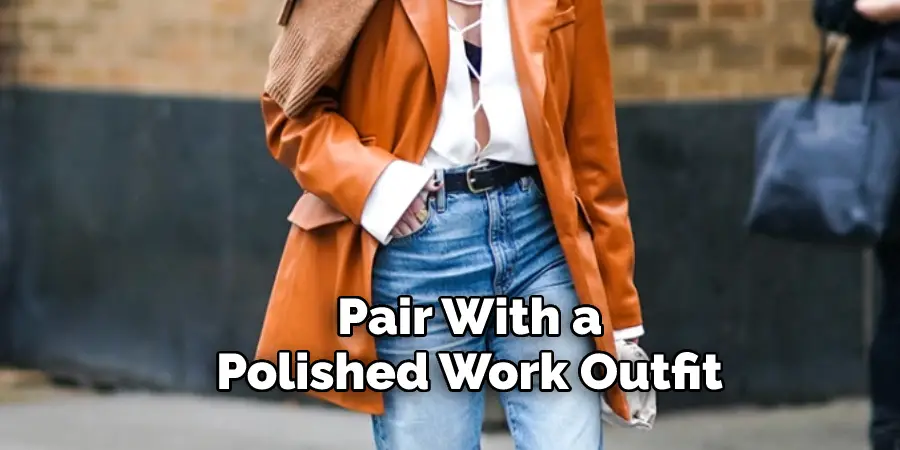 A leather blazer adds an unexpected dose of edginess to a work outfit. To create the look, opt for a brown or black leather blazer and pair it with a white blouse, tailored trousers and classic black pumps. Accessorize the ensemble with minimal jewelry for a polished look. This outfit is perfect for making an impression in the office or for special occasions like job interviews.
To add a hint of color and texture, layer the blazer with a patterned scarf. Although simple, the combination of textures will keep the look interesting. If the blazer is a lighter shade of brown, it can also be easily transitioned from day to night. Try to pair it with a dress and statement jewelry for an evening look.
13. Pair With a Crop Top and High-Waisted Jeans :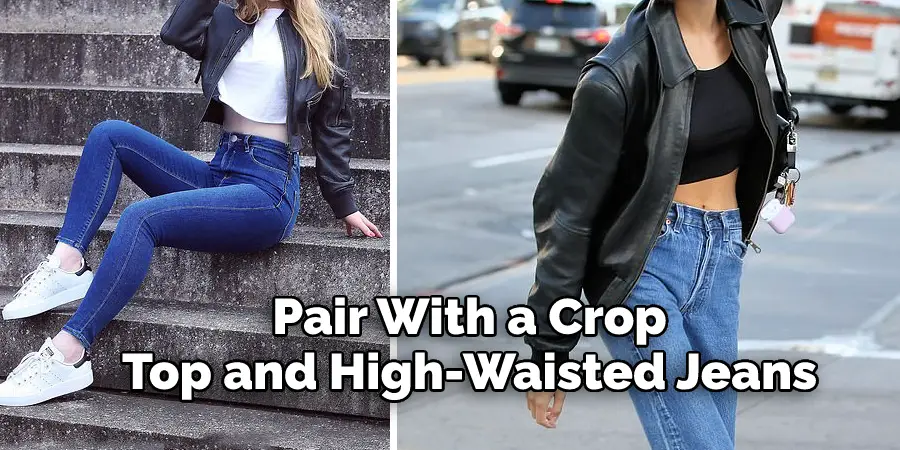 This leather blazer outfit idea is perfect for a night out. Start by pairing your leather blazer with a stylish crop top and high-waisted jeans. To create a cohesive look, choose colors that complement each other. Accessorize with a chic clutch and strappy heels to complete the ensemble.
If you want to add a bit of an edge, opt for a pair of statement earrings or bold lipstick. This look will turn heads! When the night is over, simply switch out the heels for sneakers and you're ready to go. If you're looking for something more casual, opt for a t-shirt and sneakers instead. Either way, you can't go wrong with this timeless leather blazer outfit idea.
14. Pair with a Maxi Skirt and Sandals :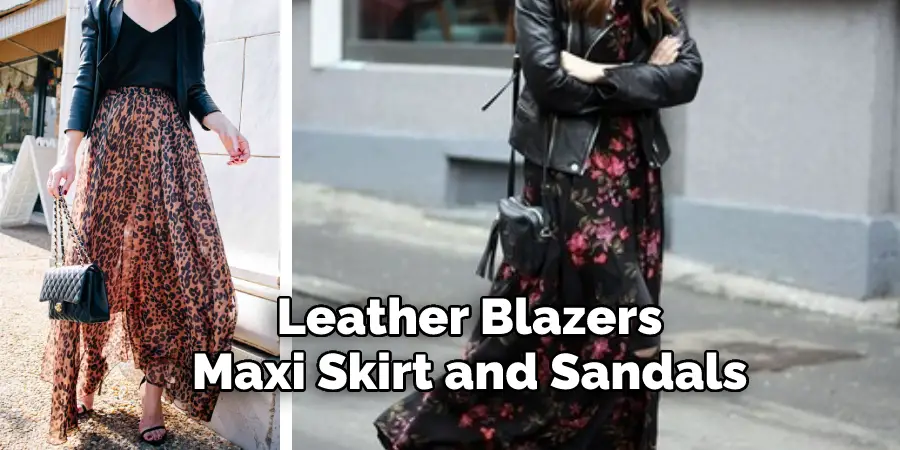 If you're looking for a more feminine look, pair your leather blazer with a long maxi skirt and sandals. The combination of the soft flowy skirt and sleek leather blazer creates an unexpected but stylish look that can be worn to a variety of occasions.
You can even add a belt around the waistline to give your outfit a more tailored look. For added style, add a hat or scarf and some statement earrings to complete the look.
15. Pair with a Sweater Dress :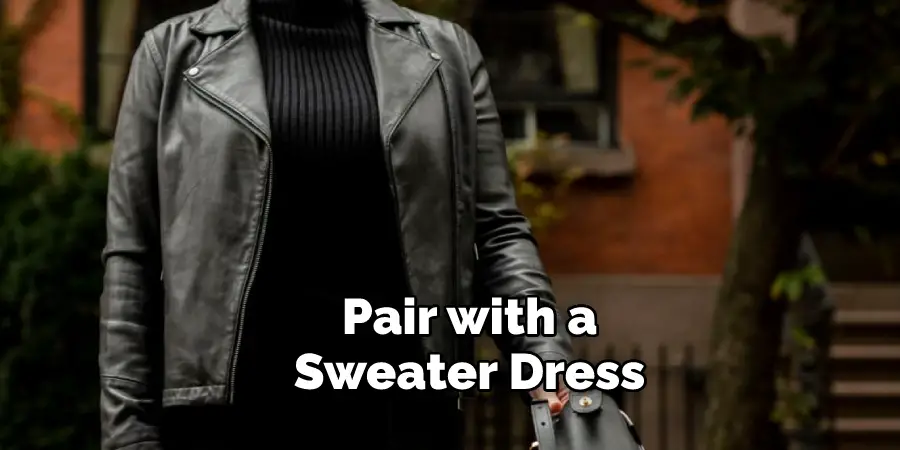 For an elevated, office-ready look, try pairing your leather blazer with a sweater dress. Make sure to choose a dress that is slightly fitted, so it doesn't hide the silhouette of the blazer. Then accessorize with a pair of sleek black booties, gold jewelry, and a matching clutch.
You'll be looking chic and professional in no time! Additionally, if you'd like to add a bit more warmth to your look, add a pair of tights in an eye-catching color or pattern. This look is perfect for an important meeting or casual lunch with friends.
16. Pair With a Denim Skirt and Ankle Boots :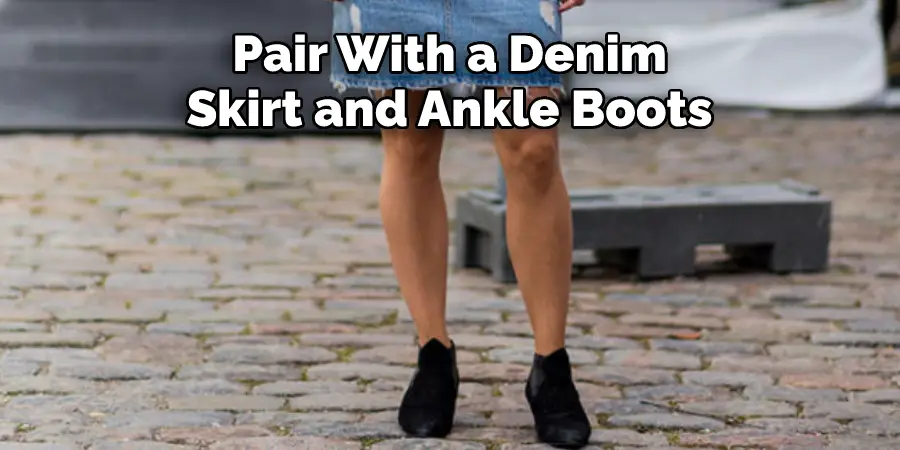 For a stylish and edgy look, try wearing your leather blazer with a denim skirt and ankle boots. Choose a mini or midi length skirt in either dark blue or black to match the blazer. Add some tights or leggings if you're feeling chilly.
Complete the look with some polished ankle boots for a fashion-forward ensemble. This is a great go-to look for casual outings and weekend brunches! However, you can also dress it up for a night out by adding bold accessories.
17. Pair With Leather Pants :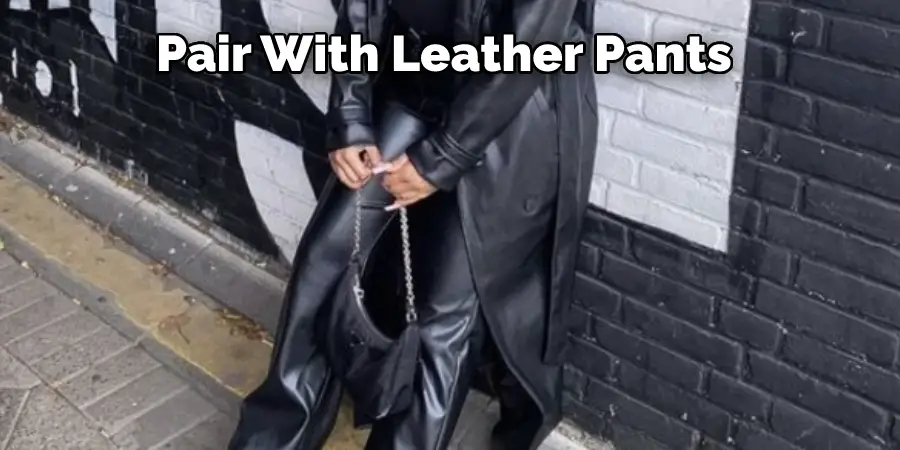 To complete your look, add a pair of leather pant to your ensemble. The leather blazer and pants combination is the perfect way to make a powerful fashion statement. For an edgier vibe, choose black leather trousers and for a more laid-back feel go for brown or tan colored ones. Finish it off with ankle boots and chunky jewelry to complete the look.
Things to Consider When Getting ready With Leather Blazer
1. Pick the Right Blazer Color:
The color of your leather blazer is important, as it should match or at least complement the rest of your outfit to create a cohesive look. Light-colored leather such as tan and cream are perfect for summertime looks, while darker shades like black and brown are ideal for more formal occasions.
2. Don't Go Overboard With Accessories:
It can be tempting to accessorize your leather blazer look with a lot of jewelry and other pieces, but try to exercise restraint and stick to one or two accessories that won't overpower your outfit. A bold necklace, statement earrings, or a chic hat are all great options for adding a subtle touch of style without taking away from the focus on the blazer itself.
3. Consider Your Fabrics:
Leather looks best when paired with other high-quality fabrics such as wool, linen, and cotton. Try not to mix too many different materials in one outfit as it can create an unbalanced look. If you're wearing a leather blazer, pair it with trousers or a skirt made of one of the fabrics mentioned above to create a stylish and sophisticated ensemble.
4. Know How to Care for Your Blazer:
Since leather is such a delicate material, you want to make sure you know how to properly care for your blazer. Use a specialized leather cleaner every few months and make sure to store it in an area that's not too humid or hot. Also, avoid putting your leather blazer in the washing machine as this can damage the material.  By taking proper care of your blazer, you will be able to keep it looking great for years to come! 
Conclusion
From timeless elegance to modern chic, a leather blazer is the perfect way to enhance any outfit. Whether you pair it with jeans or dress it up with a skirt, there are endless combinations of stylish leather blazer outfit ideas, allowing you to look your best and make a lasting impression. And while leather blazers are slightly more expensive than their fabric counterparts, they'll last longer, resulting in an overall better value.