Are you looking to bring warmth and texture into your home decor? There's nothing quite like the feeling of luxury that comes from a beautiful brown leather couch; it adds a classic view to any room. Whether you want something sleek and modern or effervescently traditional, this versatile material can be crafted in various styles tailored to fit your unique decorating vision.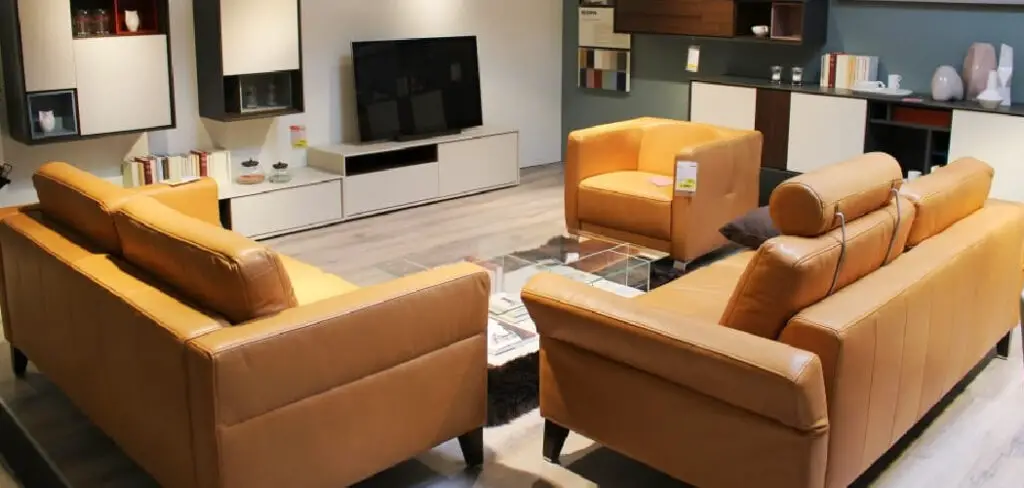 If you're searching for inspiration on how to incorporate brown leather couches into your indoor space, read on! In this article, we'll provide numerous brown leather couches decorating ideas of creative ways to incorporate these timeless furniture pieces with other elements throughout the home while giving directions and expert tips along the way.
What Colours Would Go with a Brown Leather Sofa?
When it comes to decorating with a brown leather sofa, there are loads of colors that can be used to create a great look. Warm and earthy shades, such as burnt oranges, creams, and taupes, all go well with the deep richness of brown leather. These will help to bring out its natural tones while adding balance to the space.
Cooler hues can also work well in certain settings. Consider using black or grey accents such as area rugs, lamps or wall art to add contrast and create an inviting atmosphere. You could also opt for blues, purples and greens which will complement the warm tone of your leather couch perfectly.
No matter what colour scheme you choose, a few accessories in varying shades will complete the look. Throw pillows, blankets and floor cushions are all great additions that can easily be changed depending on your mood or the season. Adding different textures like velvet and wool also helps to inject personality into any room.
By being creative with colours and textures, you can create a space that feels comfortable and inviting. With a brown leather sofa as the centerpiece of your décor, you have endless possibilities for decorating your home.
14 Brown Leather Couches Decorating Ideas
1. Layer With Textiles
Add cozy throw blankets and textured pillows in different shades of brown, beige, or cream for a cozy feel. For a bolder look, try adding patterned textiles like chevron, stripes, or floral prints. These elements will draw the eye to the couch and make it the focal point of the room.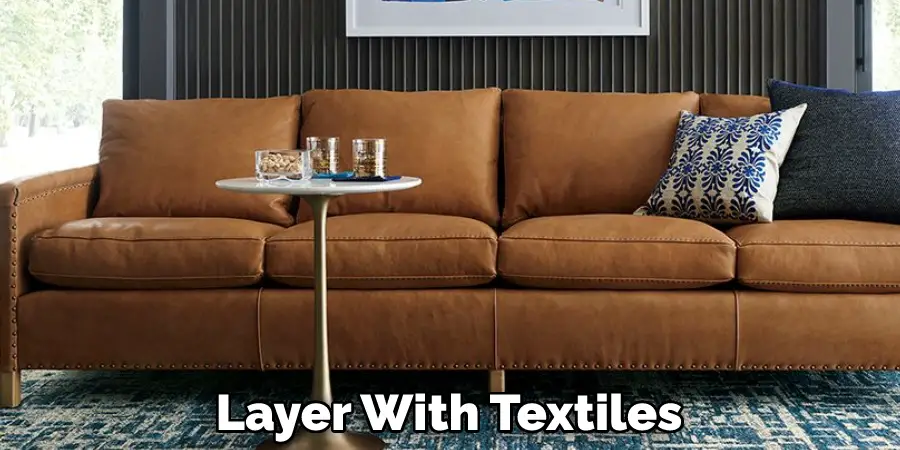 If you want a more unified look, choose complementary colors that match the shade of your couch. To add a bit of contrast, choose colorful accent pillows in shades of red, blue, green, or yellow. When pairing textures, it's best to mix rough (like knit) and smooth (like velvet) fabrics.
2. Brighten With Color
Pair the couch with colorful accent pillows and throws in shades of blue, red, or green to add a pop of color. Try layering a variety of pillows in different sizes for an eclectic feel. Or, add texture to your sofa with throws and blankets in a complementary hue.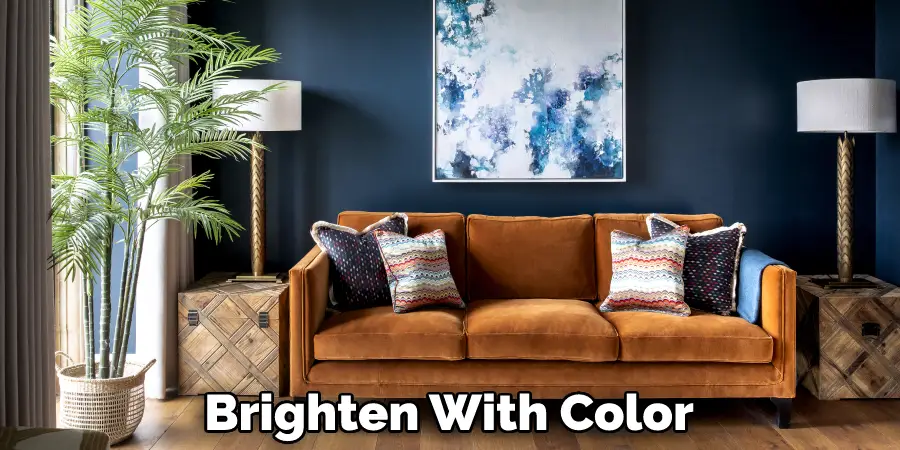 This will create a warm and inviting look that is perfect for any living room. When selecting pillows, look for bold patterns or textures that will draw the eye. However, be sure to keep the overall look balanced by keeping the colors soft and muted.
3. Mix and Match Patterns
Mix and match different patterns and textures to create a visually interesting space. Pair striped pillows with floral or geometric designs. Incorporate a striped rug or an area lined with flat-weave kilim pillows. Add a few solids to the mix, such as a textured throw in a complementary color.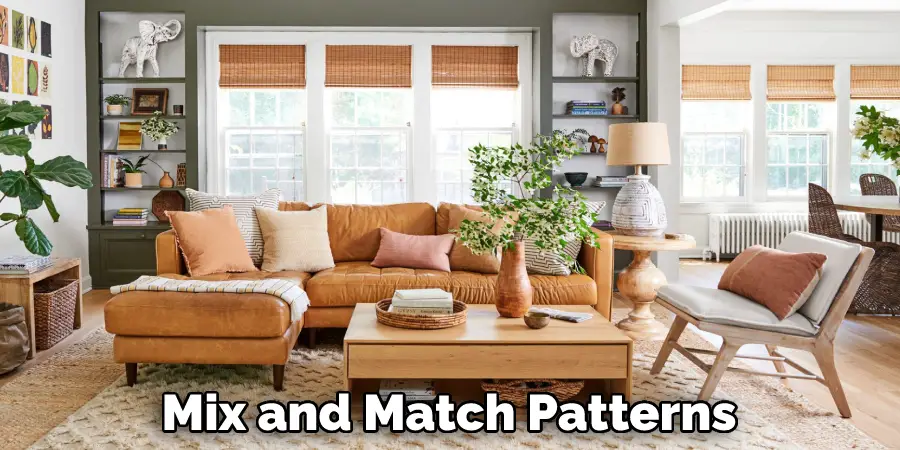 By mixing and matching, the room will have an eclectic and inviting feel. Choose fabrics that reflect the overall style of the room, from traditional to modern or boho-chic. Incorporate a few throw blankets in different colors and patterns for an added touch of warmth and comfort.
4. Add Contrast
Use white or light-colored accessories and accents to create contrast against the brown leather. Consider adding a white rug, light-colored throw pillows, and curtains, or accessories like vases, wall art, and lamps in a contrasting color. This will give the room more visual interest and make it feel more dynamic.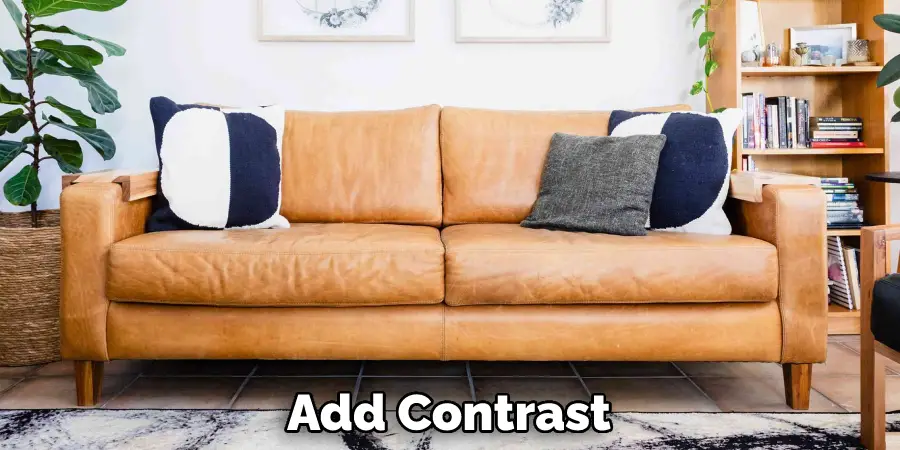 Additionally, adding texture to the decor with items like woven baskets or soft throws can add personality and depth to the space. When choosing colors, be sure to pick out shades that complement the existing leather. A bold blue or teal can look especially striking against dark brown.
5. Embrace Rustic Style
Add rustic elements such as a woven rug, a wooden coffee table, or vintage accessories for a cozy cabin feel. This look pairs nicely with a brown leather couch and makes your living room look warm and inviting.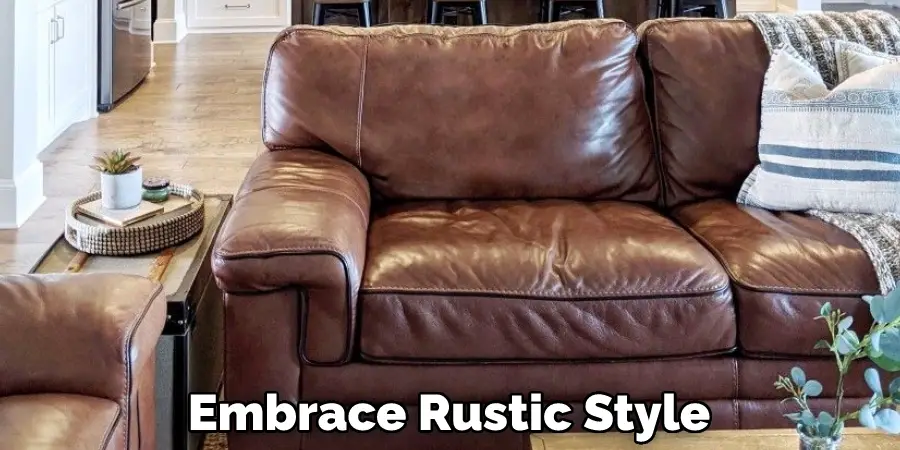 Add some white accents for contrast, such as picture frames, vases, and another decor. By embracing rustic style, you can create a beautiful living room that feels like home. When using rustic elements, keep in mind that less is more.
Too many accents can make the room look cluttered and overwhelming. Choose pieces that are meaningful and unique to your style, and use them sparingly for an effortlessly stylish look. Make sure to choose materials that are well-made and of good quality if you want them to last.
6. Add Greenery
Bring in plants or fresh flowers to add a natural touch to the space. They can help to soften the look of your leather couches and add a splash of color. Place some in corners or on shelves, or fill a basket with a variety of greenery and place it in the center of your seating area. It's an easy way to create a cozy atmosphere.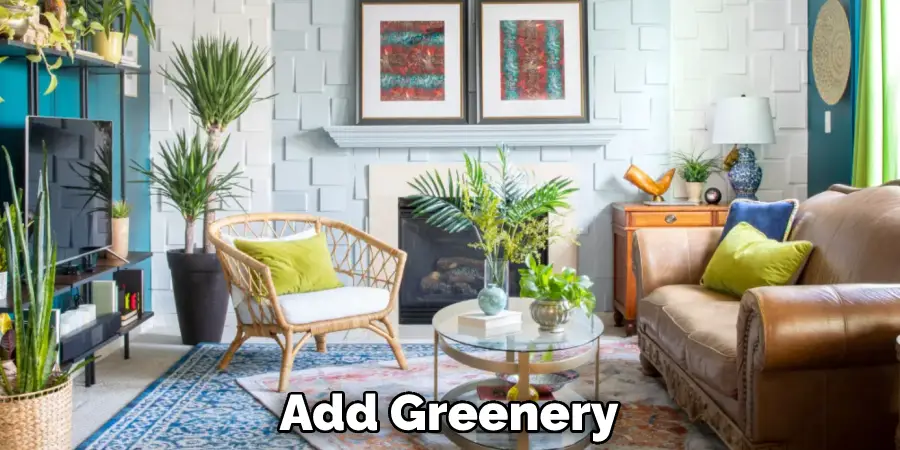 If you don't have much of a green thumb, opt for some faux plants or greenery instead. They come in all shapes, sizes, and colors, so you can find something that will match your decor. When it comes to brown leather couch decorating ideas, greenery is always a great option.
7. Use Metallic Accents
Add metallic accents such as gold or silver lamps, vases, or picture frames to create a glam look. This will help to add some visual interest and texture to the room. You can also use metallic accents in pillows or throws for a bit of shimmer. This is an easy way to add a touch of luxe to the room without spending a lot of money.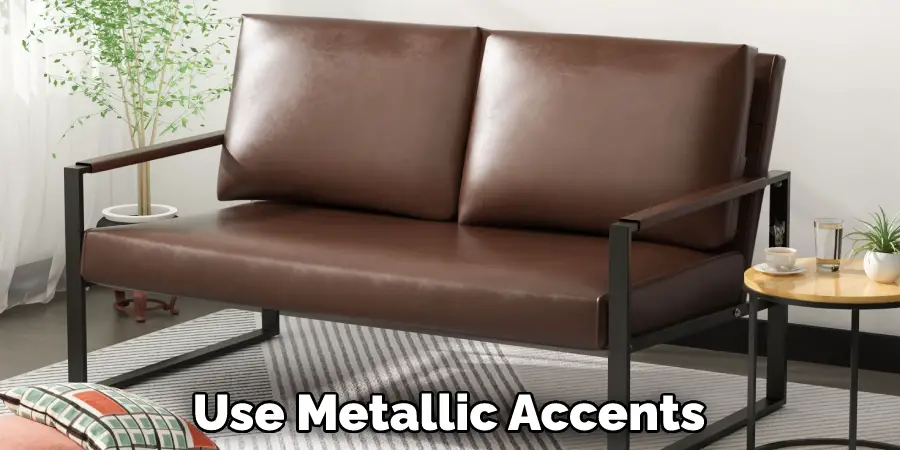 If you want a more modern look, consider using copper or chrome accents instead. However, be sure to keep the metal accents to a minimum so that you don't overwhelm the room. Though these accents can help to add some visual interest, there is such a thing as too much bling.
8. Layer Rugs
Layer a patterned or textured rug over a neutral rug to add depth and visual interest. This layered look is especially great for brown leather couches. Consider a brightly colored rug in a geometric pattern or a natural fiber such as jute or sisal for a rustic feel.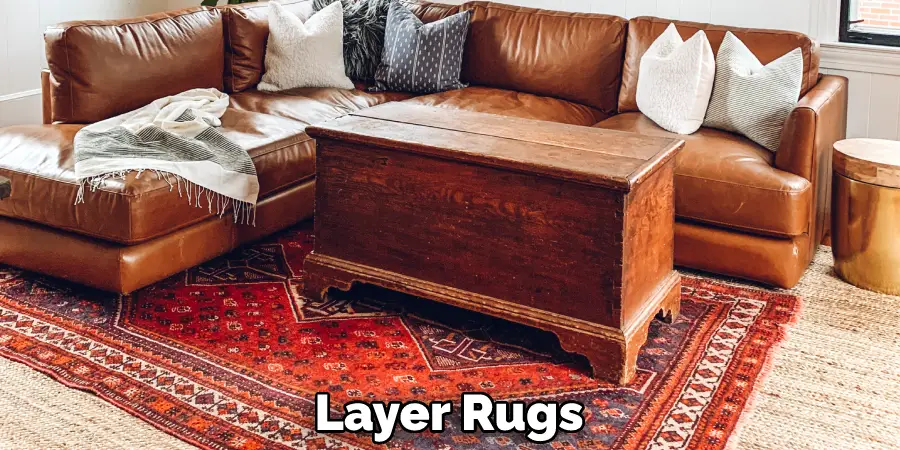 If you're looking for something more classic, try layering a vintage Persian-style rug over a simple solid rug. This is a great way to add color and texture without overwhelming the space. When choosing rugs, remember to measure your room and couch so you know exactly what size rug will work best.
Although small rugs can be used to bring color and texture into a room, they are often not enough to anchor the space. Aim for a larger rug that is big enough to fit at least the front legs of your couch. This will help to bring balance and cohesion to your room's design.
9. Mix With Mid
Century Modern – Pair the couch with mid-century modern furniture, such as a wooden side table or a sleek floor lamp, for a stylish look. This combination of old and new will add a unique touch to your space.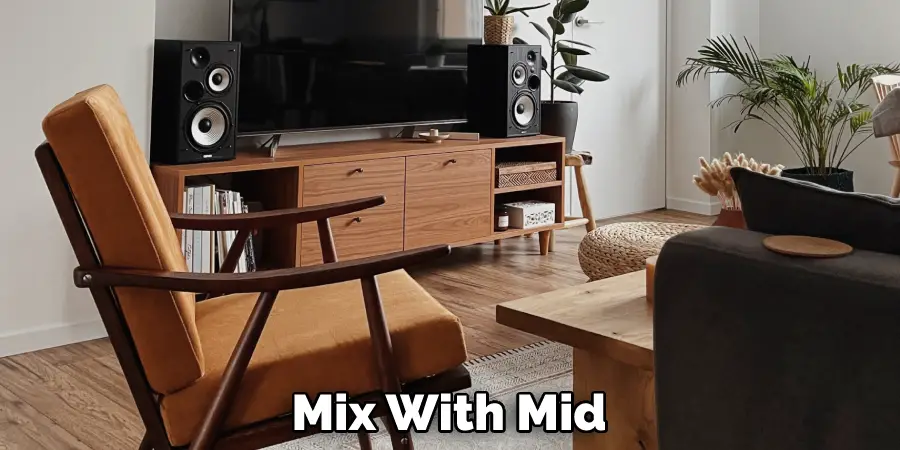 If you want an even more modern take, opt for a leather sofa with sleek lines and thin legs. To complete the look, add a few simple accent pieces like throw pillows or a classic area rug. When done right, this combination will create a chic and sophisticated atmosphere.
However, don't forget to keep it balanced — too much of one style will overpower the room. Make sure to use the principles of scale, proportion, and balance when decorating.
10. Create a Gallery Wall
Hang a collection of framed artwork or photos above the couch to add a personal touch. This will create a unique feature wall that stands out and can double as the focal point of the room. Choose frames in a complementary finish, such as black or bronze-toned metal, to complement the brown leather of the couch.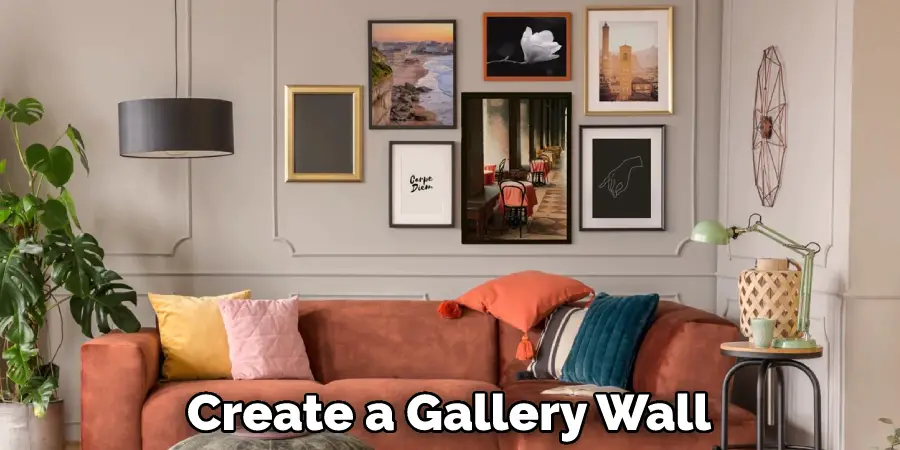 If you want to go for a more rustic look, use wood frames with carved detailing or distressed details. Arrange the artwork in an eye-catching pattern, such as a sunburst or grid. This will draw attention to the wall and also make it more interesting.
Place some smaller pieces at the top, with the larger ones below. You can also add additional accessories, such as vintage maps or mirrors, to complete the look.
11. Add Industrial Elements
Add industrial elements such as metal accents or exposed brick to create a chic and modern look. Try metal floor lamps or accent tables to make a statement, or pair an exposed brick wall with the brown leather couch for a unique and stylish look.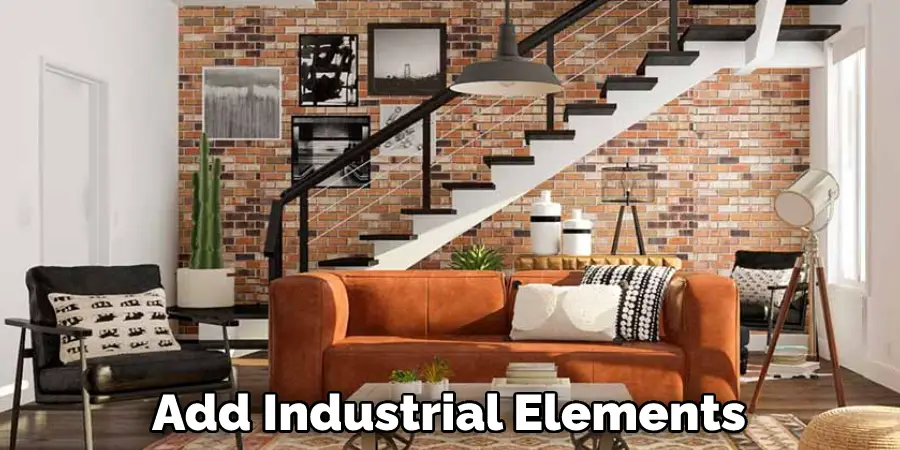 This can give a room an unexpected and edgy feel, while still complementing the classic beauty of the brown leather couch. When decorating with industrial elements, be sure to keep the look cohesive by repeating colors and textures throughout the space. This will help create a harmonious and stylish look.
12. Add a Pop of Black
Add black accent pieces such as a black and white rug or black picture frames to create a dramatic contrast. You can also use black ottomans or side tables to break up the expanse of brown leather and add visual interest.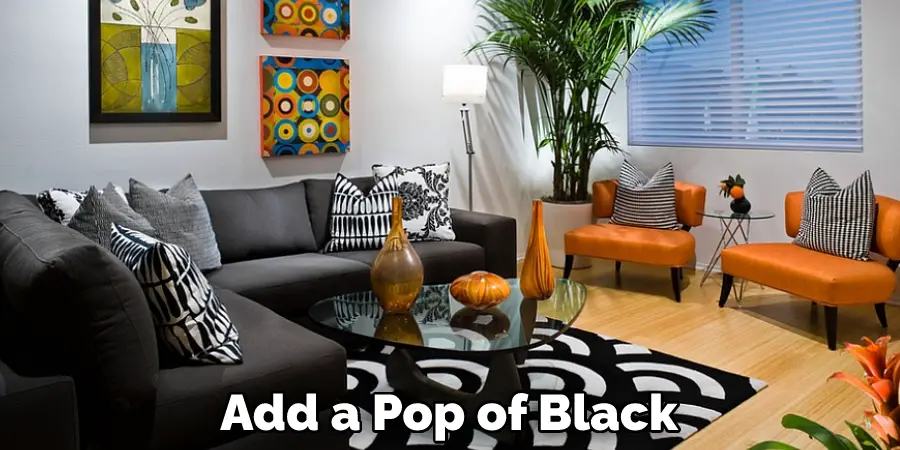 For a modern, luxe look, add a few metallic accents like gold or silver vases and lamps. A black-and-white throw blanket draped over the back of the couch can also be an eye-catching design element. When using black accents, be sure to use them sparingly so as not to overwhelm the room.
With the right design elements, a brown leather couch can create a beautiful and inviting atmosphere. Once you have your leather couch in place, you can start designing around it to create a cozy and stylish living space. With these decorating ideas and tips, you can transform your brown leather couch into a stylish focal point in any room.
13. Use Neutrals
Use a neutral color palette for the accessories and accents, such as beige, cream, or white, for a classic and timeless look. Try incorporating them with throw pillows, blankets, and wall art to add visual interest.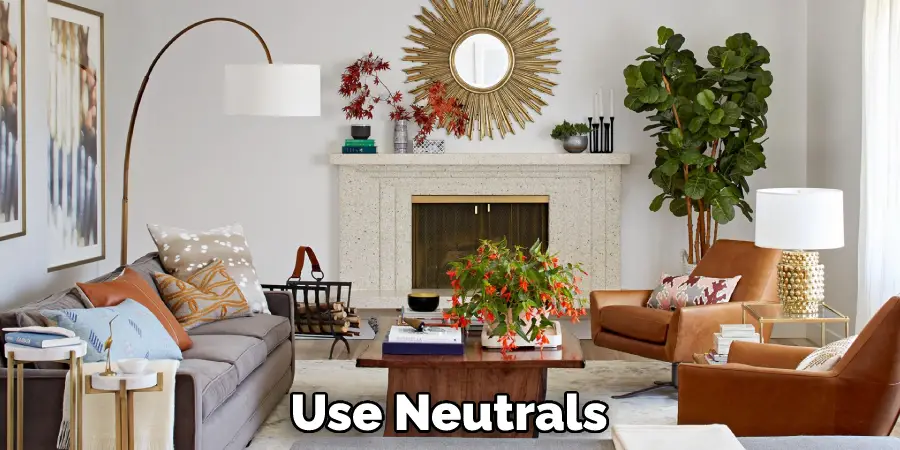 You can also layer rugs in classic patterns and textures for a cozy and inviting atmosphere. If you have an ottoman, consider covering it in neutral colors to match the look of your leather couches. This will tie the space together and create a more unified design.
If you want to add more color and vibrancy, consider adding a few vibrant accent pieces, such as a bright area rug or colorful artwork. This will add some visual contrast and bring the space to life.
14. Add Texture
Use textured accessories such as a woven basket or a fuzzy throw blanket to add dimension and texture to the space. Not only will this give the room added visual interest, but these items can also provide warmth and comfort.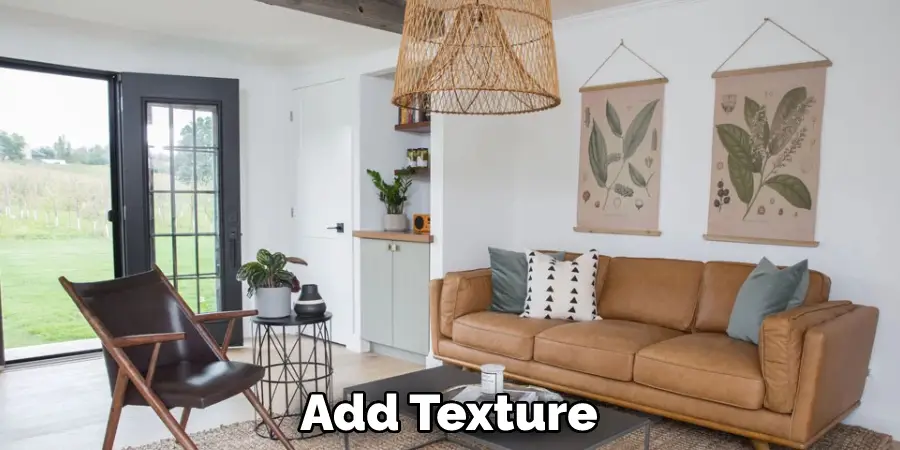 A fluffy blanket draped over the arm of a brown leather couch can offer an inviting look and feel. For a more modern twist, try adding a few metallic pillows to your sofa for a touch of glamorous sophistication. Whatever you choose, make sure it complements the overall feel of the room.
Things to Consider When Decorating with Brown Leather Couches
1. Color:
Brown leather couches are a great option for creating an inviting and sophisticated living space, but you should consider the other colors in the room. Neutral colors such as beige, white, cream, and light gray will look best with brown leather couches. For a more dramatic look, try pairing the couch with brighter colors like royal blue or emerald green.
2. Texture:
Brown leather naturally brings a touch of texture to any living space. To enhance this texture, try adding other elements with varying textures. For example, opt for a velvet throw blanket or a wool rug to add depth and interest.
3. Accent Pieces:
Accent pieces are essential in any room design and can help bring the entire look together while creating an inviting atmosphere. Consider decorative pillows, throws, wall art, or even plants to accentuate the brown leather couches and make your living space feel homier.
4. Lighting:
Proper lighting is key when decorating with brown leather couches, as it helps create a warm and inviting atmosphere. Choose floor lamps or table lamps that give off warm white light to provide enough illumination for reading or entertaining guests.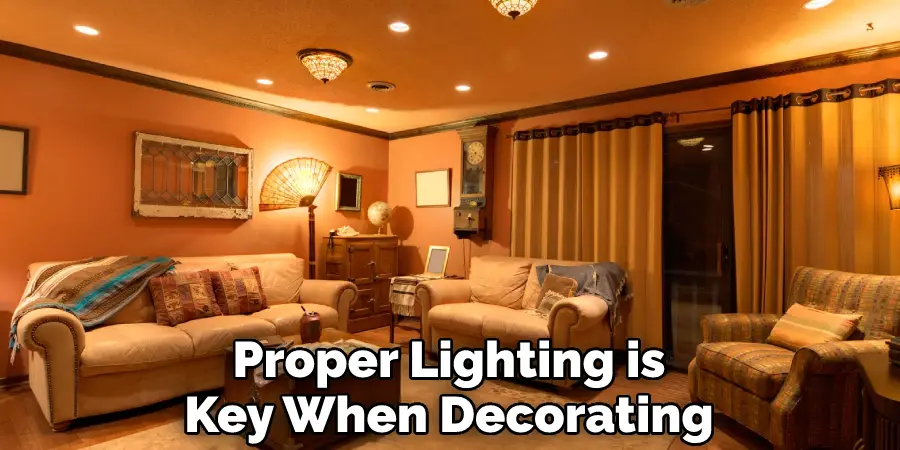 Following these tips can help you create a beautiful and inviting living space with your brown leather couches. When properly decorated, these couches can offer a timeless and sophisticated look that will last for years to come.
Some Common Mistakes When Decorating with Brown Leather Couches
1. Overstuffing the Space:
Brown leather couches are great for furnishing a room, but they can quickly take over the living space if there are too many other large pieces of furniture in the room. It's important to keep the focal point on the couch without cramming too much in the room.
2. Ignoring Color:
Brown leather couches can be a great anchor for a room, but it's important not to forget about color. Play with color and patterns around the couch, such as adding bright throw pillows or wall art to keep the living space from feeling dull.
3. Not Accessorizing Enough:
The beauty of brown leather couches is that they are neutral–meaning they go well with almost any kind of decorating style. However, it's important to accessorize the couch with items like vases, lamps, and candles to add texture and interest to the seating area.
4. Overlooking Texture:
Brown leather couches are often seen as a classic piece of furniture, but that doesn't mean you have to stick with the same texture for the whole room. Play with different textures, such as adding fluffy rugs or woven baskets, in order to create more visual interest in the living space.
5. Forgetting About Proportion:
When decorating a room with brown leather couches, it's important to consider size and scale. Make sure any other pieces of furniture or accessories fit in proportionally with the couch–otherwise you may end up with a cramped and disjointed look.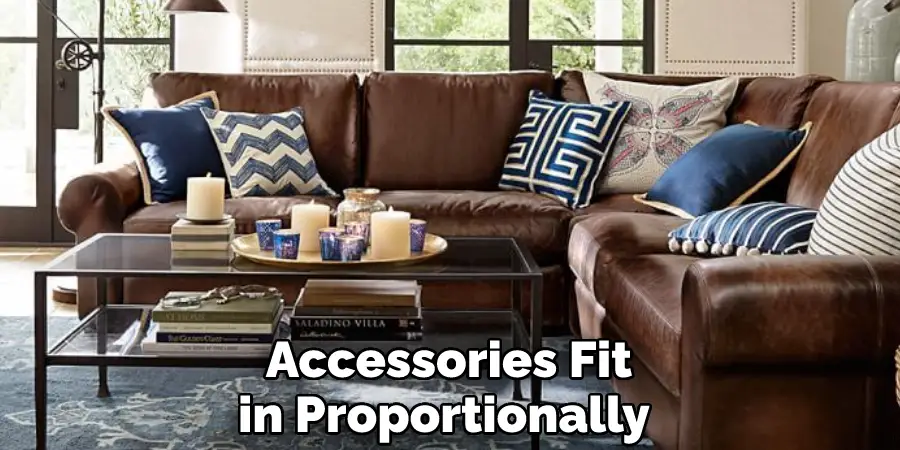 By avoiding these common mistakes when decorating with brown leather couches, you can create an inviting and stylish living space that you'll be sure to enjoy for years to come.
Conclusion
To end, the versatile brown leather couches can provide many exciting decorating opportunities for any space. Whether you are looking for a bold statement piece or something more subtle, these pieces of furniture offer an unforgettable look with timeless appeal.
Take some time to consider your desired design aesthetic and evaluate how the different colors, textures, and styles may work in your room. So get creative and have fun with the endless possibilities available when it comes to turning your living area into a cozy home inspired by chic fashion trends. And don't forget to check out our website for more inspiration and ideas involving Brown Leather Couches Decorating Ideas!