Leather clothing has been around for centuries due to its durability, sophistication, and versatility. It's become a popular staple in many fashionistas' closets by combining timeless style with modern trends. If you're looking for a fun new way to wear leather, try styling it as a top! This guide will show you how to style leather top while keeping comfortable and staying fashionable.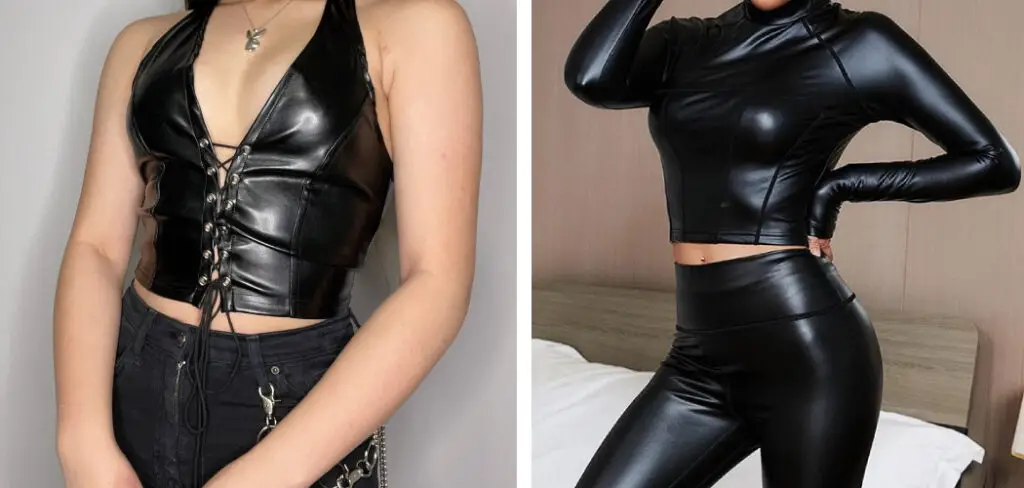 From edgy looks with jeans to statement pieces dressed up with skirts, let this be your source of inspiration!
What Can You Wear with a Leather Top?
Leather tops are versatile and can be dressed up or down to create a variety of looks. To dress up your leather top, pair it with dressy bottoms such as an A-line skirt, wide-leg trousers, or cigarette pants. You might also opt for heels instead of flats to complete the look. For a more casual outfit, pair your leather top with jeans, shorts, a midi skirt, or even joggers.
Complement the look by accessorizing it with scarves, statement jewelry pieces, or a belt. And for those chilly days when you need an extra layer of warmth, you can always throw on an oversized cardigan or trench coat. With so many styling options, a leather top is sure to become one of your wardrobe staples!
No matter how you choose to style it, a leather top is sure to make any outfit look stylish and modern. With the right accessories and bottoms, you can create an on-trend look that's perfect for any occasion. So go ahead and try out some of these styling tips and start rocking your leather top!
10 Methods How to Style Leather Top
1. Pair a Leather Top with Ripped Jeans
Pairing a leather top with ripped jeans is one of the easiest and most stylish looks you can rock. The combination of edgy leather and distressed denim creates a high-fashion, street-style look that can be worn day or night.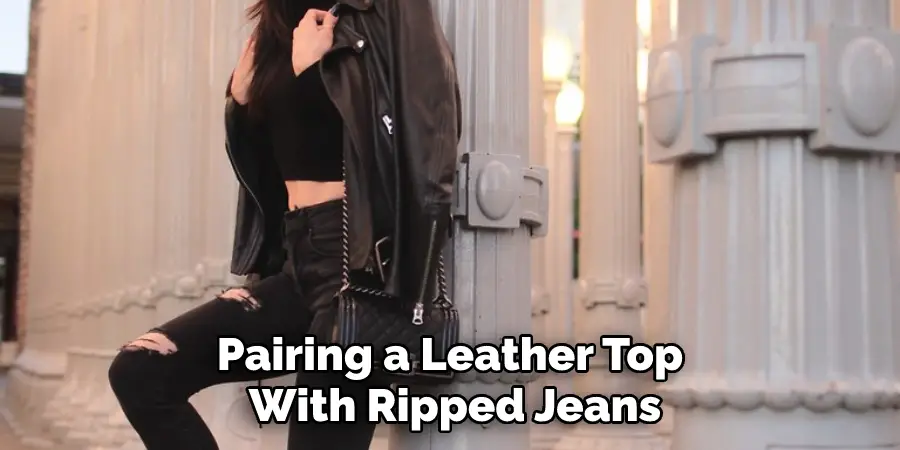 To keep the look classic and timeless, opt for a leather top with neutral colors like black, white, brown, navy, or grey. For the jeans, stick to darker washes for a more sophisticated vibe. Finish off the outfit with some minimalist accessories and a pair of heels, and you're ready to go!
2. Wear a Leather Top with a Pair of Leggings:
The combination of a leather top and leggings is an effortless way to style the look and turn it into a statement outfit. Leather tops add an edgy feel to the look, while leggings provide a relaxed, comfy fit. To create the perfect balance of style and comfort, choose a pair of high-waisted leggings and wear them with a cropped leather tank or t-shirt.
Complete the look by adding some statement jewelry, a stylish belt, or a bold scarf. You can also add a pair of ankle boots for an extra touch of style. With this look, you'll create a modern and edgy outfit while keeping it comfortable enough to wear all day.
3. Consider Pairing Your Leather Top with a Blazer or Jacket.
To add even more style to your leather top, layer it over a blazer or jacket. This can give the outfit a bit of edge and help you pull off a fashion-forward look. Try wearing a black leather top with a structured blazer for an effortlessly chic vibe. Or, if you're feeling daring, try pairing your leather top with an oversized denim jacket or patterned blazer.
No matter what combination you choose, adding a layer of texture and interest can help elevate your ensemble to the next level.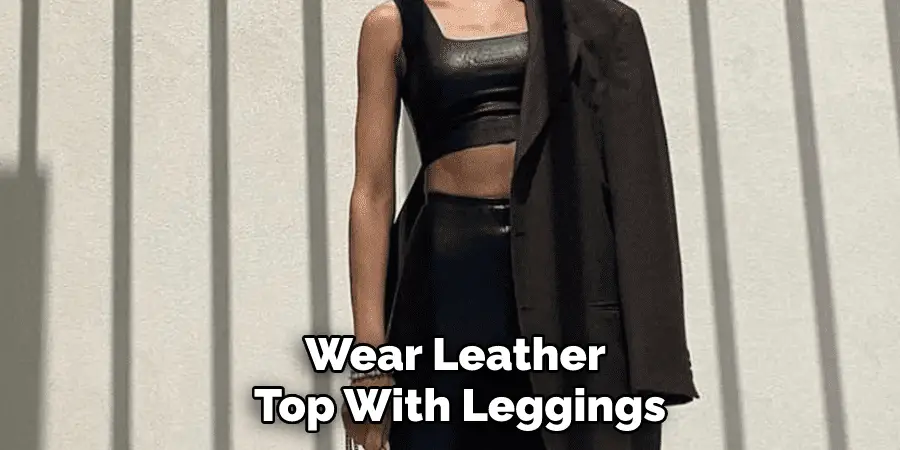 4. Wear Your Leather Top with a Bodycon Skirt or Pants.
The perfect way to make sure your leather top is the focal point of your outfit is by pairing it with a bodycon skirt or pants. This look can be dressed up for a night out on the town or dressed down for a casual weekend get-together.
For an edgier look, opt for black leather and dark colors. If you want to keep it more playful, wear brighter colors and lighter shades of leather. Either way, you'll be sure to turn heads when you wear your leather top with a bodycon skirt or pants.
5. Layering Your Leather Top over a Tee Shirt or Tank Top.
A simple way to style your leather top is to layer it over a basic t-shirt or tank top. You can choose any color or pattern as long as it contrasts with the leather top. This look is great for day or night, and you can also add a belt around your waist to create an hourglass silhouette.
If it's cooler outside, opt for a more sturdy fabric like wool or corduroy for added warmth. Finish off the look with some accessories, such as hoop earrings or a statement necklace, for an edgy and stylish ensemble.
6. Consider Pairing Your Leather Top with Fur or Suede Accents.
Adding a fur or suede accessory to your look can really take it to the next level. Fur and leather are perfect complements, adding texture and depth. A shearling jacket or fur-lined coat worn over a leather top can instantly elevate the look, while an animal print handbag can add a hint of glamor.
A pair of suede trousers or a skirt can also add texture and richness to the leather top. Have fun with accessories, mixing and matching different fabrics for maximum impact. With the right styling tips, you can create a look that's as unique and interesting as you are. And of course, don't forget that confidence is always the best accessory of all!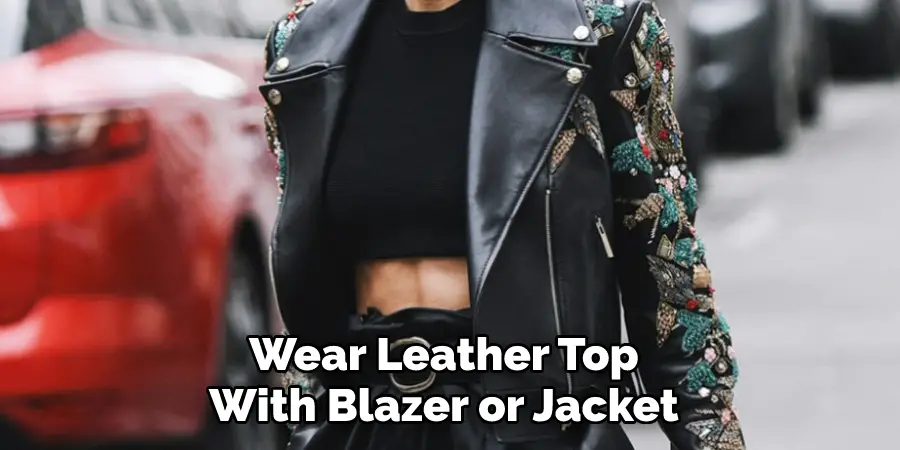 7. Consider Pairing Your Leather Top with Light-Wash Denim or White Pants.
Light-wash denim and white pants are the perfect accompaniment to a leather top. The combination of these two pieces is not only stylish but also provides excellent contrast. Denim jeans provide a casual, comfortable look which makes them ideal for pairing with more formal items like leather tops.
Similarly, white trousers can help you achieve a more dressy look. Whichever option you choose, don't be afraid to experiment with different silhouettes and textures.
For example, if you're wearing light-wash denim jeans, opt for a white linen shirt or an oversized sweater. If you're wearing white trousers, add some texture and color with a statement top, such as a velvet blouse. The possibilities are endless! Just remember to balance the look with neutral pieces such as ankle boots or sandals.
8. Dress up Your Leather Top by Wearing It with a Pencil Skirt or Heels.
Leather tops are a great way to add an edgy, sophisticated look to your wardrobe. To take a look up a notch, wear your leather top with a pencil skirt or heels. A midi-length or maxi-length pencil skirt is perfect for pairing with a cropped leather top or leather tank top. If you're wearing a loose-fitting, longline leather shirt, try pairing it with skinny jeans and a pair of heels for a fashion-forward look.
Alternatively, choose metallics like silver or gold to create a luxurious look. Heels can also add a formal touch to any leather top, whether it's a t-shirt or tank. For evening wear, try wearing it with a sexy pair of black stilettos. With the right accessories, you can create a look that's both fashionable and eye-catching.
9. Consider Pairing Your Leather Top with Jeans or Shorts
for a Casual Outfit. If you want to create an effortless style, jeans or shorts are the perfect pairing for a leather top. Choose a dark wash for jeans and pair it with ankle boots to achieve a polished look. For shorts, opt for high-waisted styles that tuck in your leather top and show off its flattering shape. For a bohemian vibe, pair your leather top with patterned shorts and sandals.
10. Don't Forget the Accessories.
Adding accessories is an easy way to transform a basic look into something stylish. Choose pieces that add texture and contrast, like a colorful scarf or statement jewelry. A wooden watch or pendant necklace is the perfect complement to a leather top.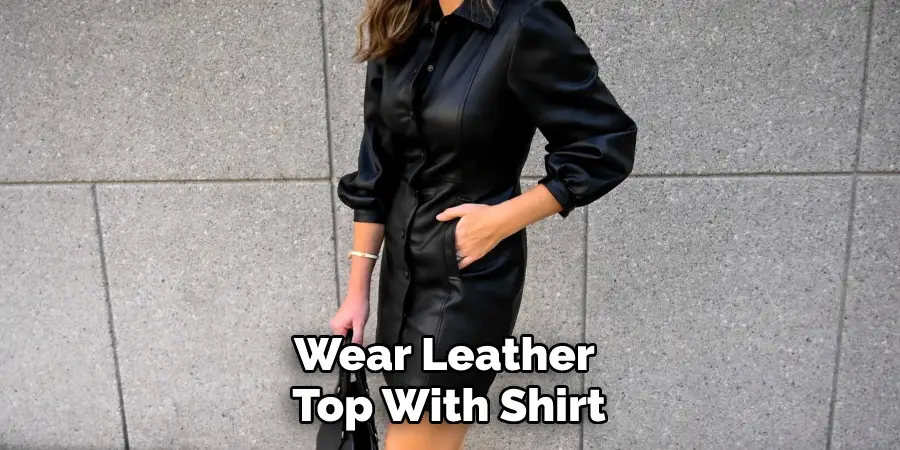 Finish off your look with a fashionable bag, such as a cross-body style in neutral colors that won't overpower your outfit. Leather tops can be styled and dressed up or down for any occasion, depending on the rest of your ensemble. With the right styling tips and tricks, you'll have no trouble creating chic looks with your favorite leather tops!
Conclusion
If you want to add a leather top to your wardrobe but don't quite know how to consider some of these helpful tips. With a little thought and creativity, you can easily style a leather top to suit any occasion. Trust your own fashion instincts and have fun putting together new looks. Soon you'll be confidently strutting your stuff in a stylish leather ensemble that's all your own.
If you have any other questions about styling leather top, or if you want to learn more about how to style leather top, be sure to check out our other blog posts. Thanks for reading!