Leather shorts are versatile and stylish pieces that can be worn in various ways. They can be dressed up or down, depending on how you style them. This blog post will show you how to wear leather shorts for a chic look.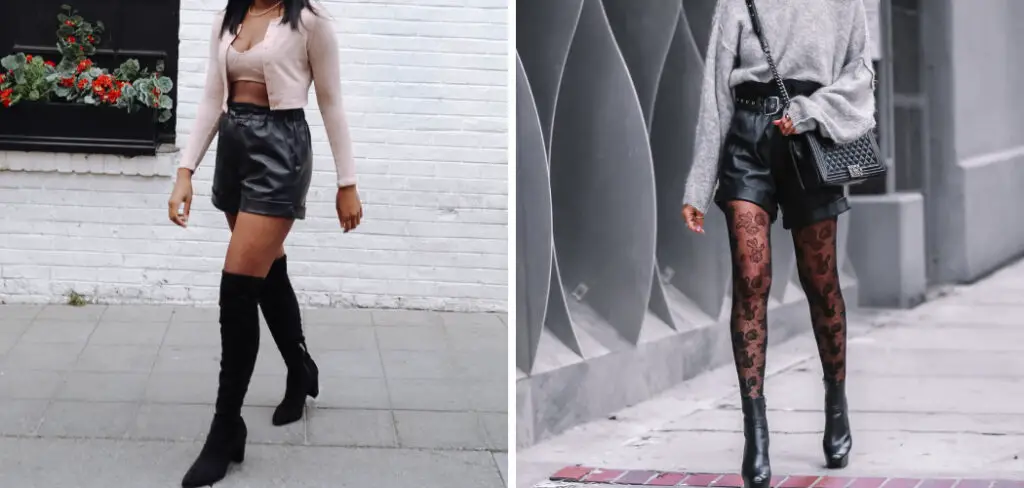 Whether you pair them with a t-shirt and sneakers or a blouse and heels, leather shorts are sure to make a statement. Read on for tips on wearing leather shorts without looking like you're headed to the rodeo. Then, read on for more information.
10 Trendy Ways on How to Wear Leather Shorts
1. With a T-Shirt
One of the simplest and most popular ways to style leather shorts is with a basic t-shirt. This look is perfect for a casual day out or for running errands. However, to make the outfit more stylish, try pairing the shorts with a cropped t-shirt or a t-shirt with an interesting print or design. If you have long leather shorts, consider tucking the shirt in to show off your waistline.
2. With a Graphic Tee
Graphic tees are the perfect way to add some personality to your look when wearing leather shorts. First, choose a graphic tee with bold colors and an interesting design for maximum impact. Then, add a pair of white sneakers or sandals for a cool and casual look.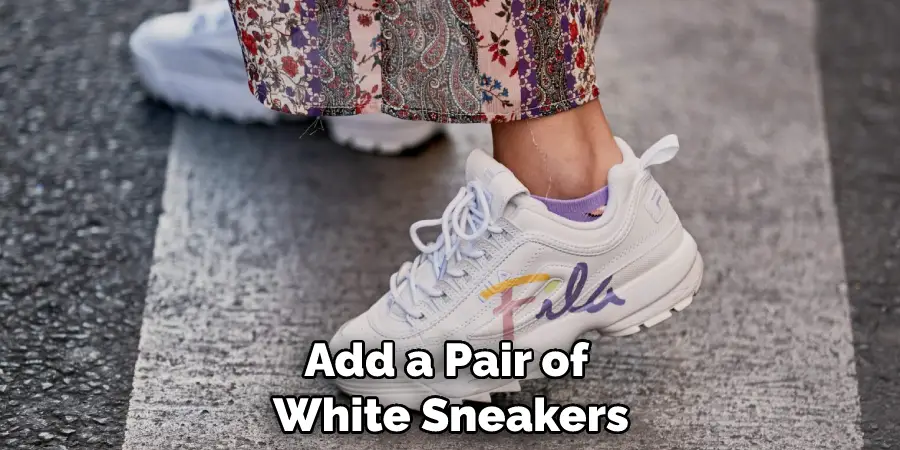 3. With an Oversized Blazer
Leather shorts can be easily dressed up with the right pieces, like an oversized blazer. This combination is perfect for a night out or a semi-formal occasion. Make sure to choose a pair of leather shorts that are knee-length or higher for a more polished look. Balance out the volume of the blazer with a fitted top, such as a simple tank or t-shirt. Complete the outfit with pointed-toe pumps and minimal jewelry to create an elegant yet edgy ensemble.
4. With Heels And A Bold Top
If you're looking for a dressier ensemble, leather shorts are perfect. Pair them with a blousy top and some heels for an evening out look. Add a few pieces of jewelry and your favorite clutch purse to complete the look. Leather shorts can also be worn with a crop top or bodysuit for an edgier feel. If your shorts are distressed, add a pair of combat boots to give off an effortlessly cool vibe. No matter which look you choose, leather shorts are sure to make a statement and turn heads!
5. With An Oversized Sweater And Sneakers
Another great way to wear your leather shorts is by pairing them with an oversized sweater and a pair of sneakers. This is a great casual look that can be dressed up or down, depending on the occasion. The oversized sweater will provide extra warmth, while the leather shorts will bring an edgy touch to your outfit.
Opt for a pair of white and black sneakers for a classic streetwear vibe. Or, if you want to go for a more modern look, choose a pair of colorful chunky sneakers. Add accessories, such as a shoulder bag and a pair of sunglasses, to complete the look. You'll be sure to turn heads wherever you go!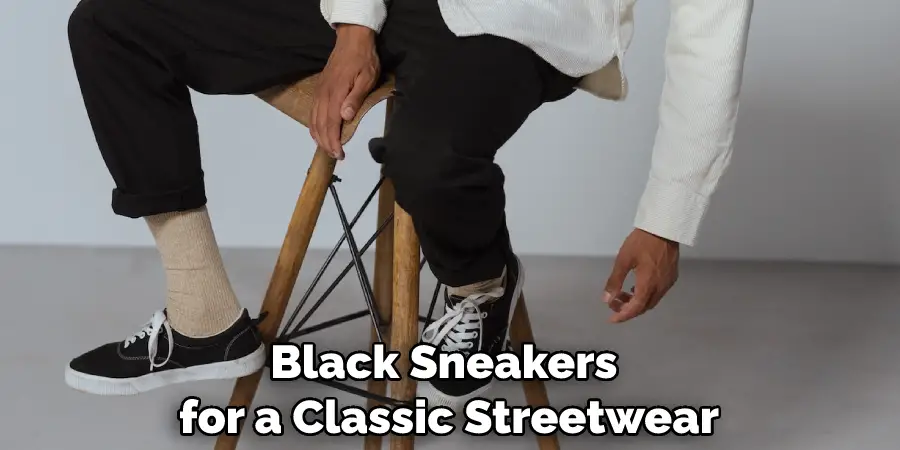 6. With a Sweater
Leather shorts can also be worn with a sweater for a chic fall or winter outfit. Choose a cropped sweater or one that hits the hip for this look. Pair the sweater with other fall staples like booties or knee-high boots. If you have leather shorts in a neutral color, you can make your outfit more dynamic by choosing a boldly patterned sweater. Accessorize with jewelry and a hat to complete the look. Finally, add a leather jacket or denim jacket over the sweater for an even edgier take on this outfit.
7. With a Button-Down Shirt
Another great way to style leather shorts is with a button-down shirt. Depending on your chosen shirt, this look can be either dressy or casual. For a dressier outfit, select a silk or satin button-down shirt. For a more casual look, go for a cotton or linen shirt instead. When wearing a button-down shirt with leather shorts, consider adding accessories such as a belt, cufflinks, and/or a necklace to elevate your outfit. Finish off the ensemble with ankle boots or heeled sandals for the ultimate stylish look.
8. With Thigh-high Boots
If you want to make a bold statement, try wearing leather shorts with thigh-high boots. Depending on the occasion, this edgy look can be dressed up or down. For a night out on the town, pair your leather shorts with a pair of black leather over-the-knee boots and a fitted top or statement blouse. Wear ankle boots and a graphic tee or flannel shirt to keep the outfit casual. Complete the look with accessories such as a denim jacket and scarf to add texture. Finish your outfit off with a pop of color by carrying a brightly colored handbag or clutch.
9. With A Denim Jacket
A denim jacket is perfect for adding some contrast to your leather shorts. This look works great for fall or spring. Choose a fitted denim jacket or an oversized one for a more relaxed feel. Pair the denim jacket with a collared top and ankle boots or heeled sandals to keep the outfit polished. Accessorize with a leather bag or belt to tie the look together.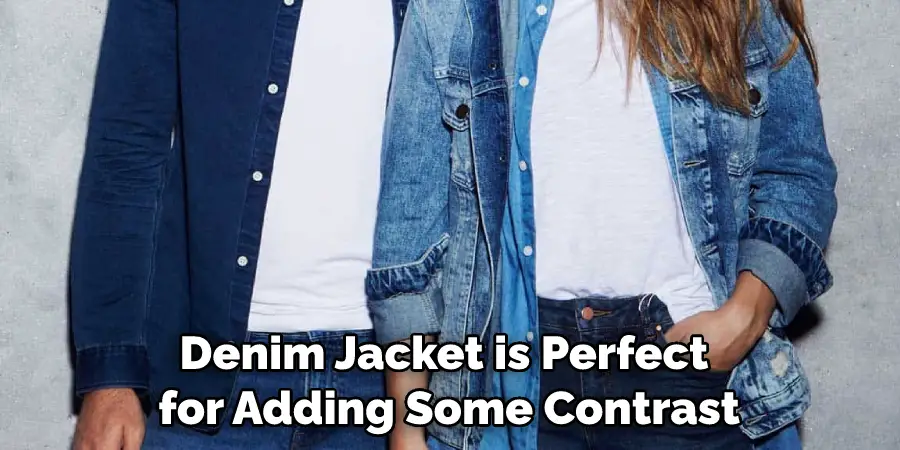 10. With Cardi-Coat
A cardi-coat is the perfect piece if you're looking for a chic way to transition your leather shorts into the colder months. Choose a neutral color like black or grey, and layer it over a lightweight knit top and leather shorts. Add ankle boots and finish off the look with some accessories. This outfit is great for a night out on the town or for an outdoor dinner party. You'll be sure to turn heads in this stylish ensemble!
Some Additional Tips and Tricks to Look For Fashionable
1. Pick leather shorts that fit your body shape and size. Make sure they are not too tight or too loose, as this can make you look awkward.
2. Choose neutral colors such as black, brown, grey or white to pair with almost everything in your wardrobe.
3. Mix up textures to add dimension to an outfit. For example, try pairing leather shorts with a silk or chiffon top for a dressier look.
4. Wear your leather shorts with wedges, sandals, ankle boots, and even sneakers to create different looks.
5. Balance out the edginess of the shorts by wearing them with softer tops such as lightweight knits or blouses.
6. Accessorize with jewelry, scarves, or a cute hat to add some extra glamour.
7. Wear leather shorts with tights for an unexpected look when the weather is cooler.
What Season Do You Wear Leather Shorts?
Leather shorts are a great look for summer and fall. In the summer, leather shorts can be styled with graphic tees, tanks, and lightweight tops to create an edgy street-style look that's perfect for a night out. During the fall months, leather shorts can be paired with a chunky sweater or denim jacket for more of a grunge-inspired look. Leather shorts can also be layered with tights for colder temperatures or paired with thigh-high boots for a more wintery feel.
However you style them, leather shorts are sure to make a statement no matter what season it is! No matter the occasion, leather shorts are the perfect way to stay stylish and on-trend all year round. Whether you're rocking them in the summer, fall, or winter months, leather shorts can bring a unique edge to any outfit.
Can Leather Shorts Be Worn in Summer?
Leather shorts can be worn in the summer months if you know how to style them. The key is to create an outfit that won't make you overheat. Balance out the leather with lightweight tops and airy fabrics like linen or cotton, which will help keep you cool while still looking stylish. Keep accessories minimal and avoid heavy fabrics like wool or denim to avoid feeling too hot during the warmer months.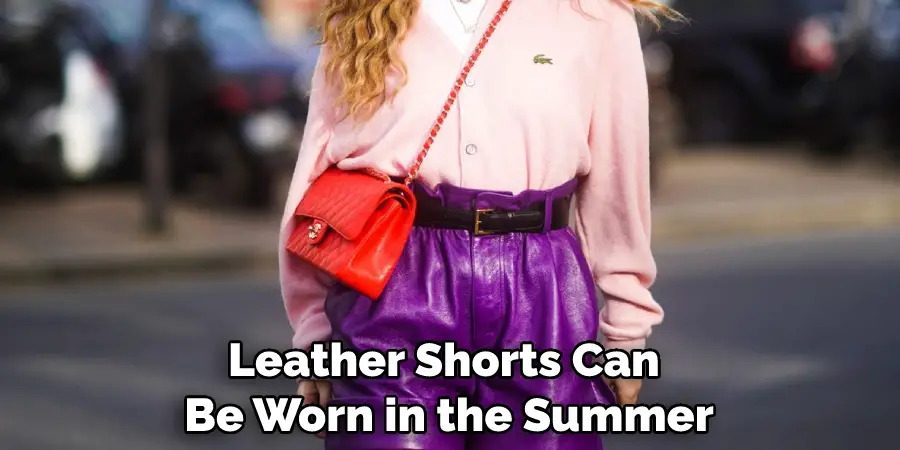 Choose a light-colored top to contrast with the leather shorts, and consider wearing sandals or other open-toe shoes for added ventilation. You can also opt for faux leather shorts made from lightweight fabrics such as cotton or polyester if you want an even cooler look. Pair your leather shorts with a flowy white blouse and sneakers or sandals for a classic summery style. Finally, accessorize the outfit with a straw hat and sunglasses for an effortless, beach-ready vibe.
Frequently Asked Questions
What Season Do You Wear Leather Shorts?
Leather shorts are best worn in the spring or summertime. The weather conditions are more favorable for leather shorts, and they allow you to show more of your skin. In the springtime, the weather is usually mild, and you can wear leather shorts to work or during leisure activities. In the summertime, the weather is usually hot and humid, which is perfect for wearing leather shorts.
Are Leather Shorts in Fashion?
Leather shorts may be in fashion, but they should only be worn if you are comfortable with the feel of leather against your skin. Leather shorts are not made to be durable or weather-proof, so they may not be suitable for all types of weather conditions. If you choose to wear leather shorts, make sure to take precautions such as wearing a waterproof coat and keeping your skin dry to avoid moisture build-up and damage to the shorts.
Which Jeans Are in Trend?
Trends vary from season to season and from region to region. However, some popular jeans styles at the moment include distressed jeans, ripped jeans, and skinny jeans. It is important to keep in mind that jeans are a personal choice and that what is trendy one year may not be popular the next year or even the year after that. So don't be afraid to try something new – you never know, you might just love it!
Can You Steam Leather Shorts?
Yes, you can steam leather shorts using a steamer. To do this, place the shorts in the steamer basket and cover them with a damp cloth. Make sure the steamer is set to a low heat and wait until the shorts are dry.
Final Words
Leather shorts are a great way to add some edge to your wardrobe. They can be dressed up or down and are perfect for transitioning from summer to fall. When wearing leather shorts, it's important to keep the rest of your outfit relatively simple. We hope this guide on how to wear leather shorts has been helpful.
Remember that although leather shorts may look intimidating, they can be easily incorporated into your wardrobe. With a few styling tips and tricks, you'll be able to wear them confidently and create unique outfits that will turn heads. Choose one statement piece and build your look around it. With these tips in mind, you'll look chic in leather shorts all season long!
You Can Check It Out to Wear a Leather Jacket Over 60