When the temperatures drop and winter sets in, you might think that it's time to put away your leather shorts. However, with the right styling and layering techniques, you can still rock this trendy fashion piece even in colder weather. Leather shorts can be a stylish and versatile addition to your winter wardrobe if worn appropriately.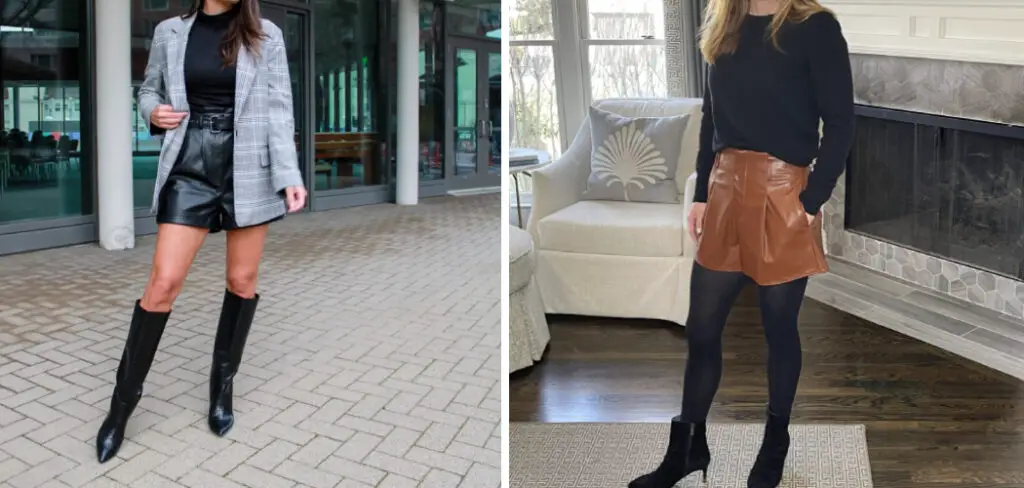 To help you stay warm, cozy, and stylish, we've put together some tips on how to wear leather shorts during the winter months. From choosing the right clothing items to layering effectively and accessorizing, this article will provide you with insights on how to wear leather shorts in winter while staying stylish and comfortable.
What Goes Well with Leather Shorts?
The versatility of leather shorts makes them the perfect piece to create a stylish look in winter. Although they may seem out of place at first, leather shorts can easily be styled to fit with any cold-weather ensemble. Here are some ideas on how to wear your leather shorts:
1. Pair with Ankle Boots:
Ankle boots are perhaps the most obvious choice for pairing with leather shorts in the winter months. From heeled Chelsea boots to grungy combat styles, these shoes will provide a chic finish while also keeping your feet warm and dry. 
2. Layer up:
Layering is key when it comes to making leather shorts work in cold weather. Try tucking a lightweight sweater or long-sleeved tee into your short for an effortless winter look. You can also try throwing a coat or cardigan over the top for an extra layer of warmth.
3. Try tights:
Tights are a great way to add an extra layer of insulation when wearing shorts in cold weather. Choose a pair of opaque tights in black, grey or even patterned styles! These will be sure to keep you warm while still looking chic and put-together. 
4. Accessorize:
Accessories are another way to make your leather shorts work in winter without sacrificing style. Add an on-trend hat and scarf combo, statement jewelry pieces, or even printed socks for a unique look sure to turn heads.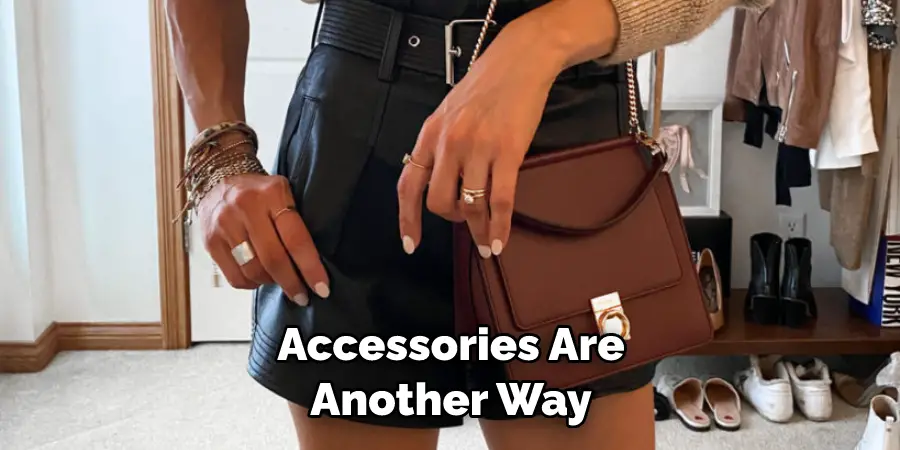 No matter how you choose to wear them, leather shorts are a great way to add some edge and style to your winter wardrobe. With these tips, you'll be sure to stand out from the crowd without freezing!
10 Methods How to Wear Leather Shorts in Winter
1. Layer with Tights or Leggings
One of the simplest and most effective ways to wear leather shorts in winter is to layer them with tights or leggings. Opt for opaque or fleece-lined tights for added warmth, and pair them with your leather shorts for a chic and cozy look.
Black or dark-colored tights can create a sleek and sophisticated contrast against the texture of leather shorts, while patterned or colored tights can add a fun and playful touch to your outfit. If you're looking for a bit extra coverage, choose leggings instead of tights.
2. Add Knee-High Boots
Knee-high boots are not only fashionable, but they also provide additional warmth and coverage during the winter months. Pair your leather shorts with knee-high boots for a stylish and practical winter look.
Choose boots in suede or leather material for a cohesive and sophisticated look, and consider opting for styles with a slight heel for added comfort and elevation. If you're feeling adventurous, try pairing your outfit with a pair of patterned boots for an unexpected and bold look.
Add socks if necessary to keep your feet warm and protected. Finally, don't forget to accessorize your look with some stylish jewelry, a bag, or a scarf to elevate the overall ensemble. With these items, you'll be ready to take on the cold weather in style!
3. Layer with Over-the-Knee Socks
Over-the-knee socks are another great option to wear with leather shorts in winter. They add a cozy and stylish touch to your outfit while keeping your legs warm. Choose socks in thick, chunky knits or cable patterns for a trendy winter vibe. You can also play with different colors and textures to add interest to your look.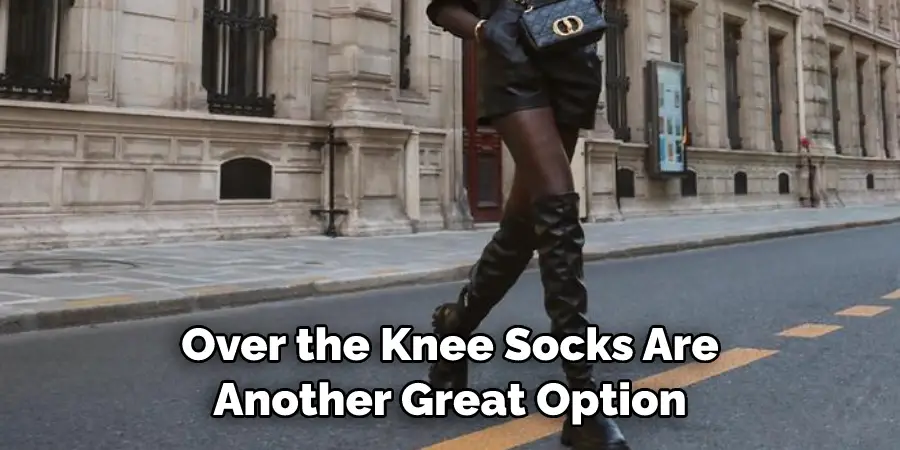 Don't be afraid to mix and match your socks with different patterns and colors. Make sure the length of your socks is long enough to cover your leather shorts and keep you warm in winter. To complete the look, add a pair of boots or ankle booties that match the color of your socks. The combination of leather shorts and over-the-knee socks is a great way to stay warm and stylish in winter.
4. Pair with a Chunky Sweater
A chunky sweater is a staple piece in any winter wardrobe, and it can be easily paired with leather shorts for a chic and cozy outfit. Opt for oversized or turtleneck sweaters in warm fabrics like wool or cashmere for maximum comfort and style. Tuck in your sweater partially or fully into your shorts to create a balanced and polished look.
5. Add a Statement Coat
A statement coat can instantly elevate your winter outfit and add a touch of glamour to your leather shorts. Opt for coats in bold colors, interesting textures, or unique prints to make a statement. Choose longer coats that provide ample coverage and warmth, such as a faux fur coat or a tailored wool coat, to keep you cozy and stylish throughout the winter season.
If it's particularly cold, you can also layer up your look with a cardigan or light jacket underneath the coat. To finish off your winter leather shorts look, accessorize with a bold pair of boots and some jewelry. With these tips, you'll be ready to rock the look in any winter weather.
6. Layer with a Denim or Flannel Shirt
For a casual and laid-back winter look, layer your leather shorts with denim or a flannel shirt. Choose a denim or flannel shirt in a heavyweight fabric to keep you warm, and wear it unbuttoned or partially tucked in for a relaxed and effortless vibe. Add a pair of ankle boots or sneakers to complete the look.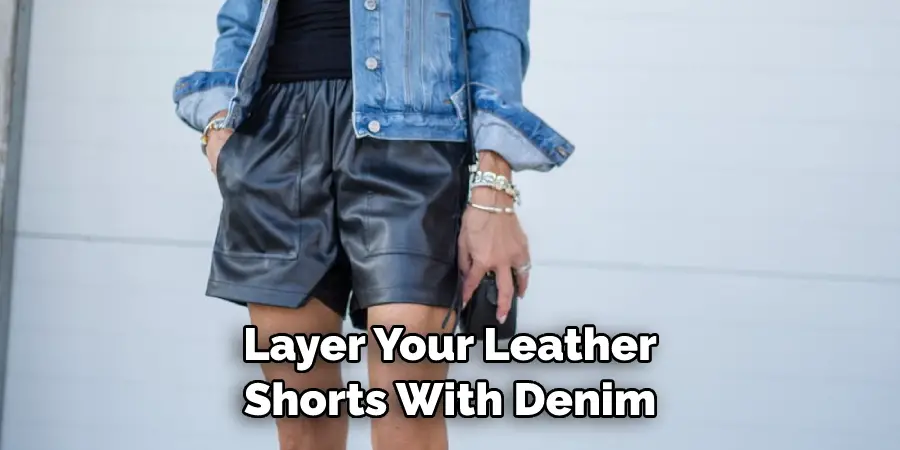 For an layer of warmth, you can slip on a hoodie over the shirt. If you're for something a bit dressier layer the leather shorts with an oversized sweater for a cozy winter look. Try accessorizing with statement jewelry and a shoulder bag to add a bit of style.  To keep warm, you can also wear opaque tights or fishnets underneath your leather shorts.
7. Add a Turtleneck Sweater
A turtleneck sweater is not only cozy but also adds a touch of sophistication to your winter outfit. Pair your leather shorts with a fitted or oversized turtleneck sweater for a chic and polished look. Choose a sweater in a neutral color like black, grey, or cream for a timeless and versatile option, or go for a bold color to make a statement.
You can also layer a long-sleeved shirt underneath your sweater to add an extra layer of warmth. For a casual look, pair your leather shorts with a turtleneck sweater and ankle boots, or dress it up with heeled booties and a statement belt.
8. Opt for Layering with Blazers or Jackets
Layering leather shorts with blazers or jackets can create a sleek and edgy winter look. Choose blazers or jackets in materials like wool, tweed, or denim for added warmth and style. Play with different lengths and styles, such as a cropped blazer or a longline jacket, to create different silhouettes and aesthetics.
A blazer or jacket layered over leather shorts will add a touch of sophistication to your look while keeping you warm. Accessorize with a beanie, beret or fur hat to complete the look.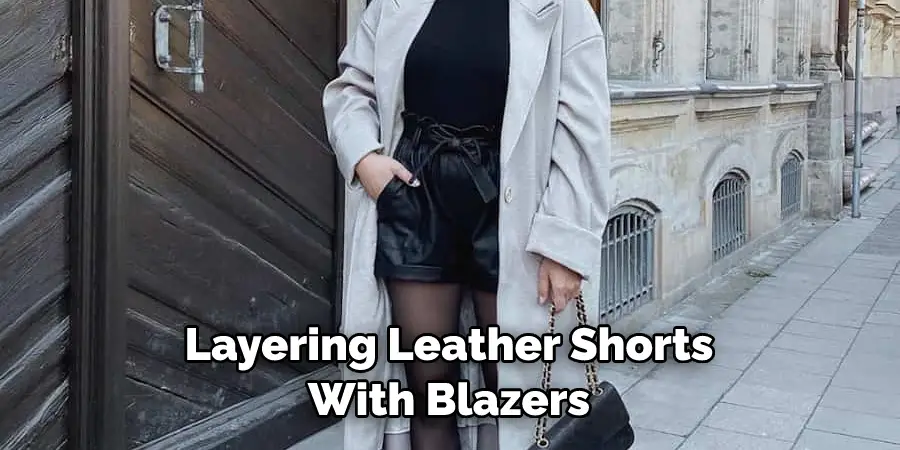 9. Wear with Cozy Accessories
Accessories can play a crucial role in keeping you warm and stylish while wearing leather shorts in winter. Add a chunky knit scarf, a beanie, or fingerless gloves to your outfit to add warmth and texture.
Choose accessories in coordinating colors or contrasting shades to complement your leather shorts and overall winter look. Look for accessories made from warm materials like wool, cashmere, or faux fur for maximum comfort and style.
10. Experiment with Layering
Don't be afraid to get creative with layering when styling leather shorts in winter. Mix and match different clothing items to create unique and stylish combinations. For example, layer a longline cardigan over a button-up shirt, add a statement belt to cinch your waist, and then wear your leather shorts over tights or leggings. Play with different textures, patterns, and colors to add depth and interest to your outfit.
Conclusion
As you can see, there are many ways to pair your leather shorts this winter season. Whether it's with a warm coat and booties, knitted sweater and over-the-knee boots, or a floaty blouse and flats, there's an outfit that will bring out the best in your leather shorts. To add a touch of sophistication and high-fashion style to all your winter looks, don't hesitate to wear them now and keep trying out new combinations as the weather dictates.
We hope this guide on how to wear leather shorts in winter was helpful. Please share it with your friends on social media if you find it useful. And be sure to check back here soon for more informative guides like this one.