If you've been looking for the perfect mix of elegance and edginess, then look no further than leather and lace. Combining a luxurious material like leather with a delicate item like lace creates an interesting juxtaposition that is sure to turn heads in any setting.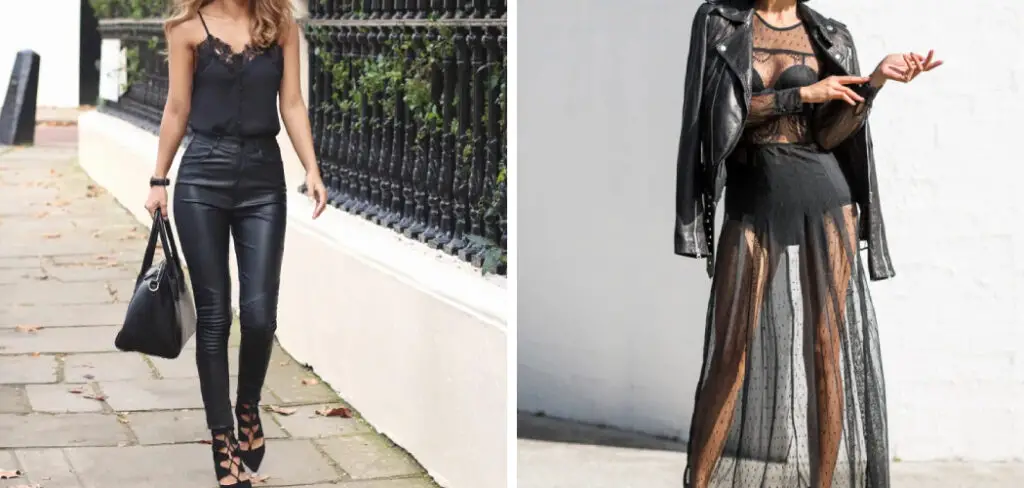 Whether it be by pairing black leather boots with a white lacy skirt or effectively layering a patterned blouse over your next favorite skirt, the possibilities are endless when styling these two materials together. Read on to find out our top suggestions for leather and lace outfit ideas!
25 Leather and Lace Outfit Ideas
1. Leather Skirt With A Lace Blouse
A leather skirt with a lace blouse is an incredible look for any night out. The combination of the smooth, edgy leather and soft, intricate lace is a perfect contrast. Together, they create an outfit that is both timeless and stylish, making it the ideal go-to look for any special occasion.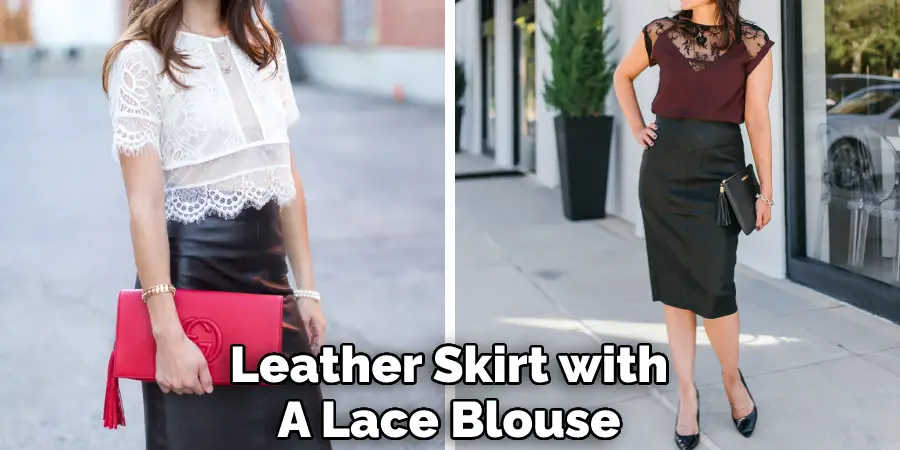 This beautiful fusion of textures ensures maximum comfort, making it easy to look effortless in a sleek and confident way. No matter where you're going or what you'll be doing, this leather and lace outfit is guaranteed to make sure all eyes are on you!
2. Cropped Leather Jacket and Lace Dress
Pair a cropped leather jacket with a lace dress for a modern yet timeless look. The perfect balance of edge and elegance, this leather and lace outfit is sure to turn heads. With the sleek lines and quality construction of the jacket working in unison with the delicate details of the lace dress, you'll achieve an effortless sophistication that looks chic no matter what type of occasion you attend.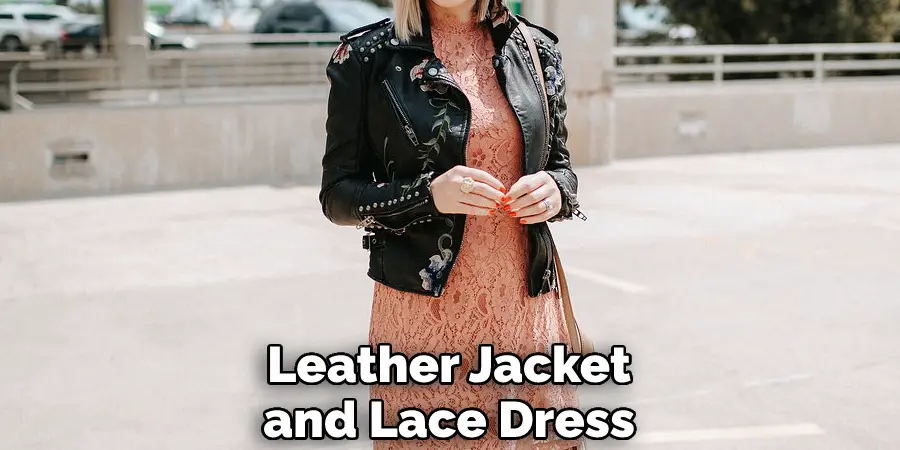 Whether you want to add an extra layer for cooler days or show off your playful side as you effortlessly transition between seasons, this is the ideal look for a fashion-forward individual who knows how to make a statement.
3. Leather Vest With A Lace Shirt
The combination of a leather vest and a lace shirt is an unexpected and bold outfit choice. With the right styling, this look can be pulled off effortlessly. Worn together, these two items create a modern take on luxury, with the lace providing an added level of elegance and the leather giving off an edgy vibe.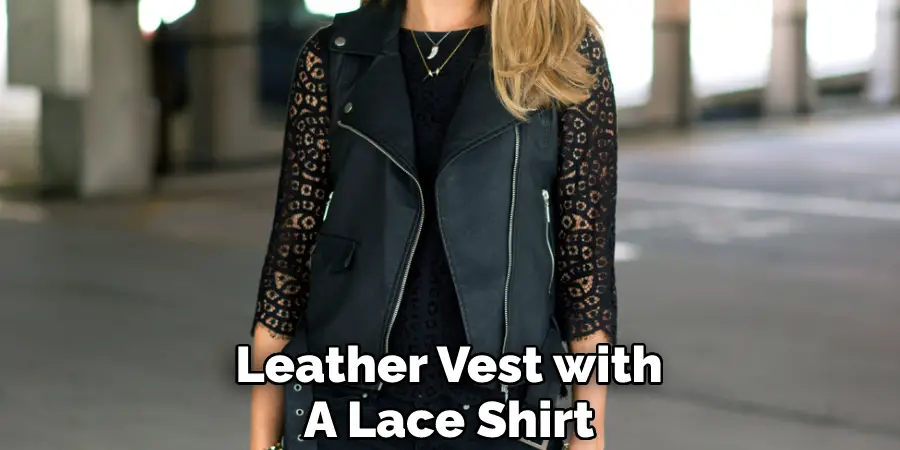 This mix of textures is the perfect way to show off your unique sense of style in a fashionable and tasteful manner. Whether you're dressing for a dressy occasion or just to show off your fashion-forward attitude, this leather and lace outfit is sure to make a statement.
4. Leather Leggings and A Lacy Top
An exquisite leather and lace outfit is the perfect way to make a bold style statement. Leather leggings can be paired with a lacy top to create an outfit that offers plenty of texture and contrast.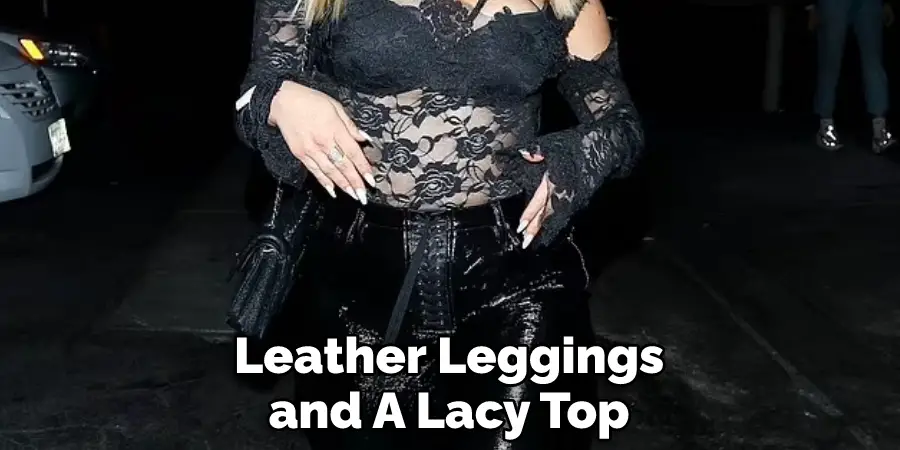 The unique combination of materials will give you an elegant yet edgy aesthetic, making your outfit stand out from the crowd. Whether you're headed out for dinner or dancing at the club, this stylish two-piece combination will ensure that you look your best wherever you go.
5. Denim Jacket and Mini Skirt With Leather and Lace Detailing
The perfect warm-weather outfit is a denim jacket and mini skirt with leather and lace detailing. Versatile, bold, and beautiful, this combination has a timeless style. The soft lace detailing provides a feminine touch, while the leather accents give the outfit an edginess.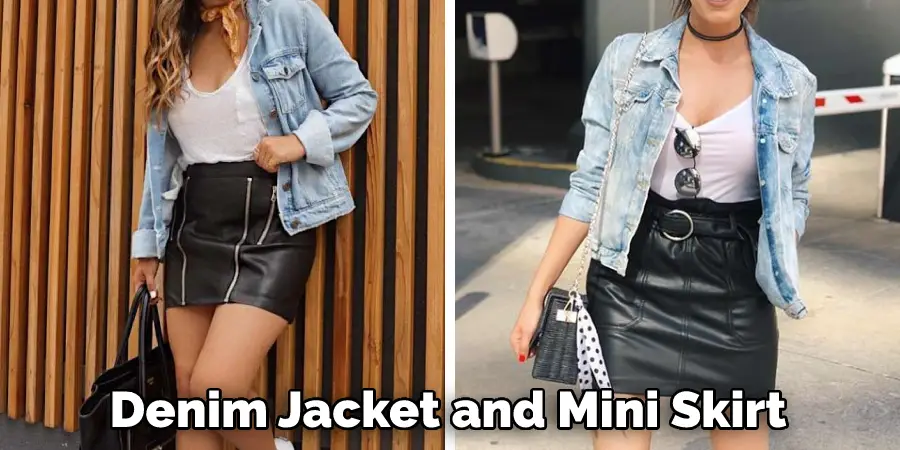 Depending on your needs, this combination can be dressed up or down and offers plenty of room to accessorize and show off your style. Whether you're heading out for a casual day of shopping with friends or going out for drinks in the city, rocking a denim jacket and mini skirt with leather and lace detailing will certainly get heads turning.
6. Faux Fur Coat and Lace Dress
For the fashionista who loves to make a statement, nothing says daring quite like a leather and lace outfit. The chic look of faux fur coats paired with delicate lace dresses has recently been seen on many red carpets and runways. Women everywhere have embraced this trend by pairing the luxurious pieces together for an eye-catching look that is sure to turn heads no matter where they go.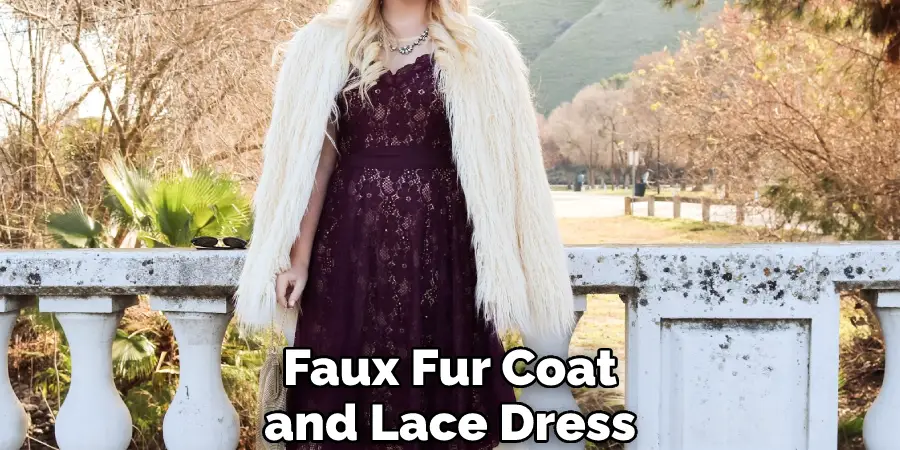 Whether they're hitting up a party or just having lunch in the city, these outfits will take any ensemble to the next level with their intricate fabrics and creative combinations.
7. Studded Leather Moto Jacket and A Lacey Bodysuit
Have you ever tried combining the classic styles of a studded leather moto jacket and a lacey bodysuit? The combination is both timeless and on-trend. It provides an edgy yet sexy look that is suitable for any occasion, from a night out on the town to an evening spent at home with loved ones.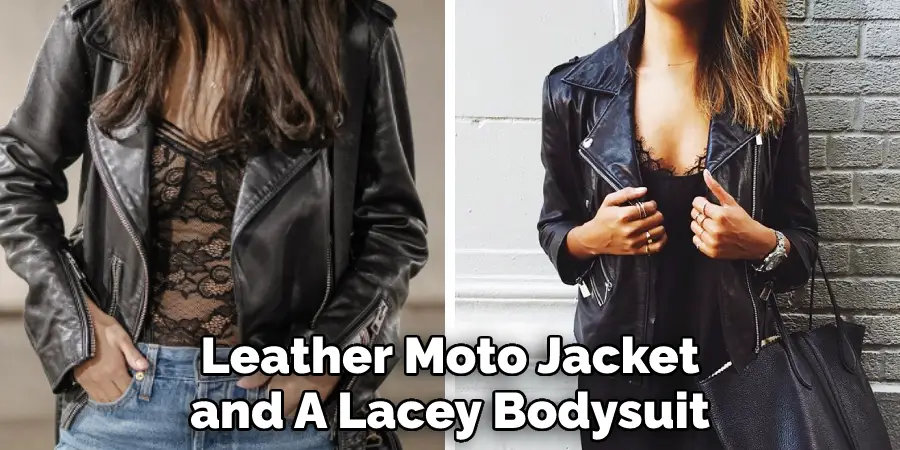 The outfit's muted sophistication adds an air of effortless style and elegance, while the leather's hard edge clashes perfectly with the lace's soft femininity. The contrast between the two fabrics creates an eye-catching ensemble that will surely turn heads wherever you go!
8. Leather Pants With A Lace Bodysuit
Creating a balanced yet daring outfit can be easily achieved in leather pants with a lace bodysuit. The combination of edgy and classy pieces can make for the perfect going-out look to turn heads when you walk into the room.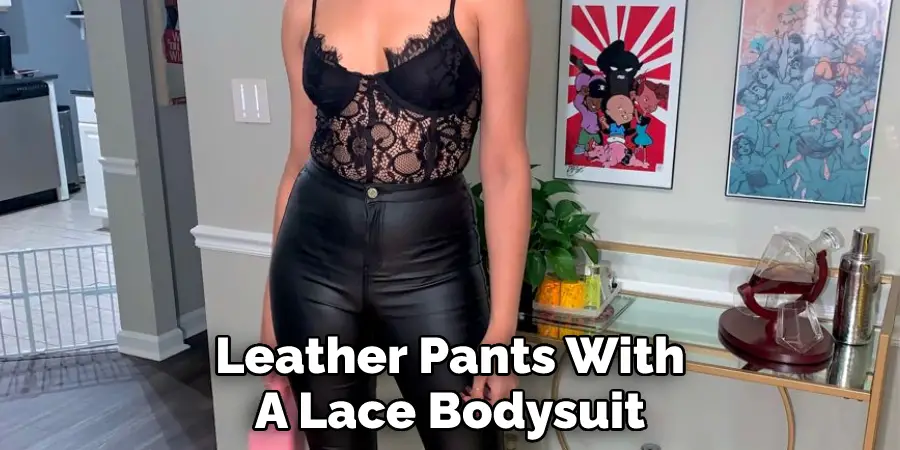 Add some sass and sophistication with a pair of leather pants, and breathe autumn chicness into your wardrobe with an ethereal lace bodysuit. It's an effortlessly stylish combo you're sure to show off in style – it oozes confidence and is sure to help you feel like your best self!
9. One Shoulder Leather Dress and Crochet Top 
Creating a fashionable ensemble is easier than ever with a one-shoulder leather dress and top crochet combo. This stylish lookup will instantly transform you into a fashionista while making a bold statement.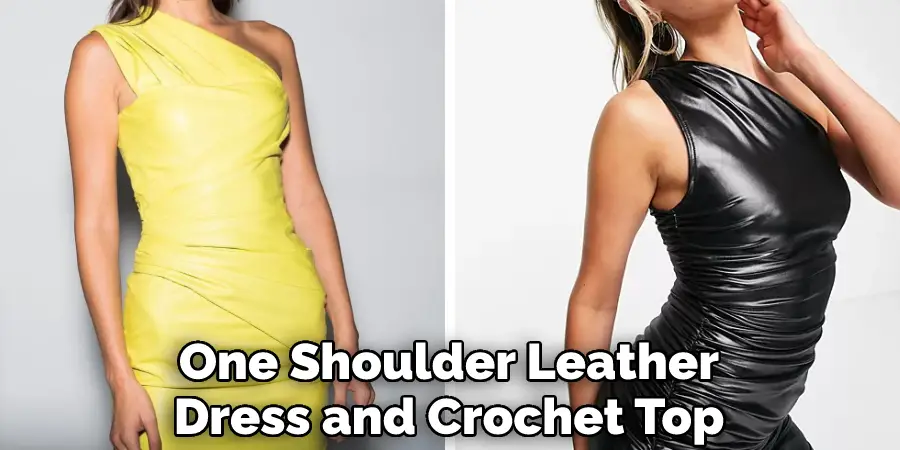 Combining an ultra-soft crocheted top with luxury leather, this look combines two of the most on-trend garments for a refreshingly modern outfit. Balance out the look by pairing ankle boots and textured jewelry to complete an unforgettable leather and lace outfit – perfect for any summer event.
10. Leather Mini Skirt With A Lace Cami
The leather and lace outfit is a bold look that can be seen popping up all over the fashion scene. Put your best foot forward in this mini leather skirt, paired with a delicate lace cami for a tantalizing mix of textures.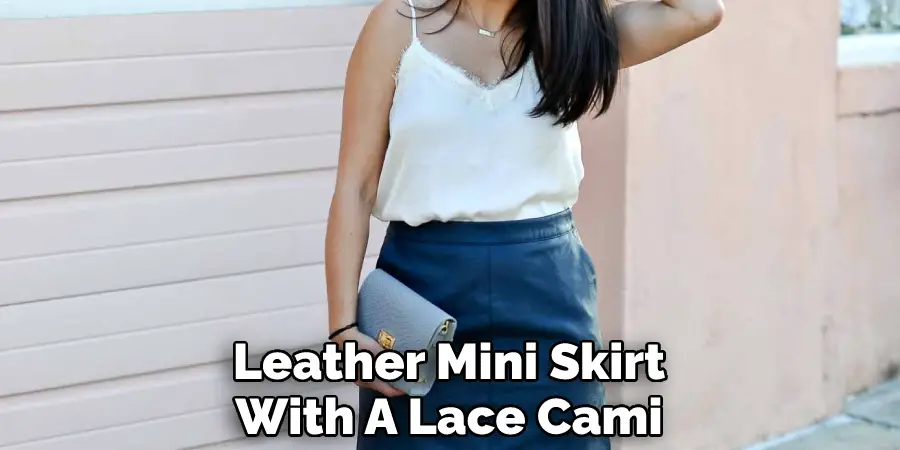 This combination brings an air of confidence to anyone who wears it, showing off their daring yet charming style. The silhouettes are classic yet will command attention as you move through your day — effortlessly chic and powerful in one package.
11. Mesh Bodysuit With Detailed Leather Shorts
A mesh bodysuit with detailed leather shorts is the perfect combination to create an edgy yet stylish look. Not only does this leather and lace outfit elevate your outfit for a night out, but it also commands attention when done right. The mesh fabric of the bodysuit has just enough coverage to make it wearable while still exposing skin to complete that sultry vibe of the outfit.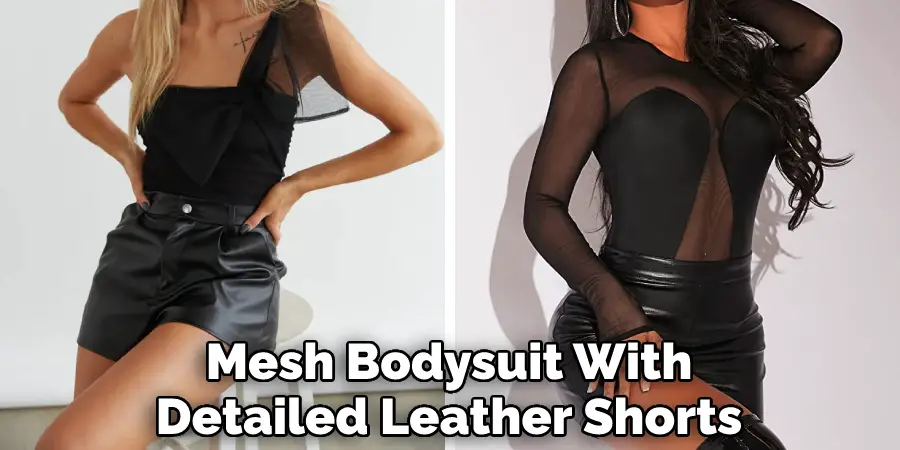 At the same time, leather shorts add a toughness that gives off an unapologetic attitude. This layered look of hardness and femininity makes a bold statement without having to do any extra work. In essence, you will be looking your best while turning heads wherever you go!
12. Lace Long Sleeve Top and Skinny Jeans
A leather and lace outfit is a perfect combination of edgy and girly. The long sleeve lace top and skinny jeans ensemble is a timeless look that adds a touch of femininity. The proportions of this look provide an effortless sleek, and elegant feel.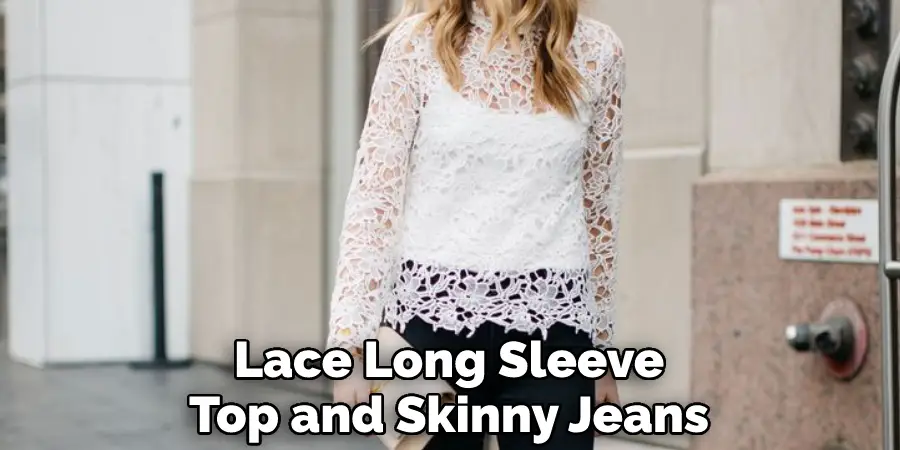 Whether going for dinner or brunching with your friends, the combination will instantly make you look put together. It pairs perfectly with leather accessories to bring out the edge even further. With this leather and lace outfit, the graceful style will be sure to follow!
13. Leather Corset With A Lace Pencil Skirt
A leather corset and lace pencil skirt are a classic yet statement-making outfit, perfect for any occasion, from a night out with friends to a romantic evening. The delicate fabric of the lace balances out the structural lines of the leather and brings in the sense of elegance.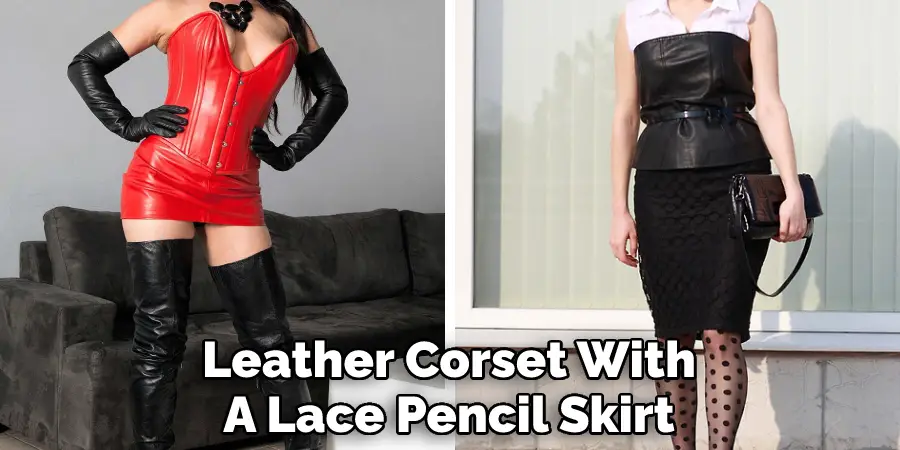 An added bonus is that it is an incredibly versatile ensemble: accentuating details such as intricate patterns, different hardware, or even bold color can quickly turn it into an entirely different look. Choosing to wear a leather and lace combination may prove to be one of the best wardrobe investments you will ever make!
14. Cropped Jacket and A Lacy Mini Dress
The leather and lace outfit has quickly become a must-have trend. Whether you want to show off your style on a night out or dress to impress for work, this combination of a cropped jacket and a lacy mini-dress is the perfect ensemble.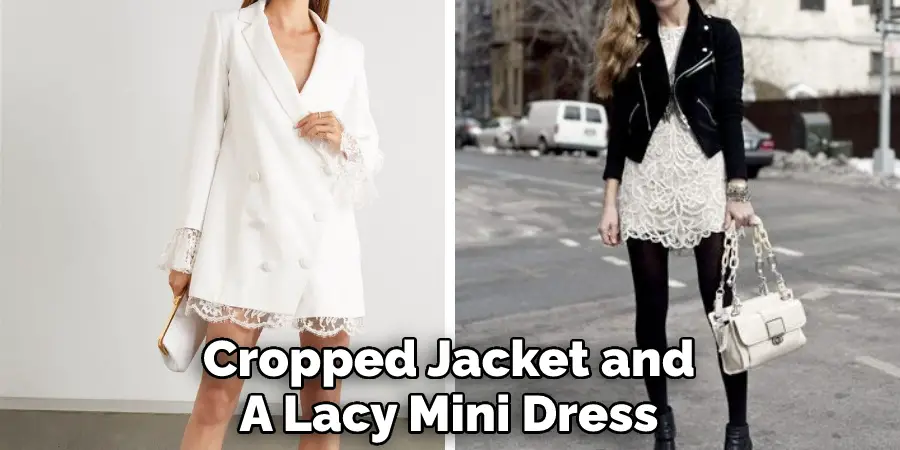 The fitted shape of the cropped jacket flatters any figure, while the delicate lace fabric is stylish yet still feminine – perfect for anyone looking for an elegant yet bold look. Finish off this look with some statement accessories, and you're sure to make heads turn wherever you go!
15. Leather Shorts With A Sheer Blouse
Nothing beats a leather and lace outfit for a put-together yet stylish look. With a pair of high-waisted leather shorts and a sheer blouse, you can be sure to turn heads.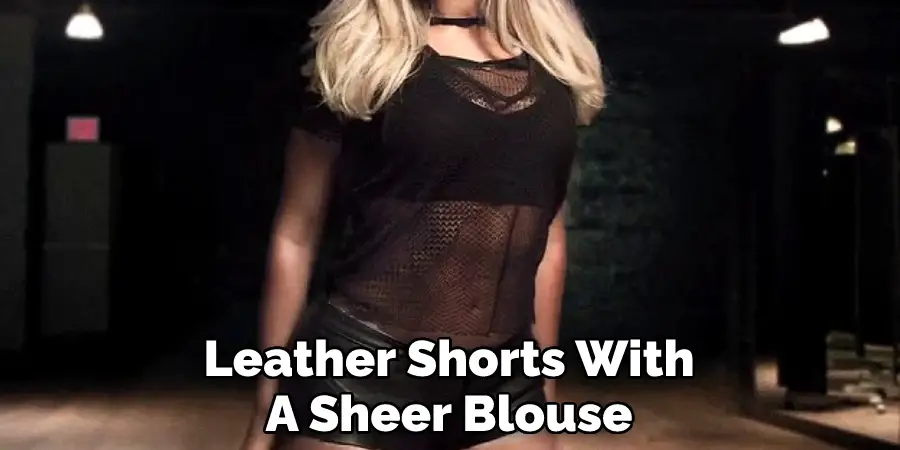 The deep brown of the leather adds just the right amount of contrast to the romantic white of the lace and bills out into endearing pleats that are flattering on all body types. This outfit is perfect for any occasion, from running errands to date night – you'll be sure to be the best dressed, no matter what.
16. Bomber Jacket and Maxi Dress With Embroidered Detailing
No matter what the occasion is, a leather and lace outfit featuring a classic bomber jacket adorned with intricate embroidered detailing and a white maxi dress with luxe lace embellishments is sure to make an unforgettable entrance.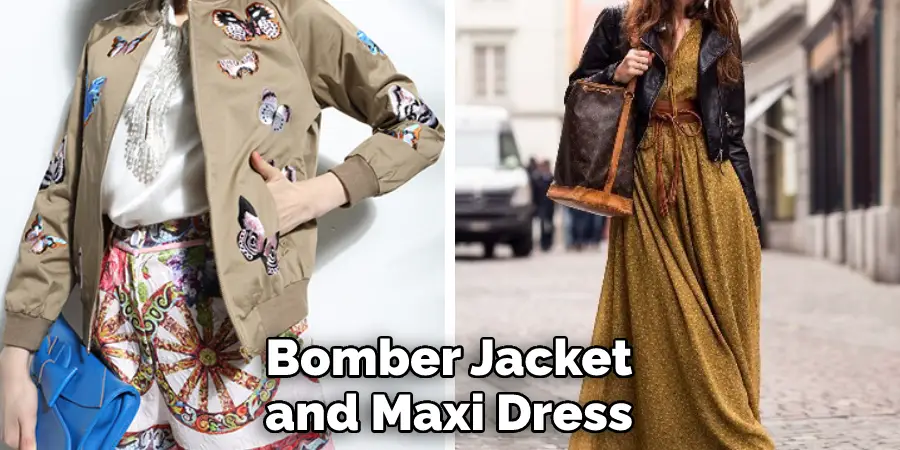 Perfect for festivals, weddings, or date nights, this look can be accessorized in so many ways – think gold jewelry, aviators, and some cool kicks! Whether you're hitting the dance floor or just want to show your individual style, this statement ensemble will leave lasting impressions.
17. Faux Fur Coat With Leather Leggings
The leather and lace outfit is perfect for staying warm, stylish, and comfortable. A faux fur coat with leather leggings is perfect for this outfit. Not only will you look effortlessly chic, but you'll also stay warm while looking great. Leather leggings are not only fashionable, but they help keep your legs toasty on cold days.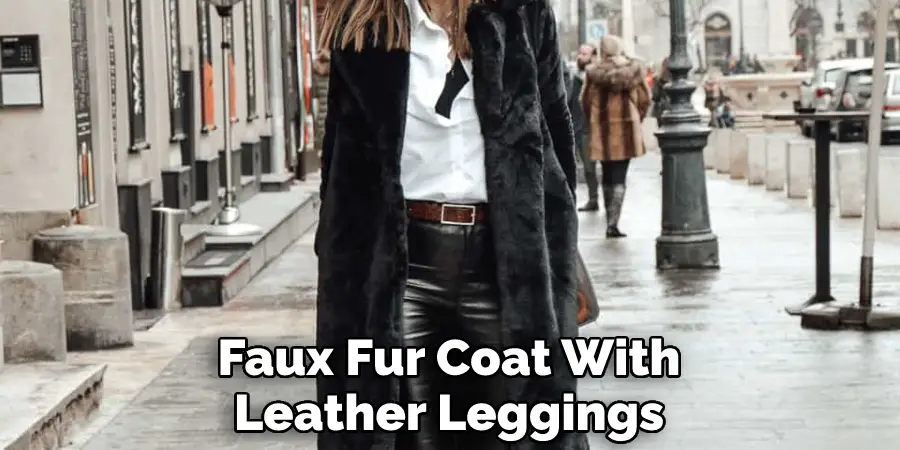 And a faux fur coat provides a luxurious feel while keeping you comfortable and enveloped in warmth. Creating this look is easy, simply choose a faux fur coat in neutral colors and pair it with leather or patterned leggings of your choice for a fashionable and eye-catching ensemble.
18. Leather Jacket With A Lace Crop Top
When you think of a classic leather look, it typically consists of head-to-toe leather in black or brown. But if you want to spice up the traditional with something more daring, consider combining it with lace. A leather jacket paired with a lace crop top creates an edgy, daring fashion statement that strays away from the typical all-leather look.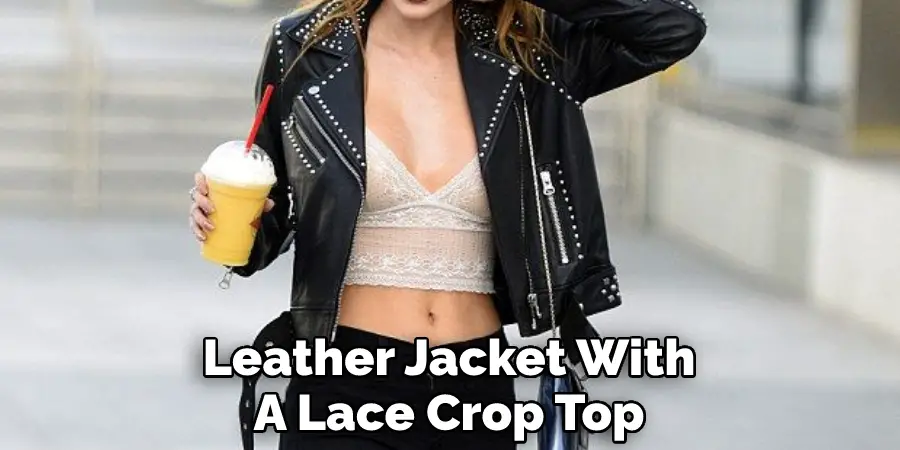 The juxtaposition between the leather's worn ruggedness and the delicate elegance of lace results in an eye-catching ratio, exuding sophistication, and toughness without compromising the sense of style. With this leather and lace outfit, you can turn heads wherever you go!
19. Leather Pants and A Sheer Blouse
If you're looking for a daring, passionate style, look no further than a leather and lace outfit! A combination of slick and edgy leather pants paired with an alluring sheer blouse is a bold yet stunning look. Leather pants lend an air of cool sophistication while the barely-there layer of your blouse turns up the heat.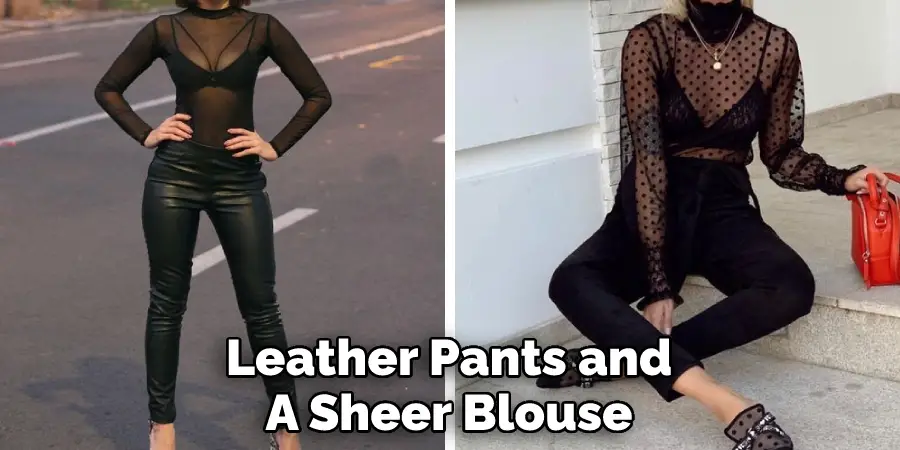 Choose from structured fabric or super soft velvet, depending on the occasion and your mood; either way, you'll stand out from the crowd in your denim-free ensemble. Achieve effortless glamour when you slip on this signature leather and lace outfit for maximum style power.
20. Statement Belt and Vest With A Lacy Maxi Dress
Create an effortless style with a leather and lace look. Start with a statement belt and vest, adding to the sultry appeal of pairing it with a lacy maxi dress. Balance the ruggedness of the belt and vest with a soft, playful fabric such as lace for an overall look that brings together both tough and romantic vibes. Consider accessorizing with boots or shoes to complete this stylish layered look. It's sure to bring out your inner fashionista, no matter the occasion!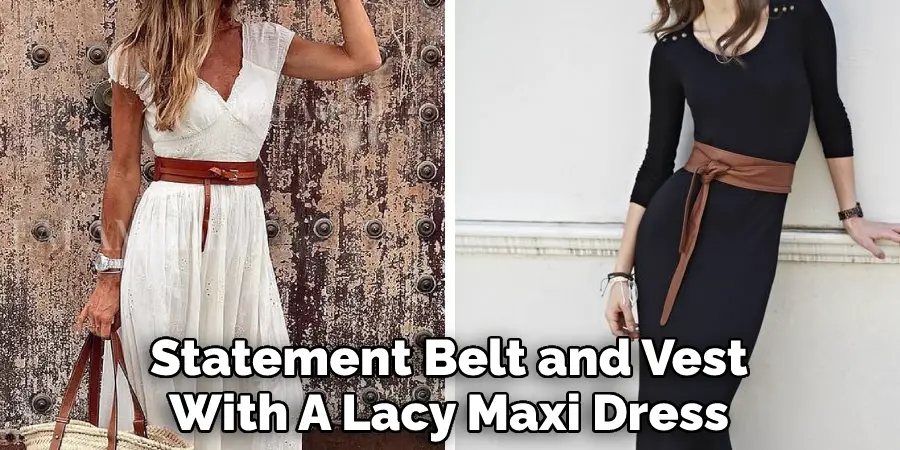 21. Metallic Skirt With A Lace Bodysuit
Show off your stylish side with a metallic skirt and leather top combination paired with a lace bodysuit. This edgy yet classic look can be worn for different occasions.
Whether attending work meetings or going out for drinks, this leather and lace outfit stands tall, making you the most fashionable girl in the room. With its timeless appeal, you won't ever have to worry about not being noticed. Be sure to accessorize accordingly to elevate your look even more!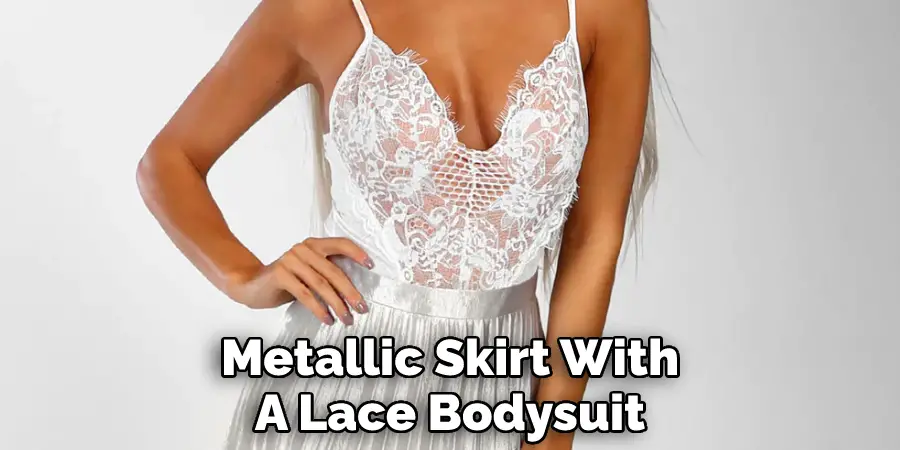 22. Denim Jacket and Trousers With Embroidery Detailing
If you're looking for a stylish and unique outfit to add to your wardrobe, a denim jacket and trousers with embroidery detailing may be a perfect choice. The strong fabric of denim provides a reliable base, while the intricate detailing gives it an elegant touch.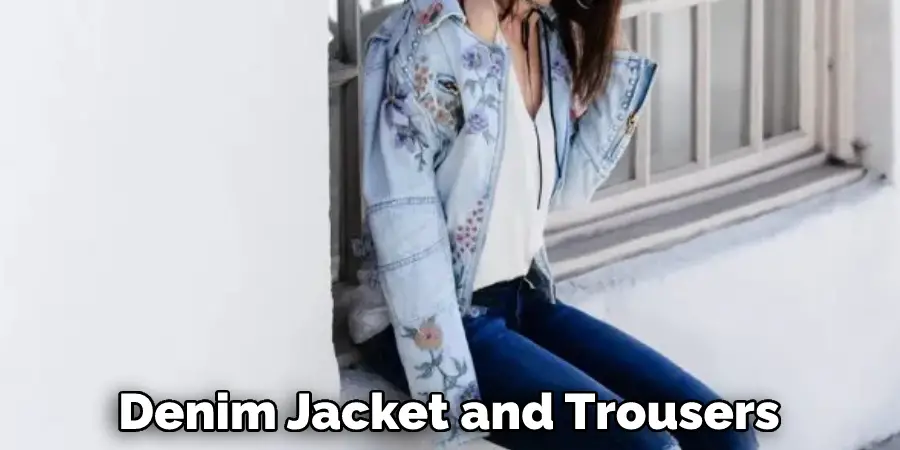 Whether simple or elaborate, this look is effortlessly cool and will make heads turn wherever you go. Pairing it with burgundy leather accessories and dainty lace details heightens its sophistication. With denim providing the statement and lace, adding a subtle feminine flair, this look exudes confidence and charm all in one.
23. Leather Biker Jacket and A Lacy Midi Dress
Combining a leather biker jacket and a lacy midi dress makes an ideal outfit for the fashionable person who loves to express their individuality. This look offers both edgy and delicate elements, allowing for creative styling with accessories to achieve a unique look.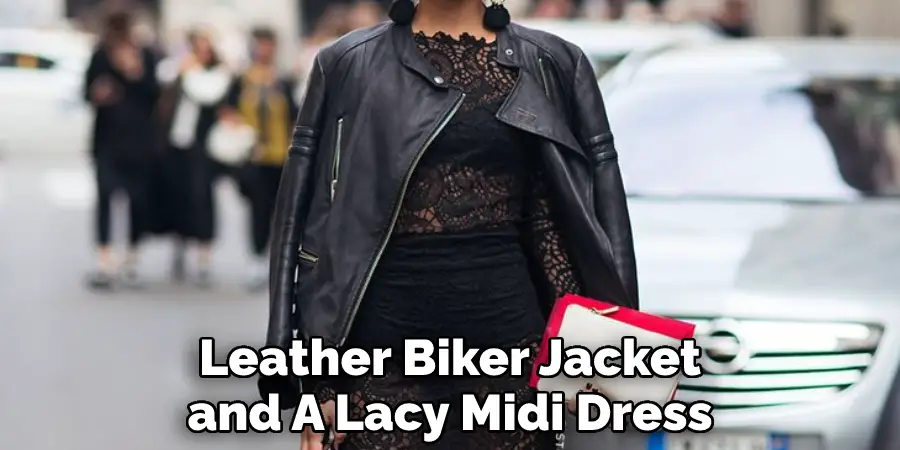 From rustic cowgirl vibes to city street style, this leather and lace outfit is sure to turn heads. Perfect for everyday backyard coffee dates or nights out on the town, this combination gives a boost of confidence and will surely make you stand out in any crowd.
24. Lace Top With Deep V Neckline And High Waisted Jeans
The perfect balance between feminine and edgy, a leather and lace outfit is the season's must-have look. A mesh lace top with a deep V neckline and fitted high-waisted jeans in sleek black leather is an easy-to-wear look that effortlessly exudes confidence and style.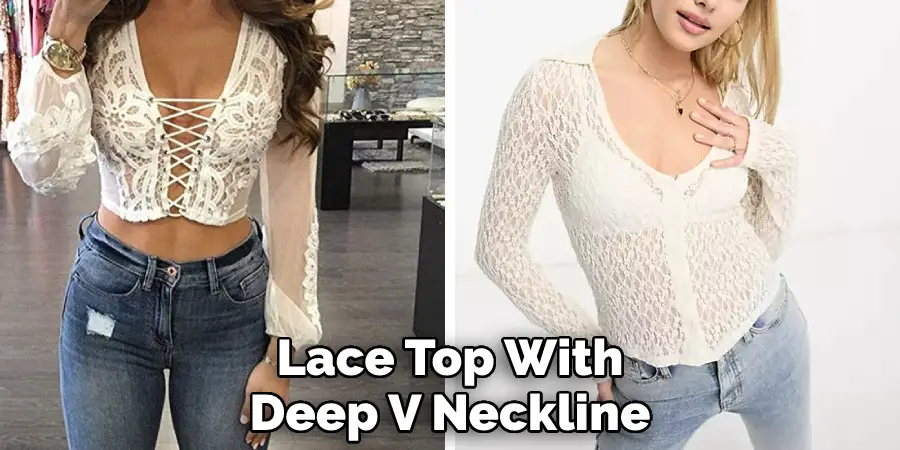 The airy texture of the lace top keeps this look from feeling too businesslike, while its slim fit gives it just enough structure to remain sophisticated. Wear this on date night for a hint of unexpected allure or for your next dinner party for modern elegance at its best.
25. Leather Blazer With A Crochet Dress & Boots
Leather and lace are a classic combination, and wearing them together makes for a stylish outfit worthy of any occasion. Nothing looks more sophisticated than a leather blazer, a delicate crochet dress, and complementing boots.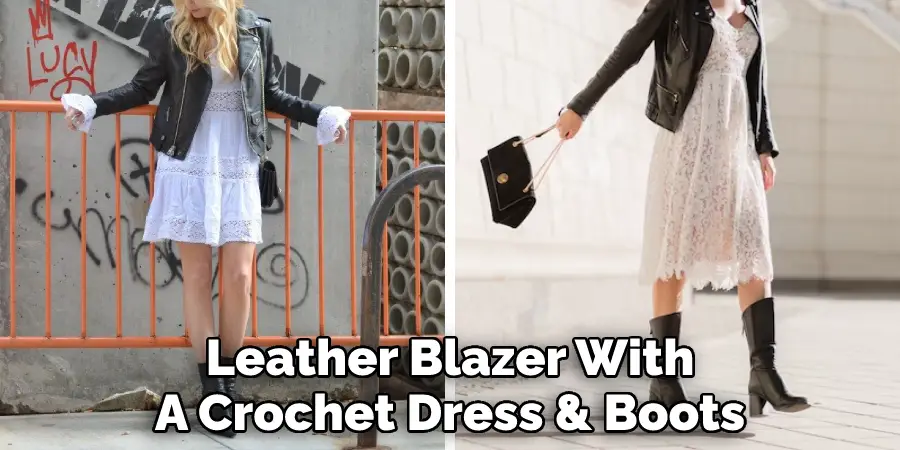 The contrast between the blazer's tough material and the lace's intricate detailing balances the look to perfection. Whether you're going to an important event or simply looking for an artistic way to make a statement, this leather and lace outfit will make heads turn!
That's it! You've now learned 25 different leather and lace outfit ideas to spruce up your wardrobe. Don't be afraid to experiment with different items in your closet, as it can lead to unique combinations that showcase your style. With these 25 looks, you'll never lack inspiration for the perfect leather and lace outfit!
What Accessories Go Best With A Leather and Lace Outfit?
To truly show off the best of what leather and lace have to offer, the perfect accessories can make all the difference. Jewelry that references a luxury glam rock look is perfect, like studs and spikes, as well as delicate designs that come in fancy metals.
An elevated belt cinching the waist of a dress is always a good idea, as well as leather boots or sandals with plenty of detail to pull together an outfit. Even something simple like bold eyeliner can be used to add a daring touch. There are so many options out there that it's difficult to choose just one accessory; why not mix them up for an unforgettable look?
Is It Possible to Get the Perfect Balance Between Edgy and Elegant with A Leather and Lace Ensemble?
When it comes to creating an outfit with a little edge and lots of elegance, leather, and lace is a perfect combination. Not only does this combine two key look elements in one, but it also gives your look a unique touch. Pulling off the perfect balance between edgy and elegant is not difficult with this kind of ensemble, as you can mix in either understated or bold pieces as needed.
For instance, pair softer materials like silk or satin with tougher leather items for a toned-down take on the look, or amp up the drama with metallic accessories to make your outfit stand out. A leather and lace ensemble will turn heads wherever you go!
Conclusion
You can incorporate leather and lace into your wardrobe so many ways without breaking the bank. Whether you're going for a night out or just running errands around town, this timeless combo will instantly elevate any outfit it's paired with – no matter how simple it may seem at first glance!
So don't be afraid to experiment – who knows what kind of new looks you might come up with? Have fun! Thanks for reading our post about leather and lace outfit ideas.